Moink VS Crowd Cow Comparison
Advertiser Disclosure
This website features affiliate links. For purchases made via these links, we earn commissions that allow us to keep producing helpful content. To find out more
click here
.
Close
If you are struggling to decide between Moink and Crowd Cow, you have come to the right place. For your convenience, we have gathered all the important facts about these 2 meat deliveries and laid them out in our side-by-side Moink VS Crowd Cow comparison. Discover how the services measure up to one another in terms of everything from meat quality and variety to sourcing practices and ordering flexibility and easily decide which one is better for you.

Optimally fresh meat of superior quality
VS
A meat delivery you can trust
Highlights

Crowd Cow sells one cow at a time, ensuring optimal freshness and flavor. Order as much meat as you wish, whenever you want, or subscribe to get regular deliveries of pasture-raised ground beef.
Price Range:

$$

Average Price Per Meal:

$16.00

Shipping Cost:

$12.99

Delivery Area:

48 states
Moink is a subscription-based meat delivery that brings you perfectly tasty, ethically sourced meat straight from small, family-owned farms. Choose the kind of meat you want to get, mix it up with some wild-caught seafood if you wish, take full control over what goes into your order, decide on the delivery frequency, and enjoy free shipping and amazing food that comes with a 100% satisfaction guarantee.
Price Range:

$$

Average Price Per Meal:

$4.50

Shipping Cost:

$0

*

Delivery Area:

all 48 continental states
Compare Features

Best For
Best for meat lovers who want to know exactly where their meat comes from
Meat Selection
Crowd Cow has limited its selection to high-quality beef, pork, and chicken. It offers over 100 different cuts at all times, ranging from New York strip steak to cow tongue and chicken feet and liver.
Meat Quality
Crowd Cow brings you 100% grass-fed beef, pasture-raised, grain-fed beef, Japanese A5 Wagyu beef, pasture-raised heritage pork, and pasture-raised chicken.
Other Products
Crowd Cow only sells meat.
Sourcing Practices
Crowd Cow obtains meat from family-owned farms and ranches across the country, which are carefully vetted to ensure they employ the best sustainability practices. The company provides plenty of details on each of its partner farms and ranches, so you can make an informed purchasing decision.
Flexibility
With Crowd Cow, you can opt for one-off orders with no minimum value or subscribe. The company offers flexible subscriptions, allowing you to speed up or postpone your delivery and cancel your subscription at any time.
Refunds
If you are not satisfied with your shipment, get in touch with Crowd Cow's customer support staff within 7 days. You may receive a replacement or a full or partial refund, depending on the circumstances.
Shipping Costs
Crowd Cow charges $12.99+ for shipping. The costs vary depending on location.
Delivery Area
Crowd Cow ships all over the continental US.
Best For
Best for avid meat lovers looking for a steady source of naturally delicious meat
Meat Selection
Moink offers grass-fed, grass-finished beef and lamb and pasture-raised pork and chicken. Its selection usually consists of about 30 items, including standard products like chuck roast, flank steak, pork chops, bacon, and chicken drumsticks and breasts, as well as occasional extras like beef liver and marrow bones.
Meat Quality
Moink meat is always completely natural and of exceptionally high quality. It is free from antibiotics, growth hormones, nitrates, nitrites, and added sugar. It comes from animals that are pasture-raised, grass-fed, and never given any GMO grains. Its chicken does not contain any added solutions and none of the products contain any artificial substances.
Other Products
Moink primarily focuses on meat, but you can also get wild-caught seafood in your deliveries.
Sourcing Practices
Moink exclusively sources meat that is humanely raised and seafood that is wild-caught. The meat comes from small family-owned farms that truly care about the animals they raise and allow them to enjoy their lives in the open while providing them with comfortable shelter. Moink is highly transparent about its sourcing practices and provides plenty of information on all of its partner farms.
Flexibility
Moink allows you to easily modify, pause or end your subscription. You can decide on delivery frequency, skip or reschedule a delivery, switch between different subscriptions, and cancel whenever you wish. You only need to make the changes by Wednesday at midnight prior to your next scheduled delivery.
Refunds
Moink products come with a 100% satisfaction guarantee. If you are not happy with your order, reach out to customer support within 7 days after delivery and receive a refund or a replacement in your next delivery.
Shipping Costs
Moink offers free shipping on all subscriptions.
Delivery Area
Moink ships throughout the conterminous United States.
Meat Types

Beef
Pork
Lamb
Chicken
Turkey
Duck
Quail
Elk
Venison
Bison
Rabbit
Charcuterie
Organs
Bones
Fat
Beef
Pork
Lamb
Chicken
Turkey
Duck
Quail
Elk
Venison
Bison
Rabbit
Charcuterie
Organs
Bones
Fat
Compare Customer Reviews

Submitted By Zachary A. on 08/03/2019

My first order was delayed by one day, and as a result was thrown in the trash by the delivery service. Will not use the service again.

Submitted By Deonne on 06/25/2019

I ordered the Pasture Raised Grain Finished Black Angus Ribeye From Wolfe Brothers Farm. I found a good deal for 2 Ribeyes. Loved the packaging and the beef was frozen. It took some time to order because I have never ordered beef online but everything looked fresh and delicious. I have to be honest to say the beef looked great and I notice some beef have a smell once you take it out the packaging but I smelled nothing but freshness. The beef wasn't tender and I wasn't impressed at all. CC tried to make it right but I see no need to continue to order beef from them. I really wanted to try the Wagyu but never mind. I actually found a local farm in the area called Hancock Family Farms I will buy my fresh beef from and he wants honest opinions and stands by his product. I don't like a business not standing by their product, customer service told me they have like 70 farms so I should find something I like. I'm really supposed to try all farms to just get a piece of tender beef, no thanks CC.

Submitted By Richard Smith on 02/07/2019

Really good but too expensive.

Submitted By Larry Young on 01/08/2019

Great idea and even greater product. My father was a rancher and I know how hard it can be, services like these are much-needed, not only because it's so hard to get healthy meat but because they actually help ranchers, which is a big plus in my book.
Submitted By Debra Ann Hunt on 11/26/2019

I have been using MOINK for about 5 months now. LOVE them! The meat and seafood quality is above average. Customer service is great. I wish they would add some different seafood choices. The salmon is fabulous but I'm getting a bit tired of it.

Submitted By Susan DeLuco on 10/07/2019

When I first viewed Moink in my Cusine magazine I was very excited. My delivery was very disappointing. Our delivery sat on the front porch at another home for a day because Fed Ex delivered to the wrong address. Some of my chicken order was incomplete and I found the meals to be very disappointing. We have many organic beef, chicken and pork farms that are far superior in New York State. We were soooo disappointed and have no desire to order from Moink. I love to cook but this meat was a challenge. I would never recommend this company.

Submitted By Meat Lover on 08/30/2019

The meat is delicious, but the customer service is poor. For the price, it's not worth the hassle.

Submitted By Matthew Lipscomb on 02/18/2019

Received 3 orders so far, never a slightest problem. Great meat, the quality is more than obvious, and I'm already hooked on the thick cut bacon, it's possibly the best I've ever had. And thank goodness, no delivery issues. I've ordered from other meat deliveries before and let me tell you, half of the times, I wasn't even sure the meat was safe to eat because of the terrible packaging. No such issues with Moink. Just in case someone's wondering, I'm not giving them 5 stars just because I'm not a fan of subscriptions and getting too much meat at once, but if they keep up the good work, I'll keep ordering.
Winner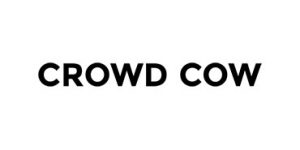 Crowd Cow is a meat delivery service that specializes in pasture-raised, dry-aged beef whose quality and freshness surpass all expectations. Find out what makes this service extraordinary and how it manages to satisfy the needs of virtually all meat lovers in this Crowd Cow review that focuses on everything from sourcing to pricing.