If your body is craving something healthy and tasty, but there is no room for cooking in your overcrowded schedule, it is time to give meal delivery services a shot. Check out our Dinnerly VS Marley Spoon comparison and find out which one to trust with taking care of your diet. Enjoy amazing meals, hassle-free!

Great Meal Kits At The Best Price
VS

Home Cooking With Martha Stewart
Highlights

Dinnerly allows you to save both time and cash and enjoy delicious homecooked meals without spending more than 30 minutes in the kitchen.
Average Price Per Meal:

$5.00

Shipping Cost:

$8.99

Delivery Area:

29 states

Marley Spoon provides unique meal kits crafted in cooperation with Martha Stewart, suitable for both vegetarian and omnivorous foodies, competitively priced, and designed with all cooking skill levels in mind.
Average Price Per Meal:

$9.00

Shipping Cost:

$0

Delivery Area:

48 states
Compare Features

Best For
Best for home cooks on a budget
Menu/Meal Plans
Dinnerly offers one menu that changes on a weekly basis.
Recipes/Meal Options
Dinnerly provides 6 meal options on its menu every week.
Meal & Recipe Variety
Dinnerly offers kid-friendly, vegan-friendly, vegetarian-friendly, low-carb, low-calorie, gluten-free, and dairy-free dinner recipes. You can also opt for one-pot and under-30-minutes recipes. However, keep in mind that not all of these options are available at all times. The meals are mostly classics and crowdpleasers.
Food Quality
Dinnerly sources only the best, freshest ingredients. It provides natural fruit and veg, grass-fed beef, antibiotic-free chicken, American-caught shrimp, and many other healthy, high-quality products.
Nutritional Value & Portion Size
The meals you make with Dinnerly normally have between 600 and 800 calories per serving, although some hearty meals may have 900+ calories per serving. The portions are large enough to keep you satiated for hours and they contain the right proportions of carbs, proteins, and fats.
Subscription Flexibility
Dinnerly offers plenth of flexibility to its patrons, allowing you to change, skip, pause or cancel your order whenever you wish. Any changes to your subscription must be made 5 or 6 days before your next delivery, depending on your location.
Refunds
As Dinnerly features a freshness and quality guarantee, you can contact the company within 7 days of your delivery date for a refund or credit.

Best For
Best for people who want to cook like Martha Stewart
Menu/Meal Plans
Marley Spoon has opted to include one menu in its offer, which is further divided into the 2-People and 3-4 People boxes based on the number of servings you would like to order.
Recipes/Meal Options
Each week, Marley Spoon offers 10 new recipes on its weekly menu.
Meal & Recipe Variety
Marley Spoon offers easy dinner recipes for couples and families. Its menu includes gluten-free, vegetarian, omnivore, and kid-friendly recipes. Most dishes are ready in 30-40 minutes. The recipes are highly innovative.
Food Quality
Marley Spoon provides the freshest, sustainably sourced produce, high-quality fish, grass-fed beef, Berkshire pork, antibiotic-free chicken, and artisanal products made by small-batch producers who use local ingredients.
Nutritional Value & Portion Size
The meals you make with Marley Spoon are highly satisfying and usually contain 650 to 900 calories. They are rich in nutrients and nutritionally balanced in accordance with the rules of healthy eating.
Subscription Flexibility
With Marley Spoon, you can switch between boxes, change your order, and skip, pause or cancel your delivery anytime, but you must inform the company of your changes 5 days before your next delivery is due.
Refunds
Marley Spoon boasts an awesome freshness and quality guarantee, so if you are not satisfied with your order, you may either recieve a credit or a partial or full refund.
Compare Plans & Pricing

Dinnerly Plans & Pricing
Two Person Box (2 servings)
Meals per week
Meal kit price
Price per serving
3
$30.00
$5
Family Box (4 servings)
Meals per week
Meal kit price
Price per serving
3
$60.00
$5.00

Marley Spoon Plans & Pricing
Two Person Plan (2 servings)
Meals per week
Meal kit price
Price per serving
2
$48.00
$12.00
3
$61.50
$10.25
4
$76.00
$9.50
3-4 People Plan (3-4 servings)
Meals per week
Meal kit price
Price per serving
2
$76.00
$9.50
3
$106.80
$8.90
4
$131.20
$8.20
Suitable For

Meals For Families
Meals For Kids
Meals For Seniors
Meals For One

Meals For Families
Meals For Kids
Meals For Seniors
Meals For One
Compare Meal Options

Vegetarian Meals
Vegan Meals
Paleo Meals
Keto Meals
Low-Carb Meals
Low-Fat Meals
Meals For Diabetics
Gluten-Free Meals
Organic Meals
Weight Loss Meals

Vegetarian Meals
Vegan Meals
Paleo Meals
Keto Meals
Low-Carb Meals
Low-Fat Meals
Meals For Diabetics
Gluten-Free Meals
Organic Meals
Weight Loss Meals
Compare Sample Meals

Chicken Quinoa Grain Bowl
Crispy Honey Pork Stir Fry
Grass Fed Beef Burger
Tomato Soup

Spring Chicken Grain Bowl
Pork Dan Dan Noodles
Grilled Steak Fajitas
Creamy Tortelloni Casserole
Compare Extras

A La Carte Menu
Gift Cards
Marketplace

A La Carte Menu
Gift Cards
Marketplace
Compare User Reviews

Submitted By Dawn on 08/16/2018

we've been getting Dinnerly for about 4 weeks now and we love it. We were in a dinner rut and had used Blue Apron previously but found it expensive and a little too much work for home cooking. Dinnerly is just the opposite. It's affordable and we aren't slaving away in the kitchen. The selection of meals isn't always the best but that's why it's cheaper than other ones. We'll continue using it. Never had an issue with spoiled food or missing items.

Submitted By Vivian Johnson on 08/16/2018

After 3 days my box showed up. First it was laying on its side, I assume the carrier doesn't know what this end up is. Everything in it was room temperature.(All the ice packets were thawed out) The cheese was soft and melted. The meats were warm, the broccoli was sweating and turning colors, the green beans were warm and started to be slimy. The seasoning package was wet, the bread was smashed. Of course I had to throw way the meats, broccoli and green beans. I have tried to contact dinnerly 5 times since Monday night when this was supposed to be delivered, by email no response. When the box didn't arrive yesterday, I cancelled the subscription. Very disappointing,

Submitted By brantmeier1234 on 08/08/2018

My box arrived and there where ingredients missing. I tried to call, they told me to leave a call back number. I did that but they never returned.my call. I tried to email and they said they would get back to me but never did. When I called back and finally got ahold of somebody they credited my account with them for 10.00. This is no good to me because I cancelled my service with them.

Submitted By Lisa on 08/08/2018

Delivery was usually late. One box came completely spoiled and warm. They did refund me my money . They didn't send all the ingredients more than once. Their customer service did answer my emails fairly quickly and if I didn't receive an ingredient they refunded the meal price. The meals were just ok .

Submitted By Tori Swejk

This company has horrible customer service, which is not good as they can't seem to ship boxes properly. I personally received a broken box, with meat and ice packs broken and red goo all over everything (gel+meat juice = gross). a friend of mine tried and her meat came spoiled. If you look at marley spoon's facebook (what they dont delete anyways) there are pictures of moldy food, and countless stories of bad customer service and spoiled meat. I am personally blocked and my review deleted. I ordered a box and recieved it 7/25. it was my second box, i paid full price. It was busted and i promptly contacted customer service. i was told i'd get a refund and a free box for the inconvenience. refund in 7-10 days. I was traveling so i skipped a few boxes. 10 business days go by- no refund. I contact them again. They tell me OOPS we had a mistake we will issue it now. Friday comes along, and I got charged for my "free" box. That was it, patience over, guns blazing. I posted my story all over, customer service was rude to me when i asked why i was charged for my free box... i was livid. They blocked me and deleted my review on facebook. Still no refund. I shared my story on my facebook page and people went to their facebook and reshared my review (i'm still blocked). I eventually filed a paypal claim since I THANKFULLY paid that way for the busted box. Customer service has been sending me emails and i responded and alerted them of the paypal dispute, and they told me "they couldnt issue my refund unless I canceled the claim". 1) my refund was supposed to have already been issued. if thats the case, they can put that in paypal and it will close the claim. 2) asking me to cancel a paypal claim would void my protection and leave them in the position to never have to refund me. I posted about this as well, with many facebook friends chiming in that they will now never use this service. a few hours later, no more word from marley spoon, and now i have a refund on paypal! I didnt even have to wait 7-10 more days

Submitted By Krista Barnes on 08/01/2018

Only one star since 0 isn't an option. Terrible. I am a member of 4 meal kit deliveries this is the worst. First off, the food is never delivered as cold as my other kits. Also the packing material is subpar compared to other kits. Paper bags stuffed with insulation type filling that was ripped and spilled all over my food. Received my first two orders, then skipped a week due to leaving for vacation, but SUPRISE! I was still charged and received a box of food. Customer service did nothing to assist offered no resolution. I contacted them prior to receiving my box (once I saw an email stating my box would be shipping) and nothing was addressed. All the recipes in the box I didn't order are nothing I want to eat. Pricing most expensive meal kit after your initial little discount you receive.

Submitted By Bill on 07/30/2018

Bait and Switch!!! I heard Martha offer 3 Free meals, never once mentioned a credit towards 6 meals!!! Shame on you Martha!!! I felt bad when Martha was sent to prison, perhaps she deserved it!!!

Submitted By Teresa Finley on 07/27/2018

I have been a customer for 5 weeks. This has been my first experience with a meal delivery subscription. The food was wonderful. What I received that was safe to eat. Plus delivery was a major, major issue. The very first delivery, I received after 11 pm on my delivery day of Wednesday. It included all listed ingredients and both my husband and myself were surprisingly thrilled. We agreed to make these recipes ourselves. Because I was concerned about my box being late I did contact customer service via email and was given a ten dollar credit. Week 2 was a holiday week. My delivered was moved to Tuesday. It arrived in the middle of the day. All ingredients were included. We were happy with our menu choices, but it was unlikely we would cook these on our own. Week 3 my delivery arrived a day late, We loved one of the meals, but the second one was just not pleasing to our taste buds. Due to the delivery arriving a full day late, I was again given a ten dollar credit from customer service via an e mail conversation. Week 4. My delivery was a day late, again. But this time I wasn't home to receive it. So it sat outside all morning. In the summer heat of Las Vegas. I called once again. Because the protein and all cold items were warm and the ice packs were completely melted they did give me a credit for the full amount. I told customer service that if it happened again, I would cancel the service. They were very helpful and friendly. My only issue was actually getting through on the phone. I was hung up on by the auto service twice because they were too busy to help me. I was advised by "Martha Stewart" to try again later. Click. Week 4 rolls around. I had changed my delivery day to Tuesday, hoping that it would arrive on time. Nope. Again a day late and well past dinner time this time. We had pizza delivered. It was pretty good, but not what I was looking for. My box was warm and all items were unsafe. But I had already called customer service, after unsubscribing on line, and a very nice man listened to my complaints. He was my 2nd call because the first woman gave me incorrect information about tracking my delivery. Something I had asked about previously and received no answer on. Due to the time and the info the CS rep was able to find regarding tracking, he gave me a full refund, not a credit. I had stated that I believed my box had spent at least a day and a half sitting in a warehouse without air conditioning then loaded on a truck, also without air conditioning. He didn't make me wait for my delivery so I didn't have to call back. Once again the box items were warm and the ice packs were melted. I just might try this again, but never in the summertime. I loved the recipes we were able to make and am disappointed in the offerings from other services. So come fall, I will give them another shot, to see if they have fixed the delivery schedule issue.
Winner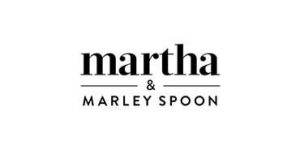 Marley Spoon is a meal kit delivery that brings you world-famous recipes created by Martha Stewart, transformed into 6-step instructions everyone can follow. Along with the recipes, you get flavor-packed, farm-fresh, pre-measured ingredients. Discover more in our honest review of the service and 50+ customer-written Martha and Marley Spoon reviews.