What is Blue Apron? In a nutshell, Blue Apron is a meal delivery service. Naturally, this concise explanation won't be enough for you to fully grasp the service, so let's first take a look at what meal delivery services are exactly and why you should know more about them.
Nowadays everything is fast and everybody is busy. We're always running to take the kids to school, to get to work on time, to get the kids to piano lessons or tennis practice, to hit the gym, to pick up clothes from the dry cleaners… The hustle doesn't get any slower even if you don't have children. Hobbies, meeting with friends, that extra work you need to finish at home… We hardly have time to take a breath or drink a cup of coffee, not to mention grocery shopping and cooking. Does this mean that we can't be on a balanced diet or have a proper dinner? No, it doesn't, because meal delivery services have come to out rescue.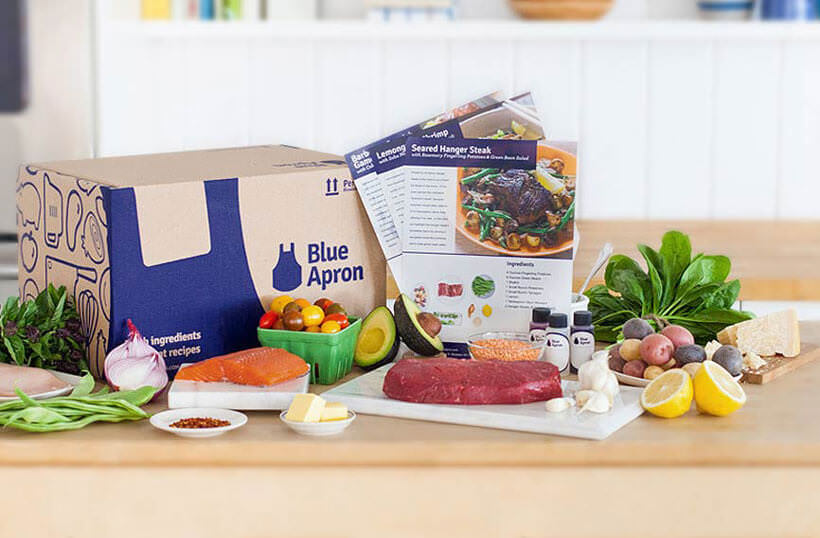 Meal delivery services deliver food to your doorstep. However, meal delivery services aren't just a giant network of fast food or restaurant chains that deliver food to your home. They offer a wide range of different, healthy, and very nutritional dishes. The menus are varied and there are plenty of dishes you can choose from. Some services deliver cooked meals straight to your door, while others offer you pre-portioned ingredients and a detailed recipe so that you can prepare the meal by yourself. You can usually make a monthly plan of orders, define the dates and time when you would like your food delivered and your food will be at your house as you planned and when you planned it to be.
The benefits of subscribing to a meal delivery are numerous. First of all, you can skip the grocery shopping. All the fuss of making some time in your daily schedule to make it to the supermarket will disappear. With meal delivery services you get your food delivered directly to your home. Someone else has bought the ingredients, measured them, prepared them, you just have to put them in a pan or casserole. You will save time, but you will also save money and food. All the ingredients are pre-portioned and the meals perfectly served, so you don't have any leftovers and you don't have to throw any food away. Also, remember how many times carrots or apples rotted away in your fridge and cupboards just because you bought more than you needed. That won't happen with meal deliveries because every ingredient and every portion is carefully measured and prepared.
You can finally forget the endless struggle of coming up with new dishes to cook. Meal delivery services have a lot of interesting dishes on their menus, you just have to choose a different one every time. Along the way, you'll improve your cooking skills if you're ordering from a meal delivery that provides pre-portioned ingredients. By simply following the instructions of professional chefs, you'll make miracles in your own kitchen.
Now that you know what meal delivery services are and why they are a great choice for stay-in dining, let's check Blue Apron. What is Blue Apron exactly? Put simply, it is a meal delivery service that offers you pre-portioned ingredients and recipes for delicious meals. Blue Apron recipes are selected by professional chefs and you can be certain that they're all magnificent. Blue Apron offers its 2-person plan and family plan that includes four servings per order. If you opt for the 2-person plan, you can choose two or three Blue Apron recipes out of eight each week. With the family plan, you'll be able to select two, three or four Blue Apron recipes per week. You'll get carefully prepared ingredients to your doorstep and detailed instructions for preparation. Don't worry about the cooking, as the instructions are very clear and simple and you'll be able to follow them without any trouble. In case you're not sure about some part of preparation guidelines, there are tutorials on the Blue Apron website.
A great advantage of Blue Apron is the quality of their ingredients. Blue Apron is very selective when it comes to suppliers. They work very closely with their partners and choose only those fruits and vegetables which are grown with minimum pesticides. With Blue Apron, you don't have to worry about the meat you get, because they use only hormone-free and antibiotic-free ingredients.
One more thing that makes Blue Apron stand out is their menu. If you choose the 2-person plan, you can choose the vegetarian menu which offers a great deal of delicious vegetarian dishes. The Blue Apron menu also gives you an opportunity to choose what kind of meat or seafood you want to avoid, so you can choose to exclude beef, lamb, poultry, pork, fish or shellfish. Blue Apron menus are very adaptable and you have a lot of options even if you're not fond of some groceries.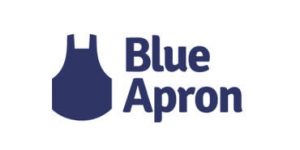 Last but not least, Blue Apron also saves you from going to liquor stores. They offer a wine monthly delivery that matches your meal plan for that month. You don't have to look for wines that should be served with steak or pasta, Blue Apron delivers a box of six wines, three reds and three whites, that are good choices for the dishes you ordered from them for that month. The best part is that all the services of Blue Apron are available for you all over the US. Blue Apron covers almost every corner of the country, so you don't have to worry about blue-ribbon recipes coming to your home.
Meal deliveries are becoming a thing of the present and they will certainly be the future of our home dinners because they are efficient, easy to use, and very convenient for everyone who wants to take care of their dietary plan, but doesn't have a lot of time for it. Blue Apron stands out in the crowd of meal delivery services because of the excellent service, various recipes, and nationwide coverage.