What A Crock is a meal delivery service that exclusively offers crock-pot-ready meals. Its menu is incredibly rich, featuring a variety of gourmet entrées, sides, soups, dips, and desserts. You get to order as often as you want, as many meals as you want, and as many portions per meal as you need. On top of that, the prices are more than reasonable and there are plenty of ways to save money on your orders, like purchasing meals that are on sale or opting for an affordable meal bundle including 5 dinners and an appetizer. For all of you who are interested in giving it a shot, we provide a full list of locations where What A Crock delivers, along with information on where its meals are available for pickup.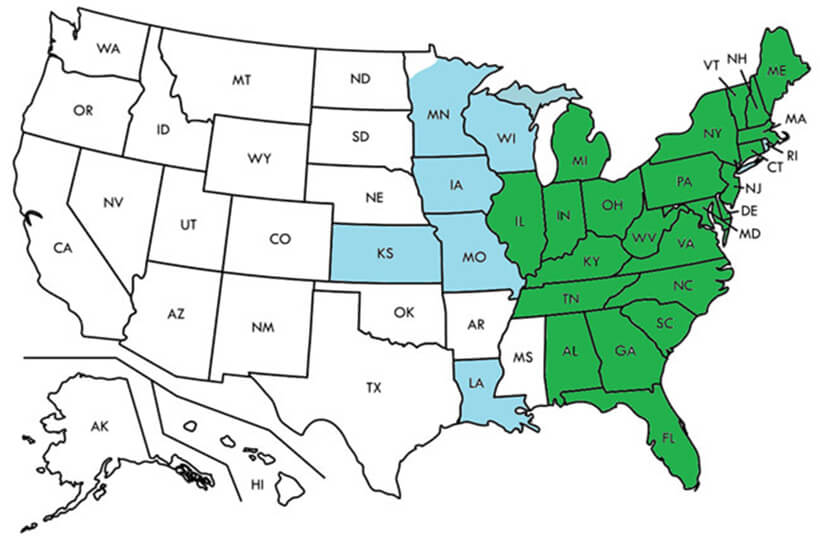 What A Crock Delivery Area
At the moment, What A Crock's standard shipping area includes Maine, New Hampshire, Vermont, Massachusetts, Connecticut, Rhode Island, New York, Pennsylvania, Delaware, New Jersey, Maryland, Washington DC, West Virginia, Virginia, Ohio, Michigan, Indiana, Illinois, Kentucky, Tennessee, North Carolina, South Carolina, Georgia, Alabama, and Florida. The residents of these states get to enjoy free shipping on orders over $99. The minimum order is $40.
What A Crock meals are also available in Wisconsin, Iowa, Missouri, Kansas, Louisiana, and most of Minnesota. However, due to higher shipping costs, the minimum order in these states is $99 and in order to qualify for free shipping, the value of your order needs to be over $199.
Customers from other states within the continental US can order What A Crock meal boxes. The only problem is that there is no free shipping and the service warns potential customers that the shipping rates may be cost-prohibitive.
What A Crock Store Locations
If you live in Pennsylvania and have a What A Crock store nearby, you can stop by anytime and purchase meals or place an order for pickup online and have your order ready in less than half an hour. Retail locations include 4235 Edgemont Ave, Brookhaven, 8229 Germantown Ave, Chestnut Hill, 201 Station RD STE 415, Quakertown Farmers Market, Quakertown, and 1362 Naamans Creek Rd, Booths Corner Farmers Market, Garnet Valley.


Apart from retail locations, What A Crock has one preorder location – Fierce Nutrition, 227 Morton Ave, Ridley. This store differs from other stores in that it does not keep inventory on hand. That means that you need to place your order ahead of time and pick it up when the staff notifies you that your order is ready. It usually takes them no longer than two days to prepare it.