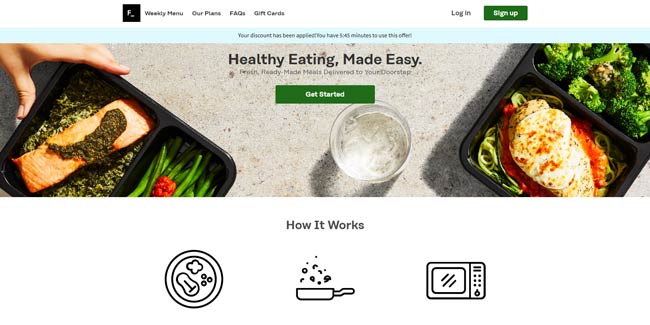 There are two types of people: those who have tried meal delivery services and those who are yet to try them. With this special Factor Coupon Code, we will make it extremely easy for you to try them if you haven't already. And if you did, why not try Factor, one of the best meal delivery companies in the world? What sets Factor apart from other meal delivery companies is not only their dedication to high-quality meals but also the fact that you get meals fully prepared. There are no pre-portioned ingredients, you don't have to cook, simmer or boil anything!
This also means much less mess in the kitchen and that's something all of us can get onboard with. Factor is a healthy meal delivery service dedicated to delivering tasty and fully-prepared meals right to your doorstep. If you live a busy life you probably don't have much time on your hands. Whether it's your job or your family or your job and your family, oftentimes you find yourself wondering where did the day go. Well, it's time to fight back and steal some of that time back! If you decide to try a meal delivery service you will not only save time but also money.
You won't have to preheat your oven or spend hours cooking some meal only to eat in mere minutes. Why don't you treat yourself and hire a personal 5-star chef to cook for you? And you don't have to be a millionaire to do it. With these prices and this special Factor Coupon Code, anyone can do it. If you want to learn more about this company, you can read our detailed Factor review. You should also know that all meals are chef-prepared and dietitian-approved. The rotating weekly menu offers 35 different mouthwatering options for you to choose from. 
If you're wondering just what type of meals you'll be eating with Factor, here's just a snippet of their menu. To be perfectly clear, this is a Factor weekly menu for the last week of January 2023. So, without further ado, here's the menu:
Herb-Crusted Chicken with Mashed Cauliflower and Toasted Almond Green Beans
Turkey Chili and Zucchini with Ancho Lime Crema
Creamy Parmesan Chicken with Broccoli and Tomatoes
Jalapeno Popper Burger with Cauliflower Popper Rice and Roasted Zucchini
Sun-Dried Tomato Chicken with Zucchini Noodles
Cheesy Bacon Ranch Shredded Chicken with Portobellos & Garlic Broccoli
As you can see, this menu will take you on a journey around the world and let you taste new things. You will learn more about each of these dishes as they contain detailed nutritional information about Calories, Fat, Saturated Fat, Carbohydrates, Sugar, Protein, Cholesterol, and Sodium.
Finally, it's time for the big reveal. Get an amazing $276 off with Factor and pay as little as $4.40 per meal! You don't have to do anything as the coupon field with fill itself after you visit Factor. This means that if you want to receive 6 meals per week your first box will cost you just $31! And if you select the option we recommend, 18 meals per week, you'll get the biggest savings and pay $80 for the first box. Just think about the alternatives. Try to remember the last healthy, and we emphasize the word healthy meal you had and how much you had to pay for it. Now compare that price with the Factor price of $4.40 and decide for yourself.