Sous Kitchen Review
Advertiser Disclosure
This website features affiliate links. For purchases made via these links, we earn commissions that allow us to keep producing helpful content. To find out more
click here
.
Close
Important update: Unfortunately, Sous Kitchen meal delivery service is not available at the moment. The relaunch date has not been announced yet. We will post an update here as soon as we get word from the folks at Sous Kitchen.
For over a decade, Sous Kitchen has been offering healthy, ready-to-cook meals perfect for both individuals with a busy lifestyle and those who wish to learn how to cook. It is a meal service that builds on the belief that the road to a healthy lifestyle starts with healthy eating habits. It offers simplicity, variety, and quality at moderate prices, which was reason enough to make us want to learn more delicious details and discover whether it is truly as good as it seems. Keep reading our Sous Kitchen review to find out more.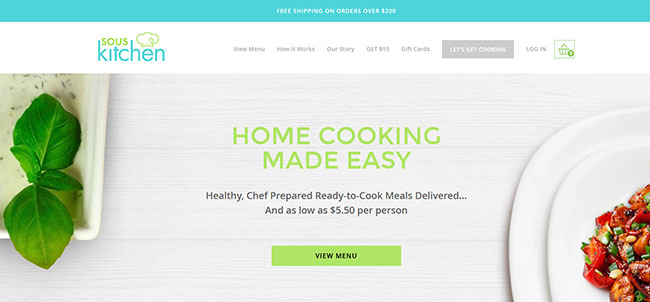 How Sous Kitchen Works
Ordering from Sous Kitchen is completely commitment-free. You do not need a subscription in order to purchase the meals and you can order whatever you are in the mood for, whenever you wish. At any time, you have nearly 50 dishes at your disposal, the menu rotates monthly, and deliveries are made every week.
Sous Kitchen meals are made from scratch, using all-natural, non-GMO ingredients. The chefs come up with great, healthy recipes and trim, blend or chop up the fresh ingredients. Everything is carefully measured, vacuum sealed, and fresh-frozen in order to preserve the flavor and valuable nutrients. Your job is to pick the dishes you like, wait for them to arrive, and cook the meals following the simple instructions. Since the food is frozen, you do not have to worry about anything spoiling before you get a chance to cook it. You can keep the meals in the freezer for up to 3 months.

The dishes come in two sizes. Depending on how many people you want to cook for, you can choose between medium packages that can feed 3-4 people or large packages enough for 7-8 people. The lack of a 2-serving option is somewhat surprising. However, it should not pose too big of a problem, as the medium packages allow you to cook 2 meals for 2 at once and save even more time.
What Makes Sous Kitchen Different?
Unlike many meal kit services that deliver pre-measured ingredients and let you do the rest of the work, Sous Kitchen allows you to simply throw the already prepared ingredients into a pan or a pot or pop them into the oven. The whole preparation process is done by the chefs and you only defrost and cook the meals. The cooking instructions are incredibly easy to follow, so even if you have no cooking experience, you can prepare a home-cooked meal in no time and pick up a couple of tricks and skills along the way.
Unlike the frozen, ready-to-cook meals you can pick up at the store, Sous Kitchen meals are made using only natural, locally sourced produce, antibiotic-free, hormone-free meat, and sustainably sourced seafood. The focus is on the freshness and the quality of the ingredients.

Sous Kitchen staff is ready to help all the customers on special diets choose dishes that are in accordance with their diet restrictions. All the allergens are listed in the meal descriptions, so you know which ones to avoid. Sous Kitchen also lets you know if the meal can be made allergen-free. The menu features gluten-free, soy-free, dairy-free, low-sodium, low-fat, and vegetarian meals.
The company is eco-conscious, striving to reduce food waste and using 100% recyclable boxes. It is important to mention that the boxes you receive upon delivery are reused and you should leave them at your doorstep at the time of your next delivery, so the driver can pick them up.
If you want to treat someone to a couple of Sous Kitchen meals, you can send them a lovely gift card. There are nearly 40 beautiful card designs for a variety of occasions. The standard gift card values range from $25 to $200, but you can also determine a custom value. Sous Kitchen also has a great Corporate Wellness Program, allowing companies to treat their employees to delicious ready-to-cook meals, thus improving their satisfaction and productivity.
Sous Kitchen's Refer A Friend program lets you earn credits by inviting your friends to give this meal service a try. For every successful referral, you get $15 after your friend's first order.
Meals and Recipes
Sous Kitchen meal options
As we have mentioned in the previous sections of this Sous Kitchen review, the service offers a large variety of meals, suitable for a range of special dietary needs and preferences. Given that there are many dishes available whenever you stop by, you can speed up the selection process by applying filters in accordance with your desires.

You can filter the meals by type and narrow your choice down to those containing chicken, beef, pork or seafood. You can also limit your search to vegetarian dishes, sides or desserts. You can filter the meals by diet and focus on gluten-free, dairy-free, nut-free, low-fat, low-sodium or low-carb meals as well.
Before ordering a meal, be sure to take a look at the full meal description. This is where you can find out how long it takes to cook the meal, view the possible allergens, and read the cooking instructions.

Pricing
The prices of Sous Kitchen meals normally range from $5.95 to $24.95 for medium-sized packages. The large packages usually cost around twice as much as the medium ones. This makes Sous Kitchen one of the most affordable meal deliveries, as a single serving costs between $1.5 and just over $6.

Shipping is free for orders within California worth over $200. For California orders between $150 and $200, shipping costs amount to $10 while orders below $150 come with a $20 shipping charge. For out-of-California deliveries, the shipping charge is $20 for all orders.
Delivery Areas
During our research for this Sous Kitchen review, what disappointed us the most was the fact that this meal delivery service delivers to only 7 US states. Its ready-to-cook meals are available throughout California and in some parts of Arizona, Nevada, Washington, Utah, Oregon, and Idaho. Deliveries to California are made on Thursdays while the delivery day for other states is Friday.
If you live in the San Francisco Bay Area and want to save money on your orders, you can avoid the shipping costs by picking up the food yourself. Sous Kitchen meals are available for pick up in Menlo Park, on Tuesdays and Fridays from 12 pm to 5 pm, and Burlingame, on Mondays, Tuesdays, Thursdays, and Fridays from 9 am to 4.30 pm. It is important to note that you need to call ahead and schedule your order.
Sous Kitchen Pros And Cons
To make sure Sous Kitchen meets all your standards and expectations, it is important to know its biggest advantages and disadvantages. With a short overview of its pros and cons, you can easily decide if Sous Kitchen is the right meal kit service for you.
Pros
No subscription required
Healthy, ready-to-cook meals
Affordable prices
All-natural, locally sourced, non-GMO ingredients
Nearly 50 dishes on the menu
Sensitive to food allergies
Corporate Wellness Program
Refer A Friend Program
Beautiful gift cards
Eco-conscious
Cons
2-serving option not available
Delivers to only 7 US states
Delivery free only for California orders over $200
Sample Dishes
If you subscribe to Sous Kitchen, you can easily prepare culinary masterpieces using only the ingredients and recipes found in your meal kit box. You may not be a pro chef just yet, but with Sous Kitchen, you can easily make restaurant-grade meals. You don't have to take our word for it – check out the images below to get a better idea of the types of dishes you can enjoy with Sous Kitchen.
Blackened Salmon
Cheesy Pasta
Garlic Chicken Kabob
Red Beans and Rice
Bottom Line
Sous Kitchen is an excellent, healthy solution for home dining, particularly suitable for beginner cooks. The ingredients are fresh and natural, the preparation is as simple as it can be, as all you need to do is defrost and cook the meals, and the prices are more than reasonable. The meals are created with numerous diet restrictions in mind and there is a vast range of dishes to choose from whenever you stop by. You can order without any limitations or commitments and you can keep your meals in the freezer for up to 3 months, so there is no rush to cook the food before it spoils.
Sadly, the company only delivers to 7 US states and free shipping is available only to California residents willing to spend more than $200 per order. We also believe that the lack of a 2-serving option may be a bit disappointing to some.
All in all, we love what Sous Kitchen is offering, we just wish that it would expand its delivery area and maybe consider lowering the order limit for free shipping.