Gourmet Station Review
Tasty gourmet meals for food lovers

Advertiser Disclosure
This website features affiliate links. For purchases made via these links, we earn commissions that allow us to keep producing helpful content. To find out more
click here
.
Close
Important Update: Gourmet Station is temporarily closed. The service is not processing new orders at the moment. Holiday gift certificates already received can be redeemed by reaching out to the company's customer support via email. If you are interested in ordering from Gourmet Station, be sure to check back for fresh updates on the company's status.
Gourmet Station is a meal delivery service that excels in preparing and delivering mouthwatering gourmet meals for both individual and business clients. It began in 2000 by delivering dinner gift-style packages to busy customers seeking unique gourmet food for special occasions such as birthdays, anniversaries, and holidays. Throughout the years, the company expanded its menu to include gourmet soups, certified Angus steak dinners, seafood dinners, dessert gifts, appetizers, pastas, and gourmet delights from the most famous world cuisines.

Although many entrees are categorized as gifts, this doesn't mean that you can't order them for your own enjoyment. That is exactly what we did. We heard a lot of good things about this gourmet meal delivery service, so we decided to present you with this honest Gourmet Station review.
How Gourmet Station Works
Although the company's website is packed with useful information in many different sections, the ordering process itself is very simple. You select a gift from one of the categories, provide the appropriate delivery information, and your order is ready to process. All orders come with free gift packaging and are delivered by UPS with no signature required. Since all meals are deep-chilled, all you need to do is follow the preparation guidelines. Side note: preparation can take up to 30 minutes.
Along with the dinner gifts, there are also other categories to choose from. You have occasion dinners, which are designed for special events such as birthdays, anniversaries, and different congratulations, but there are also romantic dinners, "thank you" dinners, and dinner gifts to show people you think about them.
Many recipes are inspired by authentic cuisines from different regions of the world and there's a section with meal plans that bring you 5 entrees from a specific culinary region. There is also a section for gift certificates, Monthly clubs, and a special section dedicated to soups and appetizers. As a nice bonus, Gourmet Station also has a wine pairing section that you can check out if you're interested in creating the ultimate combination of food and drinks for a special occasion.

What Makes Gourmet Station Different
As already mentioned in this Gourmet Station review, this meal delivery service specializes in preparing only the finest-quality gourmet cuisine. That is already a really big challenge for most companies that deliver frozen meals. The company makes sure that all aspects of its service, such as planning the recipes, selecting the ingredients, preparing the meals, and carefully packing them before freezing, go through the toughest scrutiny. After all, you can't have a memorable special occasion with a regular TV dinner. The end result needs to be aesthetically pleasing, mouthwatering, and delicious to be considered gourmet. From what we've seen, they're doing a pretty good job at meeting these criteria.
As already mentioned, Gourmet Station has a very nice selection of meals for many special occasions. You no longer need to spend countless hours planning, shopping for ingredients, and preparing exciting dinners for your family and friends. Gourmet Station does all that for you and they even do gift packaging for free.
Another great feature we enjoyed is the Monthly Clubs section. These are meal plans that include a monthly dinner, steak dinner, dessert or soup for 3, 6, 9 or 12 months for 2 people. They are all about indulging your taste pallet into a festival of culinary perfection. Or at least that's what we concluded from the course list, ingredients used, and very hefty price tag.
Gourmet Station also shows a great deal of attention toward the sustainability of its business model. In line with that, it offers support and advice when it comes to package handling after the delivery. Depending on which gift item or items you purchase, you may be left with up to 9 different types of packaging. Materials such as aluminum foil, insulating panels, and boxes can be recycled while all of the containers can either be repurposed for further use or recycled as well.
Meals and Recipes
As we previously mentioned in this Gourmet Station review, the company provides you loads of categories to choose from. We'll now try and go through them so you can maybe get a hint for choosing your next gourmet diner.
Dinner gifts section
The dinner gifts section offers a wide range of meals for two that come with 2, 3 or 4 courses, as well as a steak dinner for 2. Each option has its own dedicated menu where you can choose bread, soups, entrees, desserts, and beverages, which are all split depending on the region they're inspired by. As an example, a 4-course dinner for two includes one bread (for 2), two soups, two entrees, one dessert (for 2), and one beverage.
Occasion Dinners section
Next up, there's the Occasion Dinners section that offers different variations of 3 & 4-course dinners for two designed specifically for anniversaries, birthdays, congratulations, and romantic occasions.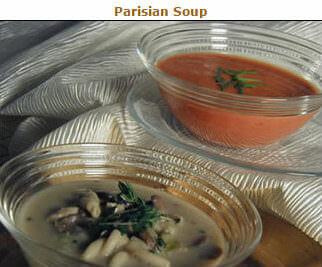 Meal Plans category
The Meal Plans category lets you choose your own selection of 5 meals from all different categories – International, Americana, Cajun, Parisian or Tuscan. Unlike most other meal plans which are sold in portions for two, these are designed for 1 person.
Monthly Clubs category
Monthly Clubs is a sort of a premium service by Gourmet Station and it basically offers you one monthly meal to either seduce or impress. Or both. You get one monthly delivery for 3, 6, 9 or 12 months that contains a top-of-the-line restaurant-grade gourmet meal that will treat your family or business partners with a fine dining masterpiece.
Finally, no gastronomical adventure is complete without appropriate appetizers and gourmet soups. There is also a section that lets you make a quality first impression with great tasting appetizers and warm your tummy with great tasting soups.

If you just want to surprise your family, friends, business partners or that special someone, there's an option of purchasing Gift Certificates for all the mentioned categories. Gift cards are designed for a specific category so there's nothing stopping you from eating a delicious dinner gift when you receive your gift card.
Pricing
What we love about Gourmet Station's menu is that all items from the same category cost the same. If your going with dinner gifts, all 4-course dinners will cost you $99.99. 
A 3-course dinner for two is $89.99 and a 2-course dinner is $79.99. Meals for special occasion come in two versions. Dinner for two with 4 courses is $109.99 while 3 courses cost $99.99.
All plans in the Meal Plans category (5 meals for 1) are $144.99. Items from the monthly club are ordered for 3, 6, 9 or 12 months. As an example, Dinner of the Month starts at $355.00 for 3 and $415.00 for 4-course dinners, three months running.  Steak Dinner of the Month also starts at $415.00 while Soup of the Month begins at $382.00 (you get 6 soups, 6 mini baguettes, and 6 bake-your-own gourmet cookies each month for three months).
Delivery Areas
Gourmet Station provides delivery to all parts of the United States, including Hawaii, Alaska, and Puerto Rico. Basic, standard delivery is used by 90% of its clients, but there's also the option of overnight delivery if you place your order before 12pm EST, which is very useful if you're planning on sending dinner gifts for birthdays or anniversaries. To see whether you're eligible for a local pickup option, you can call its hotline service.

Gourmet Station Pros And Cons
To make sure Gourmet Station meets all your standards and expectations, it is important to know its biggest advantages and disadvantages. With a short overview of its pros and cons, you can easily decide if Gourmet Station is the right meal delivery service for you.
Pros
Excellent dinner gifts for special occasions
Both presentation and taste are excellent
Great selection of different cuisines
Cons
Not cheaper than eating in a restaurant
There are no special diet options
Sample Dishes
With Gourmet Station, you get delicious meals prepared by pro chefs at affordable prices. To find out what kinds of delights you will receive in your delivery, we have chosen a couple of sample dishes that accurately represents its offer and can help you decide if it is the right service for you.
Chicken Cordon Bleu
Chocolate Trio Parfait
Gourmet Soup
Salmon En Croute
Bottom Line
Fine dining is not exclusive to elite restaurants. With meal delivery services like Gourmet Station, you can start enjoying delicious gourmet meals in the comfort of your home. If you can afford it.