Discover the best USA microbreweries
Clubs Of America Beer Of The Month Club Review - UPDATED Jan 2018
Beer of the Month is a popular club created by Clubs of America back in 1994. With a long track record and thousands of satisfied customers, it is definitely a beer club worth considering for anyone interested in receiving excellent and often rare or exclusive American craft beers on a monthly, bi-monthly or quarterly basis. Read this extensive Clubs of America Beer of the Month Club review to learn more.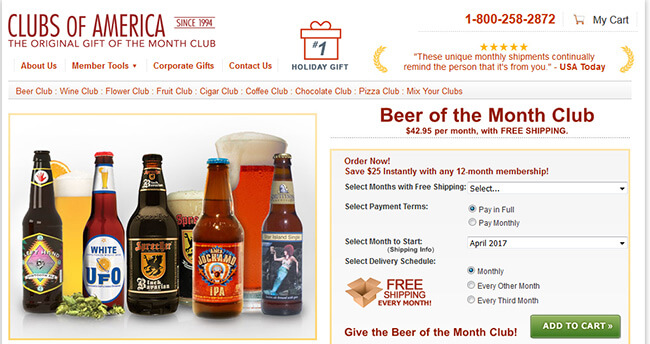 Beer Selection & Quality
Some beer clubs offer mixed beers and some only offer international ones, but the Clubs of America Beer of the Month Club only focuses on domestic, American beers. They work closely with many of the best American microbreweries from coast to coast. Today, there is no country in the world that could match the United States for the number of microbreweries (in fact, the USA holds the record in that department!), so obviously the folks behind this beer club made a good choice when they decided to pay all their attention and efforts to exquisite beer made in the USA.
Clubs of America Beer of the Month Club claims to know all there is to know about American microbreweries and that there is no other beer club in the country that can provide such variety to its customers. To prove this, they frequently list their most recent featured beers on the club's website so that you can see for yourself what kind of full-flavored, carefully crafted beers you can expect. So, you have high standards in selection, you most certainly have variety, and judging from some of the beers they featured in the past, they also definitely have quality.
Many people think that all (or almost all) craft beers are ales, especially IPAs. It's true that Clubs of America Beer of the Month mostly offers ales, including IPAs, APAs, pale ales, red or brown ales, and farmhouse ales, but you can also count on some excellent porters, stouts, weissbiers, and even some lager varieties.
What Makes Clubs Of America Beer Of The Month Club Different
As we already mentioned, Clubs of America Beer of the Month Club only offers beers produced in American craft microbreweries. Imported beers are great, but the club decided to focus all their attention to the American brews and that kind of logic actually makes sense, at least according to your truly.
Clubs of America Beer of the Month Club offers 100% satisfaction guarantee to all customers. This means that if there is anything wrong with your shipment, whether it's the packaging, the beer inside or the delivery itself, you can contact the club and they will do their best to offer you either a replacement or a refund.
Also, this beer club does not charge any shipping fees at all. You will receive your beer monthly (or every other month or every third month, whichever you choose) and you will only pay for the beer itself, not for the shipping, which is, of course, a tremendous money-saver. Another great thing about this club is that there are no minimum requirements when it comes to the number of deliveries you want to receive.
Another thing that is quite unique when it comes to Clubs of America Beer of the Month Club is that with this club you get to pick how you want to pay – whether it is going to be a one-time full payment or several monthly payments. This gives you plenty of flexibility in planning your budget and expenses.
Gift Options
Like most other beer clubs, Clubs of America Beer of the Month Club offers you a chance to send a beer gift to someone you know appreciates exquisite, carefully crafted and rare American brews. Gift subscriptions work the same as the ones you would purchase for yourself, except the company sends it to your recipient's home or business address. You pick how often you want the beers delivered and how many deliveries you want to send. All this is easily done through a customizable order form right there on the club's website. You can also opt for a free personalized gift message or letter for your recipient. These subscriptions make an excellent gift, regardless of the occasion, and are frequently used in business circles, for coworkers, bosses or business partners. Many people also send it as a holiday, birthday or anniversary gift for their friends, loved ones, and family members.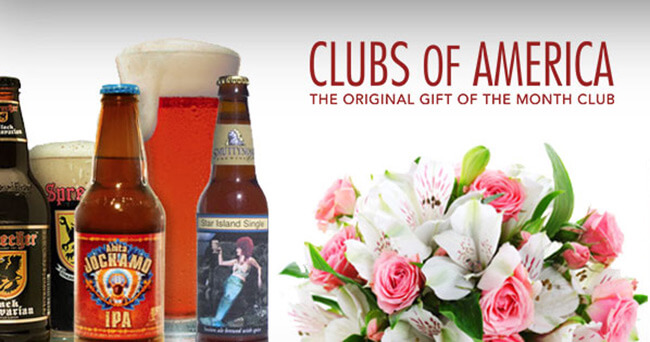 Club Membership & Pricing
As we already mentioned earlier in this Clubs of America Beer of the Month Club review, the company does not put any limit on how many deliveries you want to order. You can opt out of your subscription easily and you do not have to pay any additional membership fees. The club states that shipping and handling are absolutely free, which means that those costs are already included in the prices. They ship anywhere in the continental United States – Alaskans and Hawaiians are, unfortunately, left out, which is actually quite common among beer clubs.
The price of this beer club is $42.95 per month, for which you get 12 beers. They are usually bottled, but every now and then they send cans as well. You get four different beer styles, three bottles or cans each, plus the club's Beer Expeditions monthly newsletter. The price for two shipments is $85.90, for three shipments $128.85, and so on. Twelve shipments come up to $490.40, which includes $25 instant savings. Like we already said, you can decide whether you want to pay in full, right away, or to make monthly payments. You can also set how often you want to receive your beer – every month, every other month or every three months.
Customer Support
Clubs of America Beer of the Month Club has a customer care phone line that is, unfortunately, only available during business hours, meaning from 9 am to 5 pm Central Time (the company is based in Illinois). In addition to phone support, there is also an email address you can use for your inquiries. The website also features a handy contact form. From our experience, response times for email and support form are quite short.
Pros
Free shipping
No membership fee
High-quality standards
Rare and premium beers
100% satisfaction guarantee
No binding contracts
Cons
Only American beers
Just one membership option
Customers cannot pick beer they like
Lack of customization
Bottom Line
Whether Clubs of America Beer of the Month Club is a good choice for you or not depends on how passionate you are about American brews. Some people prefer variety and want to receive foreign beers as well. Others are aware that America is the top craft beer producer in the world right now and that all the true beer gems are located right here, waiting to be discovered. If you are a fan of American beers then this beer club might be the ideal choice for you. They claim to include some very rare, often downright exclusive beers from relatively unknown and yet excellent microbreweries, which means you get an exclusive chance to enjoy some of the beers you wouldn't normally find in the beer section of your local liquor store. On top of that, the club has no membership fees and sends you the beer for free.