17 Day Diet Delivery Review
Advertiser Disclosure
This website features affiliate links. For purchases made via these links, we earn commissions that allow us to keep producing helpful content. To find out more
click here
.
Close
Important Update: Unfortunately, 17 Day Diet Delivery no longer operates as a diet meal delivery service. The company's site has been redesigned to exclusively provide useful facts and advice on wellness, nutrition, and exercise. Currently, there is no information on whether the company plans on relaunching its meal delivery service. We will post an update as soon as we learn about any new developments. In the meantime, you can find some excellent alternatives to 17 Day Diet Delivery on our list of the best weight loss meal delivery programs.
The 17 Day Diet Delivery weight loss program was designed for people who need to shed pounds quickly and we have to say that it delivers amazing results. Unlike many other rapid diets that come with some health risks, Dr. Mike Moreno's 17 Day Diet relies on researched and proven methods that can help you lose weight for good. Moreno outlines the weight loss program in his book The 17 Day Diet, which made it to the New York Times (#1), Wall Street Journal, Publishers Weekly, USA Today, BookSense, and Amazon bestseller lists. Join us as we discover the secret of this program's success in our detailed 17 Day Diet Delivery review.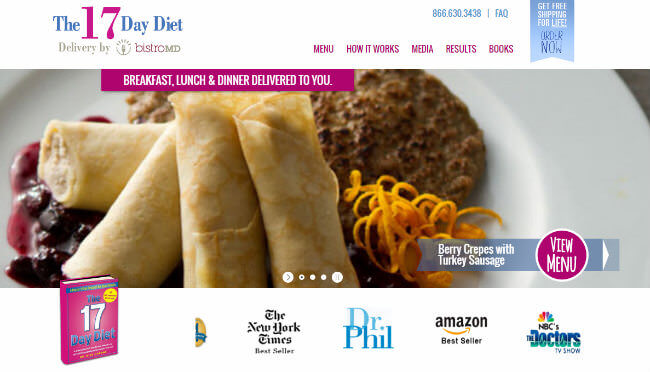 How 17 Day Diet Delivery Works
For the purpose of this 17 Day Diet review, we used the ordering form on their website, but you can also order by phone. After the delivery arrives, you are expected to follow the program to a tee in order to achieve the desired weight loss. They do all the hard work for you by planning meals and preparing them for your convenience.
Finally, the last step is arriving at your desired goal weight. However, the program does not stop there. The whole point of this program is to help you maintain a healthy weight by continuing this diet and improving the quality of your lifestyle. It is supposed to be an ongoing process that is aimed at people who need to lose weight quickly and simply.
Their FAQ section, which is split into three sections for easier navigation, also offers a lot of answers to potential questions. There is a section for general information about 17 Day Diet Delivery, questions about their delivery and deadline information, and a nice section with questions regarding nutritional information.
The meal program itself is based on the guidelines from the book and is split into 3 meals per day. This means that there is no need to supplement the diet with any other snacks or probiotics. It is stated that if you actually want to do so, you must also find the proper guidelines in the book. Otherwise, you are less likely to achieve the desired results.

What Makes 17 Day Diet Delivery Different
As already stated at the beginning of this 17 Day Diet Delivery review, the success of this meal program is based on the huge success of Dr. Mike Moreno's best-selling book. It might be just a piece of speculation, but according to the author, millions of people have lost weight using this method. The whole program is safe, fast, and extremely effective.
In a nutshell, the 17 Day Diet program gets you started on your weight loss journey and guides you through 4 17-day cycles that cumulatively produce the desired weight loss. The key premise of the diet is that eating a variety of nutrients can significantly boost your metabolism. By introducing a larger variety of food, especially substituting saturated fats and sugars with healthy ingredients, you are guaranteed to trim the fat off the key areas of your body.
The first 17-day cycle is called Accelerate. This is the rapid weight loss cycle. Sugar and fat are flushed from your system and you start introducing foods and nutrients into your diet that are proven to effectively trim belly, thigh, and stubborn zone fat.
The second cycle, which is called Activate, is the metabolic boost cycle. During this cycle, you alternate between low-calorie and high-calorie days. The third cycle, known as Achieve, is the steady weight loss cycle. During this phase, you're supposed to learn about proper portion control and start with the 17 Minute Spot Reduction Workout.
And finally, there comes the fourth cycle – Arrive. This is the efficient control cycle that works if you are already used to the concept of eating healthy and fully dedicated to achieving your goals. The last cycle allows you to even enjoy a cheat day (or two) on the weekends and get your hands on your favorite food.
All in all, this is definitely a bit different than some other weight loss meal delivery services on the market. They also have a results page dedicated to testimonials from people who have tried it and are ready to vouch for the program.
Meals and Recipes
17 Day Diet Delivery meal options
The good thing about 17 Day Meal Delivery is that you have complete control over the actual menu. All adjustments are made through the member's customization portal.
The 17 Day Diet Delivery website doesn't provide much information about the menus before you register, so we wanted to offer you some insight into what a regular day on the 17 Day Diet looks like. Each day comes with a perfectly balanced meal plan. This will provide you with a great basis for your weight loss and enough energy for your activities on a day-to-day basis. There's a good breakfast to get you started, a quick and easy lunch to get you through the day, and a yummy dinner to warm your heart and tummy before bed.

Our first day started with a sweet & sour combination of spinach mushroom crepes with an addition of mixed berry compote. We noticed that their menus are a bit biased toward French-style breakfasts so there are mostly crepes and omelets, but we didn't mind. In fact, the combinations of ingredients are very creative and very heartwarming.
Next up, for lunch, we had jerk chicken with mango chutney. 17 Day Diet Delivery has a very tasty jerk season mix and we applaud them for it. You will rarely have a chance to try something better. This tasty piece of chicken and mango chutney is perfectly rounded up with tomato okra and spinach for maximum flavor variety.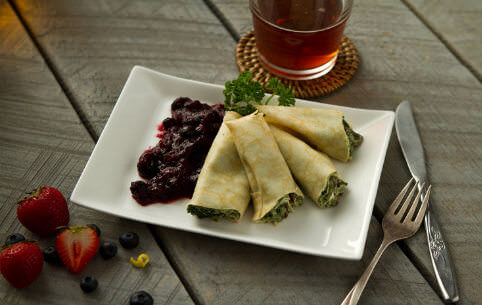 For dinner, we had to go and get our hands on their roasted turkey with diablo sauce. We don't know the exact recipe for creating this awesome hot sauce, but we know that it went perfectly well with turkey, rounded up with some peppers, broccoli, and carrots. Although frozen, all meals came out perfect when reheated and served.
This meal delivery service, just like many others on the market, delivers your food each week. This means that you get 7 days of breakfasts, lunches, and dinners.
Pricing
What surprised us the most during our research for this 17 Day Diet Delivery review was the affordability of this program. Each weekly delivery costs about $185, which means that your daily menu costs as little as $26. That's right – a full daily menu consisting of a healthy, delicious, and nutritious breakfast, lunch, and dinner costs less than eating dinner at an average restaurant. You will also be happy to learn that shipping is always free.
Breakfast, Lunch, Dinner
Days per week
Price
Price per meal
7
$184.90
$8.80
Delivery Areas
All orders are delivered by FedEx throughout the entire United States, including Alaska and Hawaii. There is useful information about the ordering process, deadlines, and cancellation in their FAQ sections. You are advised to consult this page if you're looking to form a long-term commitment to this program.
17 Day Diet Delivery Pros And Cons
To make sure 17 Day Diet Delivery meets all your standards and expectations, it is important to know its biggest advantages and disadvantages. With a short overview of its pros and cons, you can easily decide if 17 Day Diet Delivery is the right meal delivery service for you.
Pros
Bestselling weight loss program
Delicious entrees for the entire day
Affordable prices
Cons
Long-term commitment required
Sample Dishes
With 17 Day Diet journey, you get delicious meals prepared by pro chefs at affordable prices. To find out what kinds of delights you will receive in your delivery, we have chosen a couple of sample dishes that accurately represents its offer and can help you decide if it is the right service for you.
frencinsh pired chicken normandy
roasted-turkey breast with fruit chutney
spinach-mushroom-crepe with mixed berry compote
tomato pesto omelet
Bottom Line
Achieving healthy, efficient, and sustainable weight loss is rarely an easy endeavor. If you are tempted to go on the 17 Day Diet journey, this meal delivery service can be your valuable ally. Nonetheless, you need to keep in mind that weight loss is achieved much harder than simply changing what and how you eat. You need a nutritionally balanced diet plan, a change of lifestyle that would induce a higher calorie burn, which means more exercise and other activities, and most importantly, you need to fully commit yourself to the plan.