In our detailed Purple Carrot review, we pointed to all the major advantages and shortcomings of this indisputably unique meal kit service that exclusively offers vegan dishes. This time, we will not focus on the obvious lack of variety on the weekly menus, but we will instead talk about the equally obvious ingenuity of the recipes, the ease of cooking, and Purple Carrot's surprisingly rich cookbook that can be of use to all veggie lovers who want to add more delicious and impressive vegan dishes to their repertoire.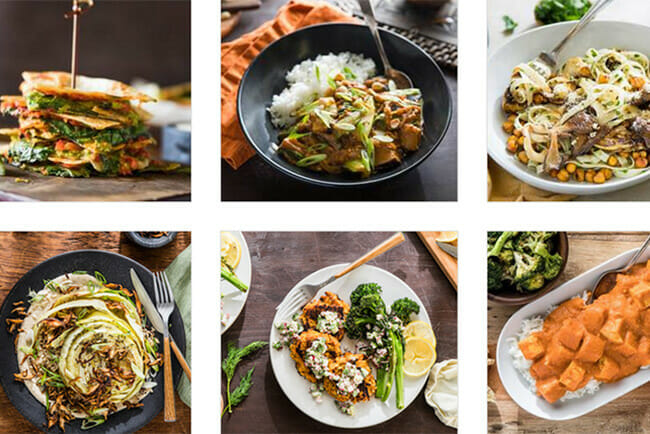 Purple Carrot Recipe Selection
Purple Carrot recipes are available on 2 menus: the standard weekly menu and the TB12 Performance Meals menu. The standard menu features 6 fresh dinner recipes per week while the TB12 menu features 3 unique dinner ideas every week. All the recipes on the menus are 100% vegan.
Standard Purple Carrot Recipes
These are the recipes available with the company's 3 standard meal plans: Chef's Choice, Quick & Easy, and High Protein. They are designed for vegans who just want to eat healthily. They are suitable for 2 people or 1 person who likes leftovers. The recipes are mostly inspired by Italian, Spanish, Moroccan, Chinese, and other Asian cuisines. You can expect all kinds of risottos, pasta, grain bowls, quesadillas, tacos, and hearty stews and curry.
To make it easier for you to find the recipes you want to try out, Purple Carrot applies labels to its standard recipes. You can opt for high-protein recipes, gluten-free meal ideas, and quick & easy recipes that involve minimum cleanup and basic cooking techniques and never require you to spend more than 30 minutes in the kitchen.
The standard Purple Carrot recipes are sometimes allergy-friendly but almost always contain soy and often contain wheat and/or nuts.
TB12 Purple Carrot Recipes
The TB12 Purple Carrot recipes are not too different from the standard recipes and sometimes the meal ideas on the 2 menus overlap. However, the TB12 Performance meals are usually higher in protein and calories, as they are designed for particularly active individuals, fitness enthusiasts, and athletes.
Unlike the standard Purple Carrot recipes, they are always free from gluten and contain limited amounts of soy and refined sugars. Each recipe yields 2 servings.
In addition to pasta, Mexican delights, grain bowls, and other delicious dishes mentioned previously, you can expect to get some pretty exciting recipes like tofu kebabs with pilaf and zucchini noodle cakes.
Purple Carrot Extras
Striving to satisfy its customers' dietary needs throughout the day, Purple Carrot launched breakfast and lunch recipes in 2019. They are exclusively available with the standard meal plans and they can be purchased as add-ons.
Located in the Extras section of the standard menu, there are 2 breakfast ideas and 2 lunch recipes every week. Breakfasts yield 4 servings each while lunches are designed for 2 people.
What Purple Carrot recipes for breakfast and lunch have in common is that they take mere minutes to make. They are usually gluten-free and include healthy options such as granola bowls, smoothies, and colorful salads.
Simple, Quick & Fuss-Free
If you do not like spending too much time in the kitchen, worry not because Purple Carrot allows you to cook up a great dinner in less than half an hour and fix a healthy breakfast or lunch in just 5 minutes. You get all the ingredients you need (pre-portioned), with the exception of pantry staples like vegetable oil, salt, and pepper. There are no complex cooking techniques, the recipes are designed to suit all skill levels, and you get step-by-step instructions along with color photos that allow you to check whether your meal looks the way it should at every stage.
Each Purple Carrot recipe includes:
List of ingredients in the kit, with all the quantities indicated;
List of items you need to have at home, including pantry staples and utensils;
Prep and cooking time indicated;
Instructions including 6 steps with large photos;
Short description highlighting the main characteristics of the dish.
The steps are shown chronologically: you start with dicing and chopping, move on to cooking and making sauces and dressings, and in the last step, you discover how to properly serve the dish. The total cook and prep time rarely exceeds 45 minutes and some meals take just 20 minutes to prepare. The cooking difficulty is almost always easy.
Fun, Flavorful & Fantastically Flamboyant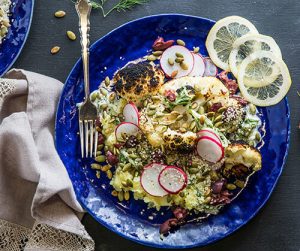 We like food that looks good and Purple Carrot recipes satisfy this criterion. While the meals you cook with this service may not look exactly like the ones in the photos, they are sure to be a pleasure to look at. Plus, the natural, high-quality ingredients Purple Carrot provides guarantee excellent flavor. Although the experienced culinary team behind the recipes obviously aims to please everybody, sticking to crowd-pleasers like quesadillas, pasta, and colorful salads, they still like to get playful and add a sprinkle of creativity to every dish. Whether it's an exotic ingredient that is hard to come by or an unusual garnish that adds a bit of tang and crunch to the meal, these exciting additions are what makes Purple Carrot recipes unique and irresistible.
Nutritional Value & Portion Size
Purple Carrot recipes usually contain 500 to 800 calories per serving. TB12 Performance meals may sometimes contain more than 800 calories. All the meals you cook with Purple Carrot are nutritionally balanced. They focus on healthy fats, lean proteins, and complex carbs, all in the right quantities.
The portions are not too large – they are usually medium sized, but due to their high nutrient content and focus on healthy, non-processed ingredients, they are quite filling and keep you full for at least a couple of hours.
Conclusion
Purple Carrot recipes are always vegan, nutritionally balanced, quick, simple, and quite innovative. They are easy to follow, with detailed instructions and lists of ingredients and tools necessary to prepare the meals. Whether you want to eat healthily or need high-protein, high-calorie meals to support your active lifestyle, Purple Carrot recipes are a good match for your needs. With the added convenience of having all the premium-quality ingredients delivered to your doorstep, cooking healthy veggie meals with Purple Carrot is almost as easy as takeout.