In our detailed Purple Carrot review, we pointed to all the major advantages and shortcomings of this indisputably unique meal kit service that exclusively offers vegan dishes. This time, we will not focus on the obvious lack of variety on the weekly menus, but we will instead talk about the equally obvious ingenuity of the recipes, the ease of cooking, and Purple Carrot's surprisingly rich cookbook that can be of use to all veggie lovers who want to add more delicious and impressive vegan dishes to their repertoire.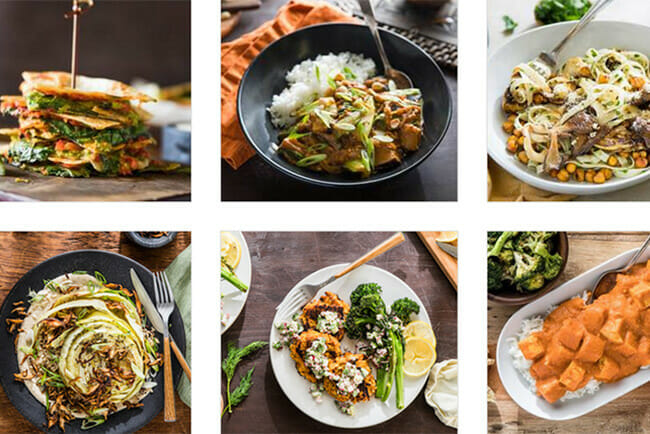 Simple, Quick & Fuss-Free
If you do not like spending too much time in the kitchen, worry not because Purple Carrot allows you to cook up a great meal in just around half an hour. You get all the ingredients you need (pre-portioned), with the exception of pantry staples like vegetable oil, salt, and pepper. There are no complex cooking techniques, the recipes are designed to suit all skill levels, and you get step-by-step instructions along with color photos that allow you to check whether your meal looks the way it should at every stage.
Fun, Flavorful & Fantastically Flamboyant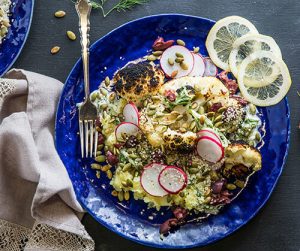 We like food that looks good and Purple Carrot recipes satisfy this criterion. While the meals you cook with this service may not look exactly like the ones in the photos, they are sure to be a pleasure to look at. Plus, the natural, high-quality ingredients Purple Carrot provides guarantee excellent flavor. Although the experienced culinary team behind the recipes obviously aims to please everybody, sticking to crowd-pleasers like quesadillas, pasta, and colorful salads, they still like to get playful and add a sprinkle of creativity to every dish. Whether it's an exotic ingredient that is hard to come by or an unusual garnish that adds a bit of tang and crunch to the meal, these exciting additions are what makes Purple Carrot recipes unique and irresistible.
Cookbook Full Of Wonders
While Purple Carrot only features 2 or 3 dishes on its weekly menus, the collection of recipes available on its website is huge. You can browse more than 500 delicious recipes with full ingredient lists (quantities indicated), instructions accompanied by helpful photos, lists of necessary tools, information on cook & prep time and the number of servings, as well as nutritional information.
If you like trying out new dishes, Purple Carrot's enormous cookbook can be a great source of inspiration and if you want to be among the first to try out the new dishes Purple Carrot chefs come up with, you can try out its delivery service and enjoy the deliciousness along with maximum convenience.