Purple Carrot is a popular vegan meal kit delivery known for its environmentally-conscious approach to the business. Its meal kits are designed to encourage home cooks around America to adopt a plant-based diet, at least occasionally, and thus improve both their own health and the health of the planet. Now the service is moving a step further toward making the US a more eco-friendly place by introducing industry-leading recyclable packaging that makes recycling less of a chore. Here is what makes the new Purple Carrot packaging unique.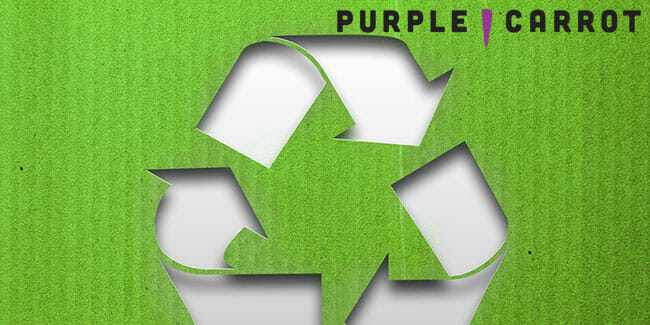 Fully Recyclable & Easily Disposable
Purple Carrot meal kit service now uses packaging whose every component is environmentally friendly, including boxes, ice packs, and liners. Made using recycled materials and easy to recycle, it is ideal from the environmental viewpoint.
The boxes are made of 95% post-consumer material. Thus, the production of boxes involves the bare minimum of harvested and processed materials, which means that the boxes have a positive impact on the planet even in the production phase. The ice packs are 100% filled with water, which makes their content drain-safe. Not only that, but the ice pack films are also recyclable and completely food-safe.
Finally, the liners are made of 95% cellulose paper fiber, meaning they are 100% recyclable and repulpable. The best of all is that all the elements of the packaging qualify for curbside recycling, requiring minimum effort on the part of the consumer. We sincerely hope that this inspiring move will not only reduce Purple Carrot's carbon footprint but also make other meal kit services reconsider their less environmentally-friendly choices.