Omaha Steaks is a well-established meat delivery company that has been on the market from the early 1900s, delivering top quality meat products, desserts, and wines to households all across North America. Considering that Omaha Steaks is a century-old family-owned business that has managed to maintain its high market position by producing some of the best hand-crafted meat products and surpassing many of its competitors over the years, we have decided to put its reputation to the test and find out if it is really worth it.
What You Get In An Omaha Steaks Delivery
With Omaha Steaks, all you have to do is visit its online shop and order as much or as little as you want. Your ordering options include 8 main categories plus gift options. The categories are divided into Steaks, Meats, BBQ, Seafood, Meals, Starters & Sides, Desserts, and Wine.
The Steaks section includes many delectable beef cuts, including filet mignons, strip steaks, top sirloins, ribeyes, t-bones, porterhouses, flank steaks, tri-tip steaks, bistro steaks, prime rib, skewers, and tips. In addition, you can order steak entrées, surf & turf combos, specialty, and private reserve steaks, as well as complete steak meals, along with different seasonings, rubs, sauces, and multiple add-ons.
The Meats selection is comprised of almost every meat type and includes numerous subsections like gourmet burgers, franks, brats, sausages, bison, veal, lamb, roasts, poultry, pork, hams, ribs, bacon, steak snacks, beef jerky, and more.
The BBQ selection includes two main categories: smoker-ready and ready-to-eat items. The available products are steaks, gourmet burgers, franks, brats, sausages, poultry, seafood, and pork. You can also order BBQ accessories and have a full BBQ-ready package delivered to your doorstep.
You can browse the Meals section by numerous criteria ranging from main protein source to special dietary needs and number of servings. The options include steak, chop, seafood, poultry, roast, pasta, burger, rib, sausage, and veggie meals, as well as meals that are pre-prepared, ready-to-cook or raw, cooked for 2, 4 or 18 people, and prepared using different methods like frying and smoking.
The Starters & Sides section includes beef, seafood, appetizers, appetizer combos, charcuterie, soups, stews, veggie sides, potato sides, specialty sides, and toppers.
The Desserts section does not include as rich a selection as other sections, but you can always pick between at least 20 different options, including basic desserts, such as cakes, cheesecakes, pies, and tarts, and more sophisticated ones like crème brulee.
As for the Wine section, you can choose between red, white and sparkling wines and purchase them separately or as a part of a gift basket.
Finally, Omaha Steaks offers gift foods and wines, gift cards or gift plans. Gift foods and wines can be customized for the occasion (weddings, birthdays, anniversaries, and many others). Other gift options include gift baskets, steaks, desserts, slow cooker meals, and different variations of business gifts. If you are not sure what to pick, you can always opt for the gift card. If you really want to make an impression, you can purchase the monthly, bi-monthly or quarterly gift box that includes carefully selected steaks, seafood, meals or grilling accessories.
There is also a special offer for your beloved furry family members so they can enjoy a lavish meal as well. In Omaha Steaks' section for dogs, you can find products containing grain-fed meat and grass-fed beef.
How Much Does Omaha Steaks Cost
Due to the vast selection of products in the company's offer and the fact that there is no limit to how little or how much you can order, we will try to give you a general sense of what you can expect price-wise.
Steaks are under 1$ per ounce, but the price varies depending on whether you are ordering from private reserves or luxurious items.
Meats and BBQ start from 1.50$ per 5-ounce package.
The price of seafood also depends on the items you order; for example, fish filets cost $3.78 per 5-ounce package while shellfish costs around $1 per ounce.
Meals start from $2.50 per single-course meal and go up to $15 per person for multi-course meals.
Starters and Sides start around $1 per piece and you can order them individually or per pound.
Desserts start at $2 per piece while whole cakes cost around $30.
Wines cost around $25 per bottle, but you pay less per bottle if you order a wine gift basket or a gift pack.
Gifts start at under $50, but that does not include gift plans, which start from $69.99 per month.
Omaha Steaks Shipping Costs
Omaha Steaks does not offer free shipping except when it comes to selected items like combos and wines. The shipping costs depend on your shipment's value and the delivery location.
For the continental US, the delivery fees are:
For orders up to $69.99, standard shipping charges are $17.99
For orders up to $129.99, standard shipping charges are $19.99 and
For orders over $129.99, standard shipping charges are $21.99
Extra shipping costs apply to:
Hawaii and Alaska – add $39.99
Puerto Rico – add $39
Canada – add $42.99
The US Virgin Islands – add $125
Currently, standard free shipping is available for selected combos including Tasteful Gift, Holiday Classics Custom Combo, The Gourmet Sampler, Steakhouse Supreme, Festive Filet Feast, Filet Mignon Favorites, The Bountiful Gourmet, Fantastic Feast, Steaks, Chops & More, and Omaha Steaks Banquet of Classics.
Instead of the standard shipping option, you can opt for faster shipping that includes additional charges ranging from $19.99 to $49.99, depending on the option you select.
Omaha Steaks Coupons & Special Offers
You will be glad to hear that Omaha Steaks provides a 10% discount as a welcome gift for all its first-time customers. All you have to do is join the email list, collect you 10% off, and receive exclusive email offers directly into your inbox.
Currently, the company offers a coupon for 4 Free Burgers & 4 Free Gourmet Franks with Orders Over $69!
In addition, inside the Omaha Steaks online shop, you will notice the Sale section where you can find exclusive offers on discounted products, $19.90 sale items, and the previously mentioned free-shipping combos.
Omaha Steaks Returns & Refunds
Omaha Steaks has a 100% satisfaction guarantee policy. If you are not completely satisfied with your purchase for whatever reason, Omaha Steaks will replace your order or give you your money back.
For any questions, concerns or complaints, you can contact Omaha Steaks' customer service team via phone from 7:00 am to 10:00 pm on weekdays, 8:00 am to 7:00 pm on Saturday, and 9:00 am to 5:00 pm on Sunday or via email 24 hours 7 days a week.
Is Omaha Steaks Worth It?
With a wide variety of products and nationwide coverage, this five-generation-old family business really brings something to the table. Now it is time to determine how it stands opposed to its competitors and whether it is worth the money spent.
Omaha Steaks Vs. Competitors
Omaha Steaks certainly has a vast selection of premium cuts that inevitably come with a large price tag. However, what separates it from most of its top competitors is that it also offers budget cuts and lets you fill your cart with burgers, sausages, and sides for a family of 4 without spending more than $20. Not only that but if you are set on treating yourself to some pricier cuts, you can still spend less than with many other meat delivery services.
To give you a better understanding of where Omaha Steaks stands price-wise, we have taken one of the fancier cuts and compared its price to a few other quality meat delivery services including Porter Road, Chicago Steak Company, Greensbury, and Meat The Butchers. Each of these meat delivery companies offers premium hand-cut products derived from grass-fed animals from local farms.
Let us now compare the prices for filet mignon from the above-mentioned companies:
| | | |
| --- | --- | --- |
| Company name | Size | Price |
| Omaha Steaks | 6 ounces | $14.17 – $15 ($2.36 – $2.50 per ounce) |
| Porter Road | 8 ounces | $19 (2.38 per ounce) |
| Greensbury | 6 ounces | $22.50 (3.75 per ounce) |
| Chicago Steak Company | 6 ounces | $25 – $42.47 ($4.16 – $7.08 per ounce) |
| Meat the Butchers | 6 ounces | $39.95 ($6.66 per ounce) |
As you can see, Omaha Steaks is more affordable than similar online meat deliveries, even when it comes to high-end cuts. The truth is that some of these companies specialize in the highest-quality meat and charge extra as expected. However, even if we keep in mind that their filet mignons may be pricier for a reason, the price difference is still too large to be neglected.
In addition to affordability, Omaha Steaks offers a variety of extra perks that keep the customers coming back for more. In comparison to many of its competitors, it offers:
A greater selection of both premium and budget cuts;
More add-ons including ready-made and ready-to-cook dishes, desserts, and wines;
More useful and precise cooking instructions with every item;
A vaster range of gift options;
More flexible ordering with no subscriptions or minimum order value;
Extras like BBQ tools and accessories that most services do not offer;
More generous discounts and rewards program;
Greater geographical coverage.
It is important to note that, even though Omaha Steaks is not an organic meat delivery service, its meat does come from naturally raised grain-fed animals supplied by trusted American suppliers.
It prides itself on applying a personal touch to every placed order and is well aware that there are customers who need to avoid certain food groups, which is why it provides information on the top eight food allergens, including Milk, Egg, Fish, Shellfish, Soy, Peanuts, Tree Nuts, and Wheat, as well as ingredients like Gluten, MSG and Sulfites. Omaha Steaks additionally offers a complete nutrition analysis of every product available, covering every meat group, sauce, seasoning, and other categories.
As a part of its service, Omaha Steaks features a section dedicated to cooking, which includes numerous recipes, videos, and tips that will help you impress your friends and family members.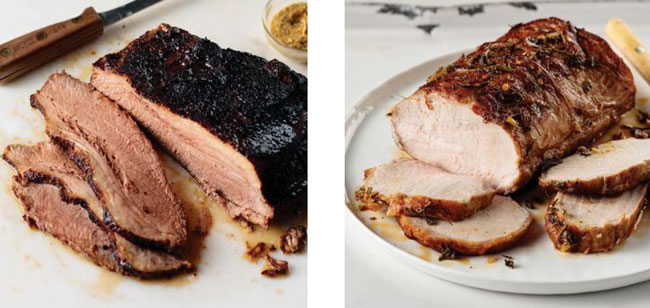 Omaha Steaks takes customer satisfaction very seriously, which is why it offers a 100% unconditional satisfaction guarantee, meaning that if you are not 100% satisfied with its products, your order will be replaced or you will get a full refund.
Another good reason why Omaha Steaks is worth it is its Steaks For Good program that gives 10% out of the value of your purchase to the charity organization of your choice.
In sum, Omaha Steaks boasts highly competitive prices and a truly impressive product selection. Although some of its competitors may offer more exclusive cuts, there is no doubt that Omaha Steaks beats a number of meat deliveries by a mile and manages to satisfy an unparalleled range of tastes and budgets.
Omaha Steaks Vs. Supermarkets
When compared to supermarkets, Omaha Steaks prices are most similar to those at Whole Foods. However, if you make use of the company's regular discounts and choose carefully, you can pay pretty much the same as you would at a number of local stores. Of course, you can always get convenience cuts at lower prices at a supermarket, but the difference is not likely to be huge.
In terms of quality, the situation is a bit more complicated. Omaha Steaks products are fresher, more carefully trimmed, more adequately marbled, and generally better than store-bought meat products. However, since the company has a huge selection of cuts and aims to offer something for every budget, you may not notice that big of a difference if you compare the cheapest cuts at Omaha Steaks to what you get at a local supermarket. In other words, Omaha Steaks meat quality can be similar or far superior to that of store-bought meat, depending on what you choose to purchase.
Still, regardless of the general quality and grade, Omaha Steaks meat products are normally healthier, safer, and more carefully handled, packaged, and stored than supermarket meat. The fact that they come with a 100% satisfaction guarantee is another reason why they constitute a better choice and a safer purchase.
Omaha Steaks Vs. Butcher Shops
If you have a trusted butcher shop nearby that offers fresh, high-quality, properly grown meat at good prices, we most certainly recommend buying locally. Such shops are not that easy to find these days and many butchers actually resell supermarket-quality meat at higher prices. Therefore, if you are lucky enough to already have your favorite butcher and know where their meat products come from and how they are grown and handled, there is no reason to order online.
On the other hand, many do not have the luxury to buy meat from an honest butcher and that is exactly why services like Omaha Steaks exist. Even though getting meat from a butcher shop can cost less than ordering from Omaha Steaks, it is not necessarily any different than shopping at a grocery store, except for the fact that butchers charge more than supermarkets.
With Omaha Steaks, you know you are getting properly grown and inspected meat from a reputable source and that the products you receive should be hand-trimmed, flash-frozen at peak freshness, 100% safe, and tasty or you get your money back. If your local butcher cannot guarantee the same or better, shopping at Omaha Steaks is a smarter solution.
Omaha Steaks Is A Good Choice For…
We consider Omaha Steaks a good choice for true meat lovers who demand quality products but at the same time care about meat origin. Omaha Steaks is recommended for:
Meat lovers who cannot purchase quality meat locally;
Individuals looking for a larger meat selection than available at stores;
People who value tradition;
Gourmet and wine lovers;
BBQ enthusiasts;
Carnivores on a budget;
Meat eaters concerned about food safety;
Inexperienced cooks who appreciate detailed meat cooking instructions.
To sum up, Omaha Steaks stands out from the crowd due to its reasonable prices, product diversity, and long-lasting tradition of combining excellent service with quality meat. It is often pricier than shopping at a supermarket, but for all the reasons mentioned above, the money spent at Omaha Steaks completely justifies its value.