In the nearly 5 decades of its existence, Nutrisystem has helped millions lose weight, improve their health, and regain their self-confidence. Its nearly endless list of satisfied customers includes quite a few celebrities who have lost up to 50 pounds while on the program. According to a study that tested Nutrisystem's effectiveness, the average weight loss during the first month was 11.6 lbs and 8 inches, which is rather impressive. If you are wondering what it is like to lose weight with Nutrisystem, this overview of the Nutrisystem menu may help you better understand what your diet would be like while on the program.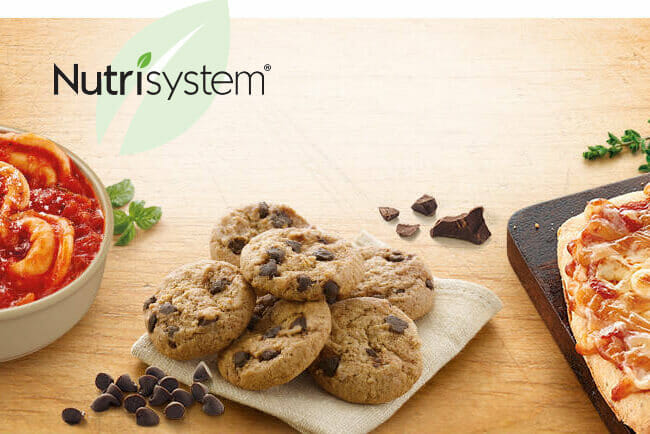 Nutrisystem Menu Variety
One of the reasons why people love the Nutrisystem program is because it does not force them to starve. Instead, this weight loss solution encourages you to eat up to 6 times a day and enjoy satisfying meals along with delicious, healthy snacks.
The variety of meals on the Nutrisystem menu is incredibly vast, with more than 150 items at your disposal. You can choose from dozens of delicious breakfasts, lunches, dinners, snacks, shakes, and bars. The selection includes both fresh and frozen food items that you can mix and match any way you like. As far as special diets go, the company offers around 145 diabetic-friendly items and over 90 vegetarian-friendly dishes. Let us take a look at the Nutrisystem menu and see what you get to enjoy if you opt for this program.
Nutrisystem Menu For Breakfast
The Nutrisystem menu includes around 30 breakfasts that are both light and surprisingly tasty. You can opt for cinnamon rolls and buns, all kinds of muffins and waffles, delicious pancakes, nutty bars and cereals, French toast, oatmeal, and gorgeous strawberry cheese crepes. Usually, the breakfasts contain fewer than 200 calories and they are high in protein and fiber that keep you feeling full.
Nutrisystem Menu For Lunch
In the lunch category, you can find more than 30 items, each containing fewer than 250 calories. You can enjoy hamburgers, grilled chicken sandwiches, tuna salad, cheesy melts, pulled-style pork with sweet BBQ sauce, delicious bars to keep you full while on the go, comforting mac and cheese, soups, noodles, fajitas, veggie and rice, tortellini, and creamy beef Alfredo.
Nutrisystem Menu For Dinner
Dinners are most satisfying but still contain fewer than 300 calories. There are around 50 of them at your disposal. The selection is incredibly varied and includes pizzas, mac and cheese with sausage, all kinds of chicken dishes, hearty stews, pot pies, risottos, casseroles, pasta, enchiladas, chili, crepes, meatballs, and more.
Nutrisystem Menu For Snacks
The Nutrisystem menu features around 50 snacks that go up to 150 calories. Most of them are reinvented guilty pleasures that have been turned into healthy treats. Thus, you can munch on ice cream sandwiches, chocolate cupcakes and sundaes, various cookies, pretzels and nuts, popcorn, brownies, tiramisu, chips, cheese puffs, and delicious pies.
Nutrisystem Menu For Shakes & Bars

Nutrisystem takes pride in its energizing shakes and bars that you can use as "powerfuels" while on the program. Powerfuels are protein-packed foods that take longer to digest, so you need them in order to feel full throughout the day and prevent cravings. Nutrisystem recommends 3 powerfuels per day and allows you to choose from over 40 items on the Shakes & Bars Nutrisystem menu. Nutrisystem shakes come in chocolate and vanilla flavors and Nutrisystem bars are rich in chocolate, nuts, and fruit.
Nutritional Information
If you stick to the Nutrisystem program and get your daily meals and snacks from the Nutrisystem menu, you get to eat 1,200 to 1,500 calories during the day. The average calorie count per meal is just around 200 calories. Your daily calorie intake is reduced in comparison to the general recommendations for individuals who are not trying to shed pounds in order to ensure steady and gradual weight loss of around 1 to 2 lbs. per week.
Nutrisystem meals are rich in protein and so-called smart, low-glycemic carbs, so you do not have to struggle with carb cravings. Around 50% of the total calories in Nutrisystem meals come from smart carbs, 25% of calories come from proteins, 20% come from fat, and the remaining calories mostly come from fiber. Thus, the meals are carefully designed to provide all the macronutrients your body needs in order to stay energized while losing weight.
Conclusion
Taking a look at each section of the Nutrisystem menu, we can conclude that this service makes dieting rather easy, considering the fact that you get to enjoy a variety of luxurious textures and flavors while losing weight at the same time. It takes the diet out of dieting and allows you to eat delicious, chef-prepared breakfasts, lunches, and dinners, as well as a wealth of healthy snacks, shakes, and bars that you can enjoy in between meals.
The range of Nutrisystem menu items is immense and diverse, so you never get tired of eating the same meals over and over again. Plus, everything on the Nutrisystem menu is carefully designed to be healthy, nutritious, and low in calories, so you can savor all the tasty food guilt-free, with no calorie counting.
If you have been looking for an easier and tastier way to lose weight, Nutrisystem is a weight loss meal delivery you should definitely check out.