Nutrisystem is a weight loss meal delivery service that does not only offer excellent diet meal plans but also allows you to purchase its products a la carte, whether to aid your independent weight loss endeavors or in addition to your Nutrisystem diet plan. Join us as we discover what kinds of meals and snacks you can purchase at the Nutrisystem online shop.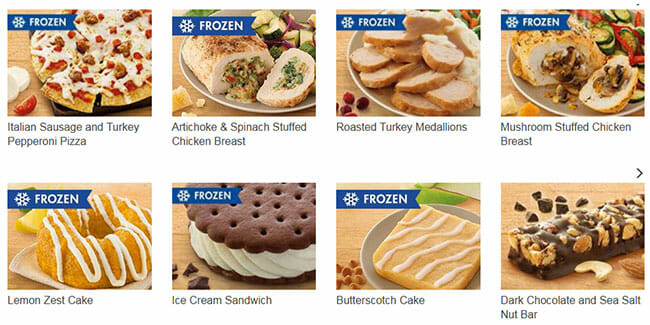 Nutrisystem A La Carte Menu Variety
Nutrisystem a la carte menu features over 150 items. All menu items are suitable for omnivores on low-calorie diets, more than 145 items are suitable for pre-diabetics and diabetics, and 90+ items are designed with vegetarians in mind.
The menu is divided into 7 sections: breakfasts, lunches, dinners, snacks, shakes & bars, sampler packs, and frozen items.
Breakfasts
In the breakfast section of the Nutrisystem a la carte menu, you can find around 30 tasty items designed to help you start your morning right. The items are mostly low-calorie versions of breakfast favorites like muffins, waffles, pancakes, cereals, French toast, oatmeal, and cinnamon rolls and buns. Nutrisystem breakfasts are rich in protein and fiber and normally contain fewer than 200 calories.
Lunches
The lunch section of the Nutrisystem a la carte menu includes over 30 items. Again, you can find classics like burgers, sandwiches, tuna salads, mac and cheese, noodles, soups, fajitas, and tasty veggie items featuring nutrient-rich vegetables and filling rice. Nutrisystem lunches usually contain fewer than 250 calories.
Dinners
The dinner section of the Nutrisystem a la carte menu is one of the richest sections, with about 50 items on offer. You can enjoy well-loved dishes like pizzas, mac and cheese, casseroles, stews, pasta, and risottos. Nutrisystem dinners have a higher calorie content than other meals and normally contain fewer than 300 calories.
Snacks
The Nutrisystem a la carte menu also offers about 50 snacks. These include guilt-free treats like cookies, cupcakes, brownies, pies, sundaes, pretzels, nuts, popcorn, chips, cheese puffs, and various bars. The calorie content is normally under 150 calories.
Shakes & Bars
In addition to standard meals and snacks, the Nutrisystem program also includes powerfuels – protein-packed meals that keep you full for longer. Powerfuels normally come in the form of shakes and bars. The Nutrisystem a la carte menu features an entire section dedicated to shakes and bars, which includes over 40 items. You can opt for chocolate and vanilla shakes and bars that mainly contain nuts, fruit, and chocolate. The items in the Shakes & Bars section usually contain up to 170 calories.
Sampler Packs
The Nutrisystem a la carte menu features over 30 sampler packs, designed to allow you to order more easily and save cash along the way. You can purchase multi-packs of breakfasts, muffins, snacks, bars, soups, stews, and chilis, as well as specialized sampler packs such as the Holiday Favorites pack, A Taste of Italy pack, and the Carb Lovers pack.
Frozen Items
Nutrisystem generally offers fresh food items, but if you prefer having your food delivered in frozen form for easier storing, you can stop by the Frozen section of the Nutrisystem a la carte menu and choose from around 60 different items. In this section, you can find dishes suitable for every meal of the day, including cinnamon rolls, cakes, cupcakes, ice cream sandwiches, waffles, burgers, sandwiches, pretzels, pizzas, cheesy melts, pasta, fajitas, and more.
Nutrisystem A La Carte Pricing
Nutrisystem individual breakfasts typically cost around $2 to $3 per item. The prices of individual lunches usually range between $2.29 and $3.75. Dinners are a bit more expensive and go up to $6.25 per serving.
Just like breakfasts, snacks cost between $2 and $3 per pack. Shakes and bars normally come in multi-packs (7, 10, 14, 28 or 30 servings), although some bars can be purchased individually for around $2-$3 per bar. The prices of shakes and bars depend on the number of servings included, ranging from $14.99 to $79.98.
The prices of sampler packs range from just $12.99 to $139.99. The prices of frozen items are the same as the prices of fresh items.
Nutrisystem A La Carte Shipping
Registered Nutrisystem members get free shipping on a la carte orders over $75 and pay a $20 fee for orders under $75. For other customers, the shipping fee depends on the value and location and ranges from $7.99 to $19.99 for orders within the continental US. Shipping costs $49.95 for orders outside the continental US.
Bottom Line
The Nutrisystem a la carte menu is rich, diverse, and includes everything from breakfasts, lunches, and dinners to snacks and powerfuels like shakes and bars. All items on the menu are healthier, low-calorie versions of well-known classics. You can opt for both fresh and frozen items and save cash by opting for sampler packs. The prices are rather low and registered members get free shipping on orders over $75.