Medifast is one of the rare physician-designed and clinically proven weight loss meal delivery programs. With an average price of about $14 per day, it is not the most affordable weight loss meal delivery on the market, but it is significantly more budget-friendly than many of its competitors. What we wanted to figure out was whether its assistance in shedding pounds is worth the cash invested.
In this article, we will attempt to answer this question by thoroughly analyzing its pricing and comparing it to its alternatives in terms of both affordability and effectiveness.
What You Get In A Medifast Delivery
The Medifast menu features more than 65 diet items and it is highly diverse. As a customer, you get to enjoy the company's signature energy bars, shakes, smoothies, drinks, crunches, breakfasts, full meals, snacks, desserts, supplements, and flavor infusers. You can build your own meal plan by ordering products a la carte or you can get a pre-designed plan that suits your needs.
If you opt for a la carte ordering, your Medifast delivery can include any of the 65+ items on the menu and you get to decide how much food you want to get. There is no minimum order, so you can receive anywhere between 1 and more than a hundred items per delivery.
With Medifast meal plans, your orders include 30 days' worth of food. Depending on the plan you choose, you can get 3-5 ready-made meals and snacks per day. All the plans require you to eat 6-7 times a day, which means that you do not get all your daily meals in your deliveries. Apart from the food provided by Medifast, you get to enjoy 1-3 meals and snacks you prepare yourself or eat at a restaurant, following the Medifast guidelines.
Since Medifast is more than just a meal delivery service, your deliveries do not only include food. You can expect to receive a number of bonus items, including a food journal, a dining out guide, a blender bottle, and other useful items that can help you breeze through the program.
How Much Does Medifast Cost
The prices of Medifast products depend on whether you opt for a la carte ordering or a meal plan. With a la carte ordering, most items cost $3 to $5 per serving. Meal plans cost $13.18 to $15.33 a day and the price depends on the range of food items included in your delivery.
The service offers 3 distinct meal plans: Medifast Go!, Medifast Achieve, and Medifast Thrive. The first 2 plans are dedicated to weight loss while the third plan is designed to help you maintain your weight and figure. The plans are primarily designed for omnivores, but the service provides guides for adjusting the plans to the needs of vegetarians, seniors, diabetics, nursing moms, and individuals allergic to gluten.
Let us examine the plans in more detail and discover how much they cost and what they provide.
Medifast Go! Plan Cost
The Medifast GO! plan brings you 5 ready-to-eat meals and snacks per day. Your deliveries with this plan include 154 servings, plus a blender bottle and the company's welcome kit, food journal, and dining out guide. It only requires you to prepare 1 daily meal on your own, so it can work really well for you if you have little time to cook. The plan is available in 2 versions: standard and gluten-free.
With the standard version of Medifast GO!, your 30-day food supply costs:
$329.00 if you opt for auto-delivery;
 $429.00 if you place a one-time order.
The gluten-free version of the Medifast GO! plan costs the same as the standard option, that is:
$329.00 with auto-delivery;
 $429.00 with a one-time purchase.
As you can see, if you set up recurring deliveries, you get to save $100 on your first delivery in comparison to placing a one-off order.
Medifast Achieve Plan Cost
With Medifast Achieve, you get 4 ready-to-eat meals and snacks per day. In addition to pre-made Medifast food, you get to enjoy 2 homemade meals and 1 homemade snack. You can choose from two 30-day diet kits designed for the Achieve plan, including the Select kit and the Complete kit.
With the Select kit, you get 126 servings of Medifast meals and snacks, as well as 9 microwave-ready Medifast Flavors Of Home meal samples, 3 Flavors Of Home Lean and Green meal samples, a welcome kit, a food journal, a healthy living cookbook, a dining out guide, and a blender bottle.
The Select kit costs:
$299.00 with auto-delivery;
$395.55 if you opt for a one-time order.
The Complete 30-day kit brings you 147 servings of Medifast meals and snacks. Bonus food items include 12 microwave-ready Medifast Flavors Of Home meal samples, 3 Medifast Flavors Of Home Lean and Green meal samples, 1 box of Calorie Burn Strawberry lemonade flavor infusers, and 21 snacks. You further get a welcome kit, a food journal, a healthy living workbook, a cookbook, a dining out guide, and a blender bottle.
The Complete kit comes at a price of:
$399 with auto-delivery;
$460.30 with a one-time order.
Depending on the option you choose, you get to save $96.55 (Select) or $61.30 (Complete) on your first order if you opt for auto-delivery.
Medifast Thrive Plan Cost
The Medifast Thrive plan is designed to help you stay slim after you achieve the desired weight loss results. It brings you 3 ready-to-eat food items per day and your job is to prepare the remaining 3 daily meals. Included in your Thrive delivery are 15 boxes of what Medifast refers to as Healthy Fuelings. These include pre-made meals, bars, shakes, and smoothies.
The Medifast Thrive plan costs:
$312.90 with auto-delivery;
$312.90 with one-time orders.
Surprisingly, the service does not offer auto-delivery discounts with the Thrive plan.
Medifast Shipping Costs
The good news is that Medifast meal plans come with free shipping, so you do not have to worry about any additional costs. If you opt for a la carte ordering, shipping costs $5 if your order is worth less than $250 and it is free on $250+ orders. Therefore, no matter which option you choose, you never have to pay steep shipping fees.
That being said, the free shipping policy on meal plans and large a la carte orders is not unusual among weight loss meal deliveries, although it is always appreciated.
Medifast Coupons & Special Offers
As mentioned earlier, opting for auto-delivery allows you to save plenty of cash on your first Medifast delivery. However, it brings you savings on future deliveries as well. Every time you place an order worth $149 to $249.99, you get a 5% discount on your next delivery. With orders worth $250 or more, you get a 10% discount the next time you shop.
The service also offers coupons that allow you to save at least $25 on your orders. You can find all active coupons and promo codes for this service on our Medifast Coupons page.
Unlike many similar services, Medifast does not have a referral program that would bring you rewards for referring friends.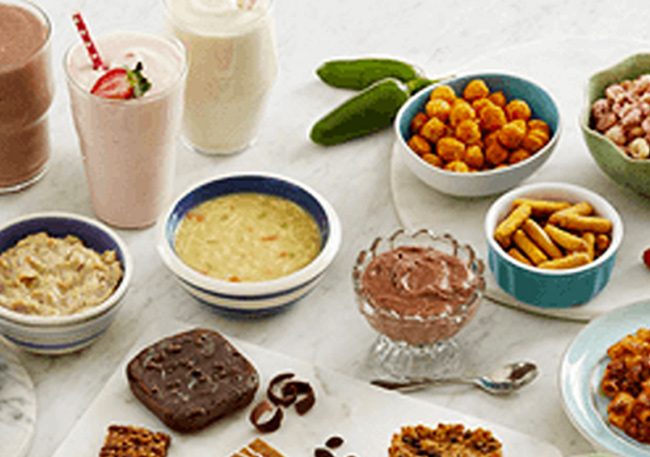 Medifast Returns & Refunds
Medifast products come with a 100% satisfaction guarantee. In case you are not completely happy with your delivery, you can request a refund and return unused goods in the original packaging within 30 days after you receive your shipment. The service normally processes return requests within 2 business days, thus ensuring that you do not wait too long on your refund.
While you get a full refund equal in value to the sum of the purchase prices of the returned goods, potential shipping costs are not refundable. If your order includes promotional items like samples and other extras, you should simply keep them since they are provided free of charge and therefore do not qualify for a refund.
It is good to know that refusing a shipment incurs an additional charge. In such cases, the service deducts a $15 fee from the refund provided.
Is Medifast Worth It?
We have come to the most interesting part of our article. Having covered the key details about the company's pricing, we will now focus on determining whether Medifast is inferior or superior to its main competitors and whether it is a better choice than dieting on your own.
Medifast Vs. Competitors
The average price of Medifast meal plans is $14.26 per day. This makes it less affordable than Nutrisystem, South Beach Diet, and WonderSlim, as these companies charge $10.50 to $11.00 per day on average. However, Medifast is still more budget-friendly than Jenny Craig and far less expensive than some other popular weight loss meal delivery options, such as BistroMD and Diet-To-Go. Therefore, Medifast is somewhere in the middle price-wise and it does not overcharge for the service.
As far as weight loss results go, Medifast can help you lose 2-5 pounds during your first week on the program. In the subsequent weeks, the expected weight loss is 1-2 pounds. Therefore, you can lose between 5 and 11 pounds during the first month. This is similar to the first-month results promised by Nutrisystem (average loss of 11.6 pounds) and South Beach Diet (9-11 pounds). However, in comparison to these 2 programs, Medifast results come with slightly larger variations.
The program seems to yield more significant first-month results than more than a few of its top-rated competitors, including Jenny Craig (4-8 pounds) and Atkins Meal Delivery (4-8 pounds). This may be due to the fact that in comparison to these programs, it allows you to consume fewer calories on a daily basis.
What is important to note is that there are hardly any weight loss meal delivery programs that are significantly more effective than Medifast. Considering that its prices are rather reasonable, we cannot think of many of its competitors that offer better value for your money.
Medifast Vs. Losing Weight On Your Own
Dieters who lose weight independently without opting for a meal delivery program can expect to lose up to 8 pounds in a month if they take dieting seriously and follow a healthy low-calorie diet without cheating. In comparison to Medifast's average result of 5 to 11 pounds during the first month, this is not equally impressive, but it is not bad at all. The problem is that you can theoretically lose 8 pounds in a month through independent dieting, but this is not a typical result.
Most dieters who are trying to lose weight on their own struggle with discipline. They often choose diets that promise fast results without taking into account the almost inevitable yo-yo effect as well as potential negative effects on overall health. Quite frequently, people tend to follow diets that are too restrictive and thus impossible to stick to for a longer period of time. Finally, many dieters give up on their goals because they find that dieting requires more effort than they are willing or able to invest. For all these reasons, people do not often achieve Medifast results by dieting on their own.
With Medifast, you get to follow a well-structured, doctor-designed program and enjoy specially crafted low-calorie meals that are ready to eat. Since you have your meals planned out for you, your daily calorie count pre-determined, and most of your food prepared by professionals, there is absolutely no guesswork and the effort you need to invest is reduced to a minimum.
This ensures that you do not make unhealthy dieting choices, you do not skip meals or cheat because you do not have the time to cook, and you do not give up because dieting is too hard. Since results are clearly visible within only a week, you are sure to feel motivated to stick to the plan. Therefore, Medifast does not only promise quick and consistent weight loss, but it also makes dieting more effortless, which is one of the most important advantages it has over independent dieting.
Medifast Is A Good Choice For…
Since meal replacements are a huge part of the Medifast program, we do not recommend this service to people who find shakes and bars unappetizing or less than satisfying. Furthermore, the service is not an ideal choice for people who find it hard to limit their calorie intake to up to 1,300 calories per day. On the other hand, based on its unique benefits, Medifast can be more than a good fit for:
Dieters seeking fast, clinically proven results;
People who favor medically-approved programs;
Diabetics, seniors, and new moms;
Individuals on vegetarian and gluten-free diets;
Dieters who prefer meal replacement solutions;
People who want to avoid frequent cooking;
Individuals who are used to eating frequently;
Snack-loving dieters;
People who do not want to overpay for diet meals.
In the end, we would just like to reiterate that there is no doubt that following the Medifast program can lead to substantial weight loss, as shown through clinical research. While not surprisingly cheap, Medifast does suit a variety of budgets. Plus, with the 100% satisfaction guarantee, you do not have to worry about wasting money on products you may not love. If you are looking for a reasonably priced, stress-free dieting solution, Medifast may be the answer to your needs.