Compare Prices
The following price comparison is designed to help you easily figure out which of our top-ranked cheap meal delivery services best fits your budget. We have brought all the pricing information to one place, including the shipping costs and details about the companies' delivery areas, so you can identify the perfect fit in a single glance.
Company
Avg. Meal Price
Shipping
Delivery Areas
MealPro
Avg. Meal Price
Shipping Cost
$9.99
Delivery Areas
Vegin' Out
Avg. Meal Price
Shipping Cost
$0
Delivery Areas
Balance By BistroMD
Avg. Meal Price
Shipping Cost
$0
Delivery Areas
Silver Cuisine By BistroMD
Avg. Meal Price
Shipping Cost
$19.95
Delivery Areas
Freshly
Avg. Meal Price
Shipping Cost
$0
Delivery Areas
Magic Kitchen
Avg. Meal Price
Shipping Cost
$18.00-$20.00
Delivery Areas
Splendid Spoon
Avg. Meal Price
Shipping Cost
$0
Delivery Areas
Diet-to-Go
Avg. Meal Price
Shipping Cost
$9.99
Delivery Areas
RealEats
Avg. Meal Price
Shipping Cost
$0-$7.99
Delivery Areas
Fresh Meal Plan
Avg. Meal Price
Shipping Cost
$0-$20
Delivery Areas
Benefits Of Cheap Meal Delivery Services
Cheap meal delivery services allow you to save a lot of money without making any sacrifices when it comes to the overall quality of your food. The best meal delivery companies have standing partnerships with trusted suppliers, enabling them to offer below-retail prices while maintaining the highest quality of the ingredients used to prepare your meals. Apart from this, cheap meal delivery services also plan your meals for you and spare you countless visits to your local grocery store. In other words, they eliminate tedious meal planning, shopping, prepping, and cooking while allowing you to make the most of your money.
The cheap meal delivery services you can find on our list feature experienced nutritionists, physicians, and chefs. These teams are especially useful since they can provide valuable support if you're unsure about the best meal program for you. They can help you define your goals and choose an appropriate meal plan or create your own. They can also help you determine your daily dietary requirements, so you won't have to count calories or calculate your basal metabolism rate. 
Moreover, these companies provide you with high-quality ingredients, locally sourced from reputable purveyors. The proteins are completely free of any antibiotics, steroids, hormones, and other harmful chemicals and the plants are 100% organic, all-natural, and free of GMO and dangerous additives. The best cheap meal delivery services make sure your meal plan contains only lean proteins, wholesome carbs, and "good" fats. In other words, your diet will be free of unhealthy sugars, empty calories, process ingredients, trans fats, and other ingredients that are neither good for your health nor waistline.
How Are Cheap Meal Delivery Services Different
What sets the cheap meal delivery services on our list apart from similar companies on the market is their customer-oriented price-to-quality ratio. In other words, you will receive incredible dietary value and learn a lot about healthy and wholesome meals without breaking the bank. As we already mentioned, these companies can offer much lower prices than your local store due to standing partnerships with local purveyors. 
Monetary benefits aside, cheap meal delivery services can also save you a lot of time since they eliminate most of the usual steps required for a healthy lifestyle. Specifically, you won't have to plan your meals for an entire week in advance, shop for groceries, prepare the ingredients or cook. Renowned meal delivery services feature teams of professional chefs that'll cook restaurant-grade meals for you while making sure everything is in accordance with your pre-set diet program. 
Cheap meal delivery services can also help you achieve your dietary goals, whatever they may be. Whether you've decided to follow a certain dietary plan or simply adopt a healthier lifestyle, these companies can help you develop a personalized dietary regimen based on your preferences, allowing you to reach your goals without depriving yourself of essential nutrients or starving yourself in the process. 
Choosing The Best Cheap Meal Delivery Service For You
Finding the best meal delivery service for your needs and preferences is quite challenging, especially if you're working on a tight budget. In order to identify the cheapest meal delivery services worthy of your time, we analyzed meal delivery companies using our established set of ranking criteria. To familiarize you with our ranking process, we will share some of the most important factors with you. 
Meal options and the overall variety of meals on the company's menu are the first criteria we are interested in. Monetary restrictions shouldn't translate to land and boring food choices, so we want to make sure you have a lot of options to pick from regardless of your financial possibilities. We are also on the lookout for rotating menus, as they allow you to try out new foods on a regular basis and prevent culinary boredom and repetitiveness.
Nutritional value and portion sizes are of vital importance for meeting your nutritional requirements on a daily basis, so we pay special attention that all the available meal plans offer all the essential nutrients your entire family needs to thrive.
The flexibility and price of the available subscriptions are our final points of investigation. You want to have the ability to pause, skip or cancel your delivery whenever you want without any hidden fees and penalties while receiving the value that justifies the price tag. 
Cheapest Meal Delivery Services
What all of our top picks have in common is that they are currently the best on the market. Now it is time to discover what makes each of these cheap meal kit companies unique. Explore their distinctive features in the mini-reviews below and choose the one that best satisfies your personal needs.
1. MealPro
MealPro is a perfect choice for home diners looking for a good mix of affordability and customizability. This service lets you shop with or without a subscription. You can choose from 2 dozen nutritious meals, get as many portions as you need, and customize your meals by adding more proteins, veg or carbs, removing carbs of adding meat to veggie dishes.
The service offers meals suitable for omnivores, vegans, vegetarians, pescatarians, and people on gluten-free, keto, and Paleo diets. For those who like to create their own meals, MealPro offers cooked ingredients sold by the pound. Even the priciest items on the menu rarely go over $10.
2. Vegin' Out
Vegin' Out proves that healthy vegan meals do not have to be expensive. Its weekly menu includes 10 fully cooked, oil-free vegan dishes that are about 85% organic. With the standard meal plans, you get tasty entrées, sides, soups, and cookies along with optional breakfasts. You can also opt for the soup and juice cleanse, blood sugar control meals or low-carb meals and enjoy good-for-you, low-calorie plant-based food throughout the week. You can order subscription-free, but subscribing and paying for multiple deliveries in advance allow you to get meals at even lower prices.
3. Balance By Bistro MD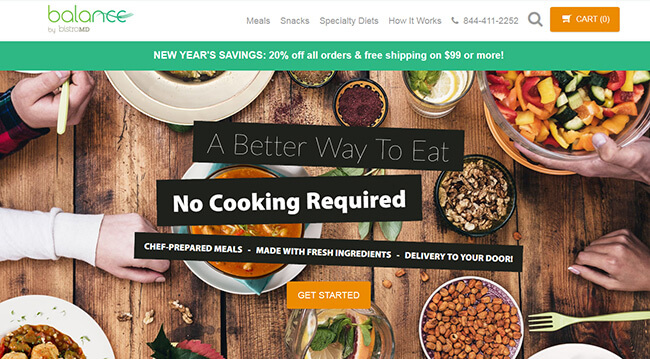 Balance by BistroMD is a cheap meal delivery service launched to give you full control over your health and diet. Regardless of your diet choice, Balance by BistroMD can meet all of your requirements and even allow you to personalize your meal plan to include the ingredients you like and avoid those you don't enjoy. The company offers dedicated gluten-free and vegetarian meal plans and even has a special program for women in menopause. Its entire menu is crafted by experienced dietitians. 
4. Silver Cuisine By BistroMD
Silver Cuisine by BistroMD is a cheap meal delivery service that offers numerous meal plans and allows its customers to follow a wide variety of different diets. All meals are approved by highly skilled doctors and prepared by professional chefs with all-natural, fresh ingredients that are low in carbs and rich in protein. Every dedicated menu features a wide spectrum of delicious, portion-controlled dishes, which guarantees a perfect combination of flavors regardless of your personal taste and preferences. 
5. Freshly
Freshly is one of the youngest and cheapest meal delivery services on the market dedicated to all-natural, wholesome food incorporated into delicious meals. All of its dishes are produced in a 100% gluten-free facility, which eliminates any potential for cross-contamination between different ingredients. As Freshly takes great pride in its 'never frozen' policy, all its meals are cooked fresh and delivered directly to your doorstep. Freshly never uses artificial or heavily processed ingredients and steers clear of sugar and artificial sweeteners. 
6. Magic Kitchen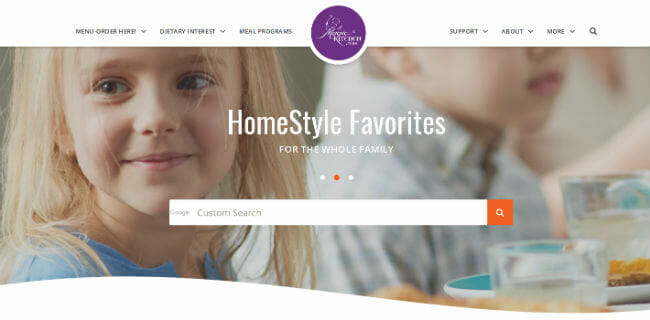 With Magic Kitchen, you can get healthy meals at amazing prices and order any way you wish. You can shop subscription-free and get complete meals or individual dishes from the a la carte menu. For easier ordering, you can go with meal bundles for different preferences. Alternatively, you can opt for a meal program and enjoy 1, 2 or 3 Magic Kitchen meals per day. The options at your disposal include vegetarian, portion-controlled, senior-friendly, diabetic-friendly, low-sodium, low-carb, low-fat, renal diet, dialysis-friendly, and allergen-free meals.
7. Splendid Spoon
Whether you are a vegan or just trying to eat more plant-based foods, Splendid Spoon can be a perfect choice. It is currently one of the finest and most affordable solutions for a healthy plant-rich diet. Its impressive 40-item menu includes satisfying vegan soups, smoothies, and grain bowls that are exclusively made of organic and non-GMO ingredients. Since the meals are rich in nutrients and low in calories, they can help you improve both your health and your figure. You can choose from 3 different subscriptions, get 5 to 15 delicious plant-based meals per week, and save cash with budget-friendly prices and free shipping on every delivery.
8. Diet-To-Go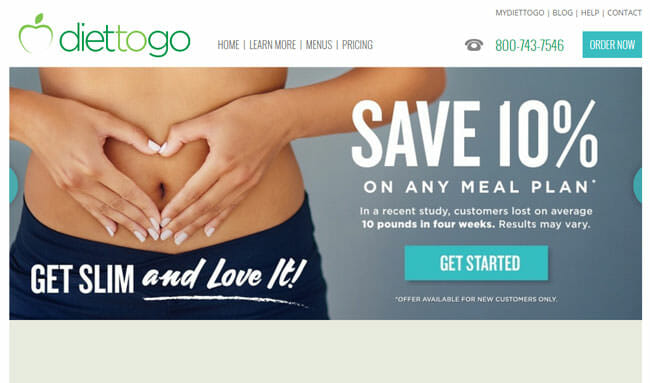 With Diet-To-Go, you can lose weight without wasting cash and enjoy real, chef-prepared food made with organic ingredients. You can opt for the Balance, Balance-Diabetes, Keto-Carb30 or Vegetarian meal plan and get nutritious, calorie-controlled breakfasts, lunches, and dinners that can help you get slim and fit. You can expect to lose 1-3 pounds per week and feel great, thanks to the healthy calorie intake and nutritionally sound diet. With meals starting at just around $8.50 per serving, Diet-To-Go is as affordable as it is good for your health and shape.
9. RealEats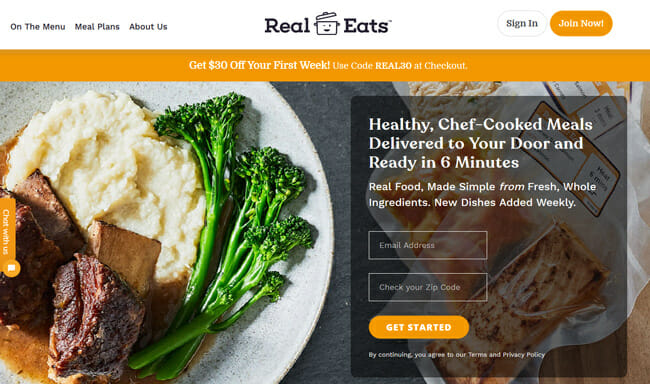 RealEats delivers fresh, never frozen meals crafted by a world-renowned chef who worked in numerous Michelin-starred restaurants. The service exclusively sources wholesome, all-natural ingredients and features 22 delicious breakfasts and dinners on its menu every week. You can decide whether you want to get just dinners or both dinners and breakfasts and choose from 8 distinct meal plans. The meals rarely contain more than 600 calories and start at $5 per single-serving breakfast. Shipping is free on orders over $115.
10. Fresh Meal Plan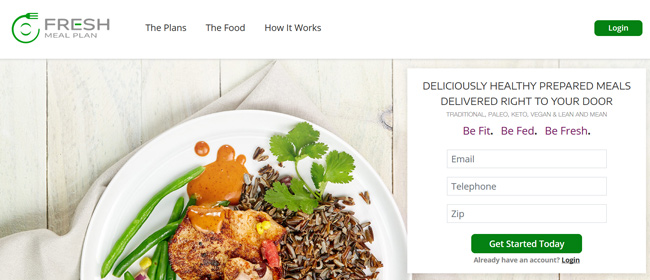 If you want to enjoy healthy food and maximum variety at more than reasonable prices, Fresh Meal Plan can work great for you. This service has 500+ original dishes in its selection and more than 100 of them are available for ordering at all times. You can decide whether you want to go with the standard Traditional meal plan or get Paleo, keto, vegan or bodybuilding meals. All menu items are healthy, well-balanced, calorie-controlled, and microwave-ready and they take just 2-3 minutes to reheat. The more you order, the less you pay per serving. Refer friends and save $25 with every referral.