Compare Prices
The following price comparison is designed to help you easily figure out which of our top-ranked organic meal delivery services best fits your budget. We have brought all the pricing information to one place, including the shipping costs and details about the companies' delivery areas, so you can identify the perfect fit in a single glance.
Company
Avg. Meal Price
Shipping
Delivery Areas
The Good Kitchen
Avg. Meal Price
Shipping Cost
$0
Delivery Areas
Diet-to-Go
Avg. Meal Price
Shipping Cost
$20.00
Delivery Areas
Veestro
Avg. Meal Price
Shipping Cost
$0
Delivery Areas
True Fare
Avg. Meal Price
Shipping Cost
$0
Delivery Areas
Pete's Paleo
Avg. Meal Price
Shipping Cost
$0
Delivery Areas
22 Days Nutrition
Avg. Meal Price
Shipping Cost
$20.00
Delivery Areas
Trifecta Nutrition
Avg. Meal Price
Shipping Cost
$0
Delivery Areas
Healthy Chef Creations
Avg. Meal Price
Shipping Cost
$20.00
Delivery Areas
Nurture Life
Avg. Meal Price
Shipping Cost
$6.00
Delivery Areas
Vegin' Out
Avg. Meal Price
Shipping Cost
$0
Delivery Areas
Benefits Of Organic Meal Delivery
Whether you are already fully committed to a diet consisting only of organic food or are just interested in making healthier choices by including more and more organic foods into your diet, you should definitely consider signing up for an organic meal delivery.
Meal delivery is a highly convenient option. You can decide just how many meals you want and whether you want to receive meals regularly or just occasionally – when you just want to sit down, relax, and dig into something healthy and delicious. Whatever you choose, it is sure to make your life easier. It can be pretty tiresome having to come up with dinner ideas day in and day out, especially if you have a family and/or want to maintain a healthy lifestyle and avoid fast food.
Eating organic can be hard work. The highest-quality groceries are not available in just any store or market and you often have to pay some ridiculously high prices in order to be sure that what you are eating really is organic. Organic meal delivery services bring amazing, delicious, sustainably and locally sourced, and often quite exotic organic food right to your doorstep.
Finally, with the best organic meal delivery services, you can regularly enjoy truly mouth-watering meals. They generally work with some of the best chefs in the country, who come up with amazing recipes on a daily basis and strive to provide ultimately creative, restaurant-quality organic dishes that are sure to delight even the pickiest of eaters.
How Are The Best Organic Meal Delivery Services Different
With the best organic meal delivery services on our list, you know exactly what you are getting. They never resort to deceptive advertising and make sure to specify which (if not all) of their ingredients and complete meals are organic. They are often USDA-certified organic as well, so you do not have to take their word for it. Furthermore, they insist on creating a link between you, the consumer, and the manufacturers – the farmers who produce your organic food. With such a powerful bond of trust, no wonder their customer bases keep growing day after day.
Our top-ranked companies do not merely use organic ingredients. They have culinary teams that possess the knowledge and experience necessary to perfectly combine the top-quality ingredients and create some of the best meals you have ever had. They rely on the delightful natural flavors of organic produce, meat, and seafood, employ adequate cooking techniques that preserve both the flavor and the nutritional value, and make sure that you can taste the quality in every bite.
The fact that a meal is organic does not automatically imply that it provides optimal nourishment. It takes a great chef and sometimes a bit of help from registered dietitians and nutritionists to create a perfectly balanced meal that contains all the micro- and macronutrients your body needs for optimal functioning. That is exactly what the best organic meal delivery services offer – organic meals that feature just the right balance of all the nutrients that keep you energized, healthy, and ready to tackle all your daily tasks with ease.
Choosing The Right Organic Meal Delivery For You
In the process of creating our list of the best organic meal delivery services on the market, we tested all US meal delivery services that use organic ingredients when preparing their meals. In order to ensure the highest quality, we first narrowed our choice down to meal deliveries whose meals were at least 85% organic and gave preference to services that are USDA-certified organic. Our selection process also included evaluations of organic meal delivery services in relation to 6 strict criteria.
We selected the companies that offer the greatest range of meal options, as well as the widest variety of meals. We wanted to make sure that they do not only offer organic meals but also have rich and diverse menus, offer enough options for special diets, and provide allergen-free dishes, thus satisfying the needs of the majority of home diners who want to eat healthily.
Another important criterion was that of optimal nutritional value. The importance of a balanced diet cannot be overemphasized, which is why we only chose the companies that offer meals that perfectly nourish your body, without compromising on the flavor. In addition to optimal nutritional value, we assessed the portion size, making sure that our top choices are the ones that offer meals that are as satisfying as they are nutritious.
In the final step of our selection process, we evaluated subscription flexibility and pricing. We eliminated all the companies that overcharge for their services and came up with the final version of our list, featuring the best organic meal delivery services that offer the best value for your money, along with excellent customization options that allow for a completely personalized ordering and dining experience.
Best Organic Meal Delivery Companies
What all of our top picks have in common is that they are currently the best on the market. Now it is time to discover what makes each of these organic meal delivery companies unique. Explore their distinctive features in the mini-reviews below and choose the one that best satisfies your needs.
1. The Good Kitchen


The Good Kitchen is a perfect solution for health-conscious home diners. It employs the best sourcing practices, using only the finest organic ingredients available. Its chefs create delicious meals that are frozen fresh to lock in all the nutrients. The service does not force you to stick to a rigid meal plan but instead allows you to carve out a plan of your own. Order 5-35 healthy single-serving meals and enjoy chef-crafted delights filled with organic deliciousness.
2. Diet-To-Go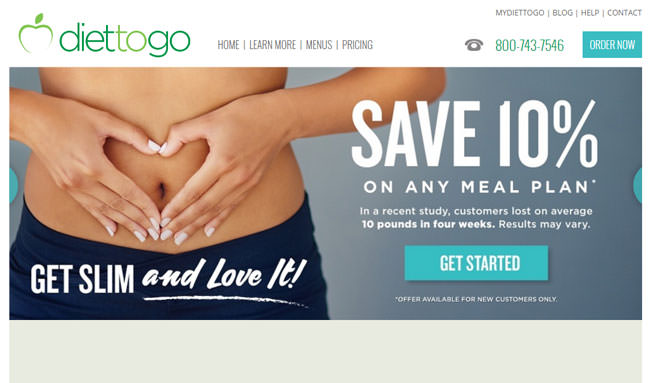 Diet-To-Go is a healthy weight loss solution that does not believe that one size fits all. It offers natural and organic meals available within 4 carefully designed and customizable meal programs created for different types of dieters. Whether you prefer Atkins-style diets, want to easily control your blood sugar levels while shedding pounds, seek a weight loss program designed for vegetarians or wish to enjoy the benefits of an award-winning weight loss plan, Diet-To-Go has just what you need.
3. Veestro


Veestro offers delicious organic meals that are certified vegan, non-GMO, and preservative-free. Its meals are suitable for anyone who wants to eat healthily, including vegetarians and vegans, as well as people who need to avoid dairy and gluten. You can freely select meals from the a la carte menu, opt for convenient meal packs, choose one of the 3 vegan weight loss plans or get rid of the toxins in your body with the 3-day and 5-day juice cleanses.
4. Pre-Made Paleo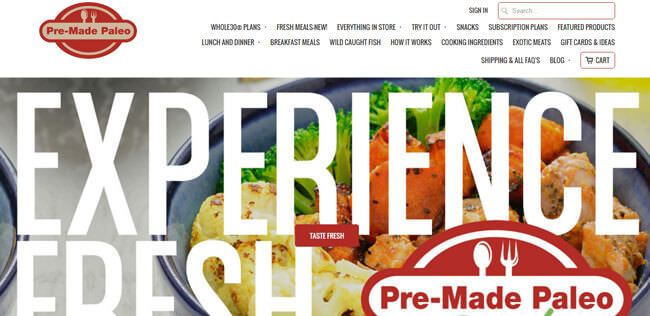 Pre-Made Paleo or True Fare, as it is known today, is a healthy meal delivery service that offers wholesome and organic meals designed for a variety of special diets. All of its meals are Paleo-friendly and Whole30-approved, it features excellent ketogenic meal plans, and it is one of the rare services that provide AIP-friendly meals. Individuals with busy lifestyles can choose from breakfast-only and lunch-and-dinner-only meal plans while free-spirited customers can order a la carte.
5. Pete's Paleo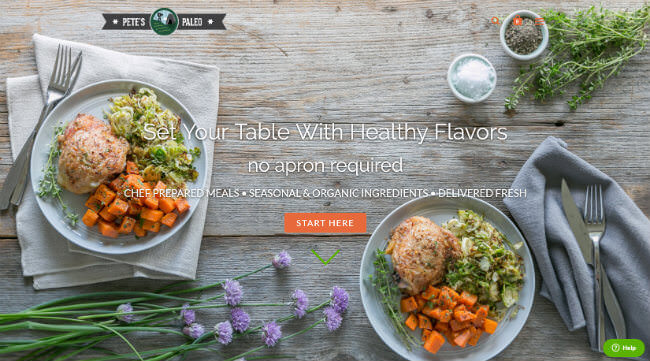 Pete's Paleo is a lovely Paleo meal delivery service that offers soul-warming, caveman-style meals made from the freshest organic ingredients. It offers easily customizable meal plans that allow you to choose the number of servings and the number and selection of meals and even add extra sides and proteins. You can also order a la carte from its Eat What You Love menu, opt for the 21-day sugar detox, and add organic bone broth and Paleo bacon to your order.
6. 22 Days Nutrition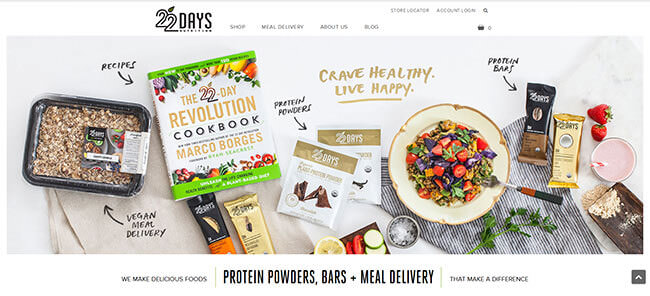 Created by Beyoncé and her personal trainer Marco Borges, 22 Days Nutrition is a vegan meal delivery service that specializes in completely organic, plant-based, gluten-free, soy-free, chef-prepared meals. It offers excellent 5-day, 7-day, and 22-day meal plans including 2 to 3 meals per day. In addition to healthy, organic vegan meals, the service offers plant-based protein powders and protein bars made of USDA-certified organic superfoods.
7. Trifecta Nutrition

Trifecta Nutrition is an organic meal delivery service that offers both chef-prepared meals and expert advice and support that can help you reach your healthy-living goals. It offers Paleo, omnivore, clean eating, vegetarian, and vegan meals that are perfectly portioned, optimally balanced, and cooked to perfection. You can opt for a meal plan or order from the a la carte menu. Save cash and create your own meals by purchasing pre-cooked proteins, carbs, and veggies in bulk.
8. Healthy Chef Creations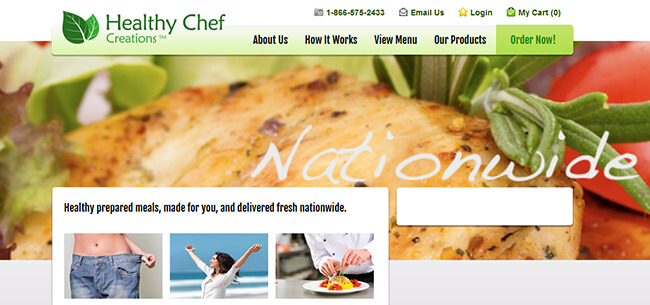 With Healthy Chef Creations, eating organic is perfectly easy. You can choose one of the excellent weight loss or everyday living meal plans or create a completely personalized plan by selecting individual meals from the company's rich menu. All meals are ready to eat, delivered fresh, and made of the finest natural and organic ingredients. Custom meal programs for special diets and individual preferences are available upon request.
9. Nurture Life

Nurture Life is a meal delivery service for kids that offers the most delicious, fun, fresh, organic meals for the little ones. It offers 3 menus for babies aged 6+ months, 1 specialized menu for toddlers, and 3 menus for children aged 4-14+. You can choose from 10-16 tasty organic dishes rich in nutrients that support children's development and order 8-14 meals per week. Special diet options include vegetarian, vegan, gluten-free, soy-free, egg-free, and dairy-free dishes.
10. Vegin' Out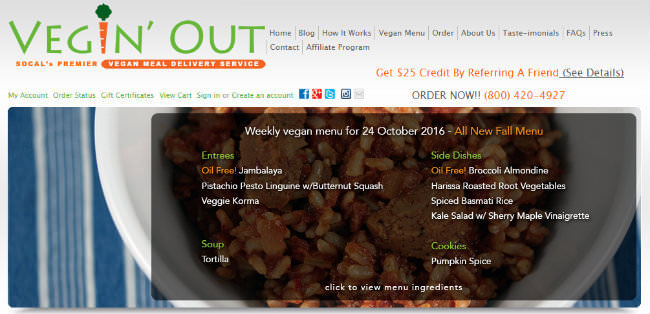 Vegin' Out is a vegan meal delivery service that aims to delight its veggie-loving customers with 8 amazing, natural meals every week. It exclusively uses natural ingredients, which are also organic whenever possible (meals are at least 85% organic). You get to enjoy a variety of gourmet, plant-based entrées, along with colorful and nutritious side dishes, soups, and the company's famous vegan cookies. The meals are repeated once every 8 weeks.