Best Meal Kit Services For Families
It is time for the most exciting part of our guide to choosing the best meal kits for families. To help you make your choice, we have summed up all the key info about our top picks in informative mini-reviews that take mere minutes to read.  Discover the unique advantages of the services featured on our list and pick the one that perfectly meets your expectations.
1. Sun Basket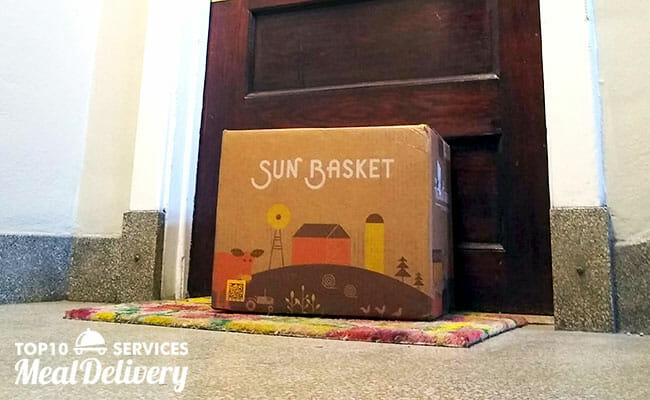 With Sun Basket, you can enjoy cooking with pre-measured organic ingredients and easily prepare healthier versions of all-time classics that both kids and adults love. You can choose between the Chef's Choice and Vegetarian meal plans and cook 2, 3 or 4 meals a week. The Family menu features 6 delicious dinner ideas every week, each one of them perfect for a family of 4. All orders come with a satisfaction guarantee.
2. Home Chef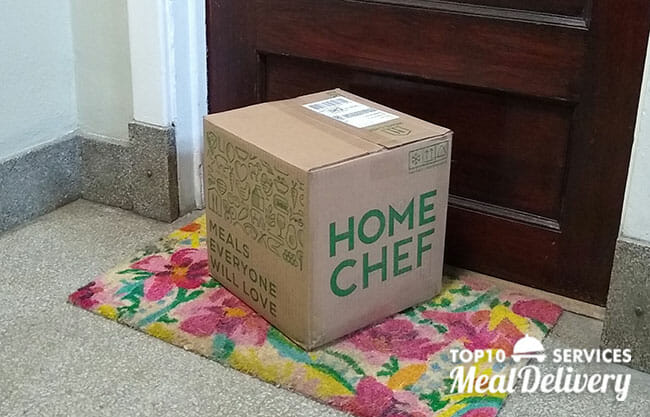 Home Chef offers over a dozen delicious dinner recipes every week. All the meal ideas are designed for families of 2, 4, and 6. Its menu is enriched with healthy lunches that take just 5 minutes to prepare, as well as fruit-filled add-ons that little ones are sure to enjoy. You can order anywhere between 2 and 6 recipes per week and choose between omnivore, vegetarian, low-calorie, and low-carb dishes.
3. Plated


Plated is a healthy meal kit service for families that never fails to impress. Every week, it comes up with 20 gorgeous dinner ideas and 2 lovely dessert recipes. You can choose to receive 2, 3 or 4 recipes per week and cook for 2-4 people. The selection of recipes is highly diverse and includes at least 8 family-friendly recipes. You can opt for meat, seafood, veggie, low-calorie, low-carb, and no-gluten options.
4. Blue Apron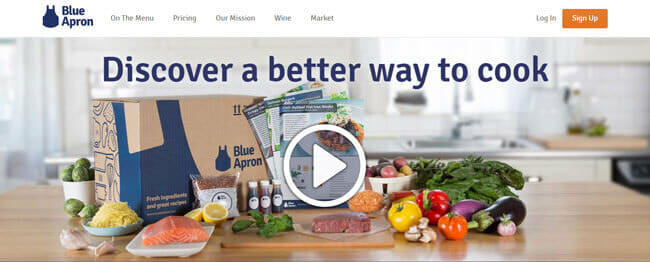 Blue Apron is one of the oldest meal kit services on the market. Throughout the years, it has remained one of the top choices for families due to its invariably high ingredient quality and amazing recipe variety. Its weekly menu features 5 tasty recipes for families of 4 and you can choose any 2, 3 or 4 that suit your loved one's preferences. The company's pricing is rather affordable and all family orders come with free shipping.
5. HelloFresh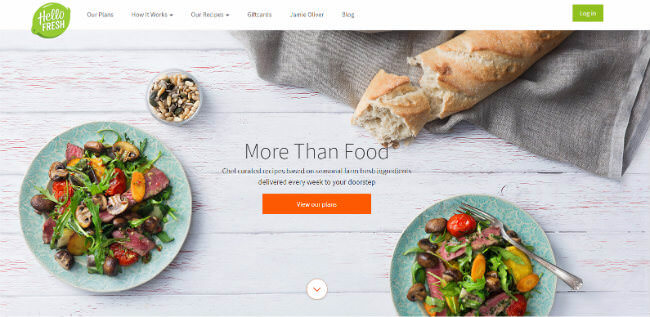 HelloFresh aims to make family cooking fun with 9 freshly designed kid-friendly dinners on the menu every week. Its recipes are suitable for veggie, seafood, and meat lovers alike and guarantee cooking success regardless of your culinary experience. Its Family meal plan is particularly designed for families of 4 and brings you 2 or 3 meal kits of your choice per week. Created with busy parents in mind, HelloFresh's family kits allow you to get a mouthwatering dinner on the table in just about half an hour.
6. Purple Carrot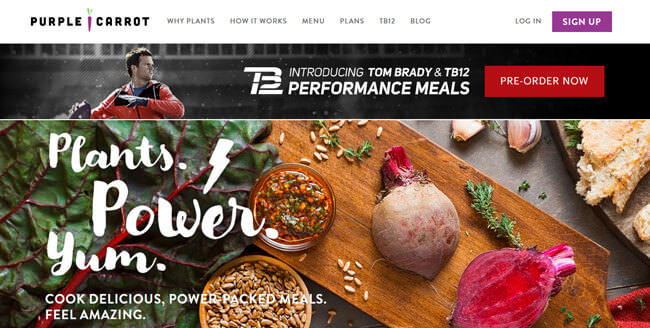 Purple Carrot is a family-friendly vegan service that offers an excellent meal plan for families of 6. Every week, you get to cook 2 nutritious plant-based meals that can be ready in about 30 minutes. The company's family meals are rich in nutrients and they are usually high in protein, which makes them perfectly satisfying. Depending on your needs, you can enrich your weekly orders with 1 extra breakfast or lunch that takes just 5 minutes to prepare.
7. Green Chef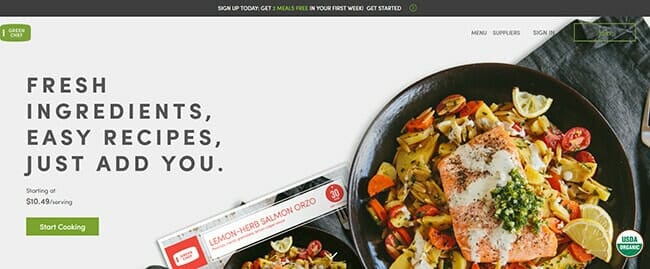 As the first certified organic and gluten-free meal kit service in America, Green Chef is a premium choice for families that want to eat healthily. Its Family meal plan is designed for carnivores and omnivores and brings you 2 picky-eater-approved recipes per week. Green Chef's family recipes are always delicious, flamboyant, and well-balanced and they are designed to satisfy the appetites of a family of 4.
8. Marley Spoon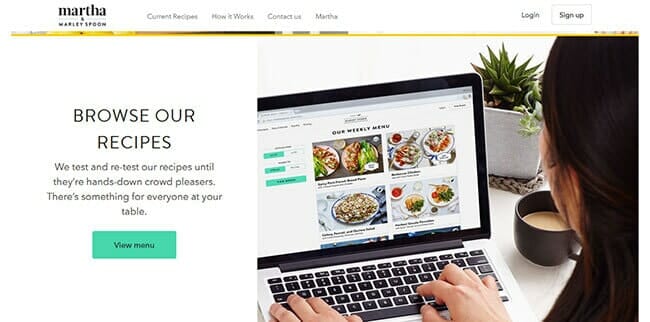 Marley Spoon is a meal kit service that invests extra effort into creating recipes the whole family is sure to enjoy. Out of 20 delightful Martha Stewart recipes on its weekly menu, as many as 10 are kid-friendly. The service allows you to quickly cook a delicious dinner for a family of 4. Your weekly deliveries include 2, 3 or 4 recipes that you like the most. Marley Spoon meals usually take no more than 30 minutes to prepare and they are as healthy as they are tasty.
9. Terra's Kitchen


If you have no more than 15 minutes to spend in the kitchen, Terra's Kitchen was made for you. This service provides fresh and natural ingredients that are pre-prepped to make cooking faster and easier. Its recipes are suitable for families of 3 and 4 and include a variety of vegetarian, meaty, and seafood delights. The service offers a variety of options for special diets as well as ready-made add-ons to complement your home-cooked meals.
10. Gobble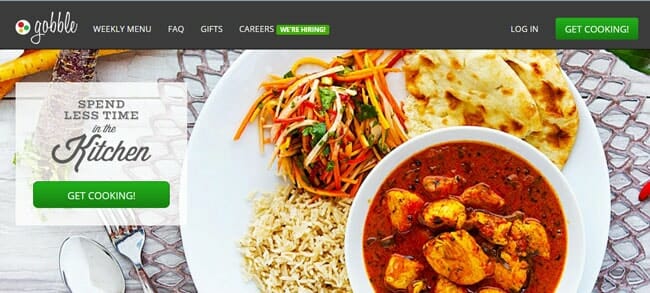 Gobble is a meal kit service that understands the needs of busy parents. Its meal kits include healthy ingredients that are measured, chopped, sliced, and trimmed by a team of pro chefs. That means that your family dinners can be ready in only 10 to 15 minutes. Every week, you can choose from 2 dozen beautiful recipes focusing on veg, meat, and seafood. You can choose any 3 family-friendly recipes that suit your needs and taste and effortlessly cook soul-warming dinners for 4 people.