Benefits Of Meal Kits For Families
Choosing only the best for your family is often harder than it sounds. You need to find the right ingredients to ensure your meals are nutritious and free from unhealthy substances. You need to pick the right recipes that suit everyone's taste but do not focus on fried foods and other sub-optimal choices. Finally, you need to purchase high-quality groceries at low prices in order to stick to your budget. All these tasks can take up a lot of your time, which is why family cooking can easily be described as a full-time job.
Meal kits for families are designed to make your life easier and solve all the most common issues related to cooking for the entire family. Here is how they can help you bring wholesome food to the table, clear up your schedule, stress less, and spend less.
Keeping It Natural & Healthy
Good meal kits for families focus on natural ingredients that are rich in nutrients and support normal bodily functions. They avoid processed foods, artificial substances, GMOs, and other products that are not considered a part of a healthy, well-balanced diet.

On the other hand, grocery stores may put everything and anything on their shelves as long as it sells. That means that you need to make a smart decision every time you pop a product into your cart.
With meal kits for families, you only need to make one good decision, that is, choose your meal kit service wisely. If you pick a service that exclusively sources high-quality, all-natural ingredients, you can enjoy the comfort of knowing that you have made the right choice for your family's health and prepare your meals worry-free.
Satisfying Everyone's Needs
Grownups and children have different dietary needs and tastes, which is why it is difficult to cook a single meal that can suit everyone's desires and preferences. This can be a major problem for busy parents who cannot spend hours thinking about what to cook next or afford to cook different meals for kids and adults. Consequently, the selection of meals on the family menu is often limited to just a couple of safe choices that everyone loves.
Fortunately, meal kits for families make it surprisingly easy to diversify your family's diet. They often enlist the help of culinary and nutrition experts that know how to make healthy meals look appealing and taste amazing. They have hundreds or even thousands of kid-friendly recipes in their cookbooks. They masterfully turn greens into fun-to-eat dishes and allow you to cook tasty, good-for-you meals that can please even the pickiest of eaters.
Saving Time
There is no denying that family cooking can be incredibly time-consuming if you are doing everything by yourself. Frequent trips to the store, ingredient selection, recipe searching, meal planning, cooking, cleanup, there is so much to do every single day.
If you purchase groceries on your own, you need to handpick every item in your cart. It is wise to check the origin and nutrition information for all products in order to determine whether they are good for you and your family. However, that means that you should spend about an hour or more in the store every time you go shopping. Not to mention that you need to drive to the store and back, navigating the heavy traffic.

Searching for recipes can take a while as well, especially if one member of the family loves broccoli while another loathes it. On top of that, young children cannot and do not want to eat everything adults do. Therefore, finding the right recipe can be harder than expected and your search may go on forever.
Apart from satisfying your family's taste and needs, you may want to choose recipes that are quick to make and require minimum cleanup, as spending hours in the kitchen is not always an option. The irony of it all is that you may end up spending way more time choosing than you would cooking.
Meal kits for families reduce most of the work to several clicks. All the ingredients are sourced and pre-portioned for you. The recipes on the menu are all family-friendly, so you just need to pick the ones you like most. Finally, everything is delivered to your home, ready to cook. You do not have to shop, drive or browse endlessly. You can plan your meals in minutes and cook them in less than half an hour. Now that is what we call a valuable service.
Saving Cash
When shopping for the family, it is easy to get carried away and purchase more food than you actually need. A large portion of this food may end up in the trash and wasted food equals wasted money.
With meal kits for families, you get just enough food to cook satisfying meals. Every ingredient is pre-portioned so nothing goes to waste. You only spend money on food that gets used up. That way, you avoid overspending and never have to wonder what to do with that leftover kale that is wilting away in your fridge.
It is further important to mention that meal kit services that cater to families often set lower prices for family-sized kits. Plus, they frequently offer free shipping on family orders, which allows you to save even more cash on a weekly basis.
What Makes The Best Meal Kits For Families Different
The best meal kits for families always bring something extra to the table. They work hard to one-up the competition and offer a better service at competitive prices. Let us list just some of the factors that make the best meal kits for families superior to their alternatives.
Higher Ingredient Quality
Instead of just avoiding unhealthy products, the best meal kit services for families source only the finest ingredients currently available. They provide farm-fresh, seasonal ingredients that are usually non-GMO and sustainable. Some of them exclusively focus on organic foods, making healthy eating easier than ever.
Speedier Recipes
One-pot wonders, stovetop-only recipes, 15-minute meal ideas, they are all regularly featured on the family menus of the top meal kit services. In addition to pre-measuring all ingredients, some services even take care of all the preparation for you, so you can start cooking immediately after unboxing. Plus, with recipes that require the use of just one pot or pan, you can clean up all the mess more quickly than usual.
Richer Menus
The best meal kit services for families make sure their menus are both rich and varied. Apart from limiting their selection to picky-eater-approved options, they constantly increase the number of menu items on offer in order to maximize the chances of satisfying everyone's taste.
Greater Convenience
Convenience is one of the main reasons why you may want to subscribe to a meal kit service. However, not all services do equally well in this department. In an effort to stay one step ahead of the rest, the best meal kit services for families offer extra perks like highly flexible subscriptions that can be paused or canceled in a minute, pre-prepped ingredients and ready-made sauces that make cooking easier, and customization options that ensure your every order perfectly suits your needs. They take convenience to the next level, which allows them to rise in popularity and remain at the very top of the market.
Choosing The Best Meal Kits For Families
So far, we have covered all the key benefits you get to enjoy if you decide to cook with family-friendly meal kits. In this section, we will explain how to successfully identify the services that are simply better than the others. We have assembled a list of qualities that characterize the best meal kits for families.
Meal Options
The finest family meal kit services have menus that suit a vast range of dietary needs. Their recipes are not only kid-friendly but also adhere to the rules of various common diets, including vegetarian, vegan, allergy-friendly, and many others. These services recognize the diverse needs of their patrons and do their best to satisfy them by offering as many meal options as possible.
Variety
If the meal kit service of your choice offers just a couple of family-friendly recipes per week, you may find yourself skipping deliveries more often than you would like. A lack of variety may disrupt your plans and leave your fridge empty when you have no time to shop.

With the best meal kits for families, you have plenty of meal ideas to choose from every time you order. You are sure to find enough delicious recipes to fill your order and wow your family.
Nutritional Value
Another important advantage of the best meal kit services is that they offer nutritionally balanced dishes. Their meals allow parents to stay in good shape and let kids enjoy a proper diet that can help them grow up happy and healthy. In contrast to their competitors that may stick to burgers and fries and other fast-food items kids love, these services create nutrient-packed delights that resemble guilty pleasures but incorporate plenty of healthy foods that are rich in valuable vitamins and minerals.
Portion Size
The best meal kits for families are designed to suit the needs of both children and adults, which means that they include both kid-sized and adult-sized portions. Serving sizes are not arbitrary and they are determined in accordance with the standard healthy eating rules. In some cases, they are even approved by in-house nutritionists.
Flexibility
To make sure your meal kit subscription truly suits your needs, we only select companies that allow you to modify your subscription any way you wish. In other words, we choose services that let you switch between meal plans, edit your order, skip a delivery, pause your subscription or delete your account at any time. Such flexibility ensures that you never feel trapped and only receive deliveries when you need them.
Price
Last but not least, we want our top list to include budget-friendly solutions that virtually anyone can afford. We give preference to services that offer lower prices for families and allow you to save money instead of burdening your budget.
Best Meal Kit Services For Families
It is time for the most exciting part of our guide to choosing the best meal kits for families. To help you make your choice, we have summed up all the key info about our top picks in informative mini-reviews that take mere minutes to read.  Discover the unique advantages of the services featured on our list and pick the one that perfectly meets your expectations.
1. Sun Basket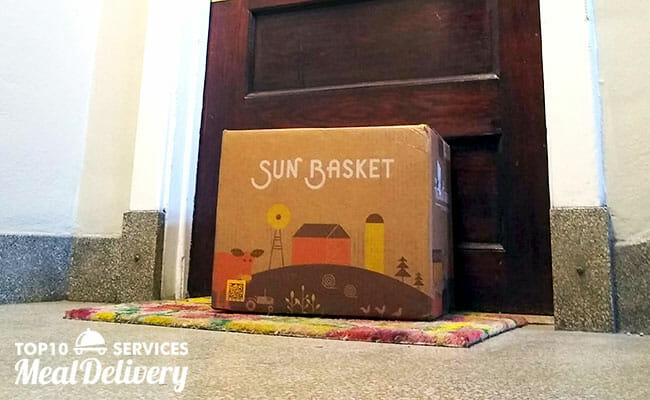 With Sun Basket, you can enjoy cooking with pre-measured organic ingredients and easily prepare healthier versions of all-time classics that both kids and adults love. You can choose between the Chef's Choice and Vegetarian meal plans and cook 2, 3 or 4 meals a week. The Family menu features 6 delicious dinner ideas every week, each one of them perfect for a family of 4. All orders come with a satisfaction guarantee.
2. Home Chef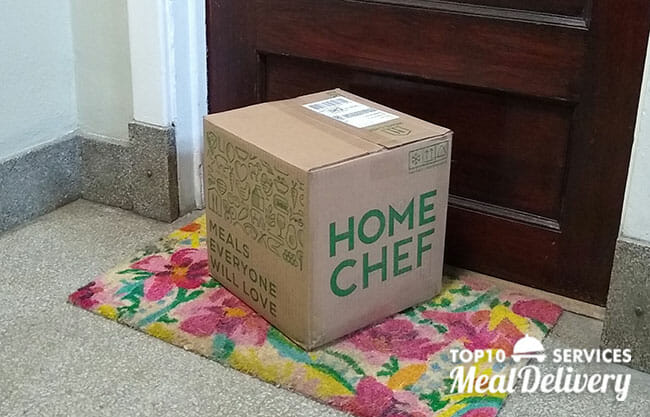 Home Chef offers over a dozen delicious dinner recipes every week. All the meal ideas are designed for families of 2, 4, and 6. Its menu is enriched with healthy lunches that take just 5 minutes to prepare, as well as fruit-filled add-ons that little ones are sure to enjoy. You can order anywhere between 2 and 6 recipes per week and choose between omnivore, vegetarian, low-calorie, and low-carb dishes.
3. Plated


Plated is a healthy meal kit service for families that never fails to impress. Every week, it comes up with 20 gorgeous dinner ideas and 2 lovely dessert recipes. You can choose to receive 2, 3 or 4 recipes per week and cook for 2-4 people. The selection of recipes is highly diverse and includes at least 8 family-friendly recipes. You can opt for meat, seafood, veggie, low-calorie, low-carb, and no-gluten options.
4. Blue Apron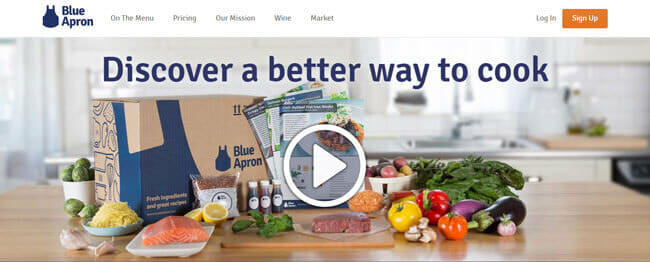 Blue Apron is one of the oldest meal kit services on the market. Throughout the years, it has remained one of the top choices for families due to its invariably high ingredient quality and amazing recipe variety. Its weekly menu features 5 tasty recipes for families of 4 and you can choose any 2, 3 or 4 that suit your loved one's preferences. The company's pricing is rather affordable and all family orders come with free shipping.
5. HelloFresh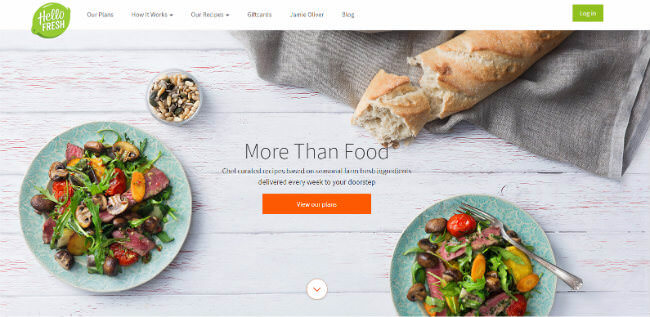 HelloFresh aims to make family cooking fun with 9 freshly designed kid-friendly dinners on the menu every week. Its recipes are suitable for veggie, seafood, and meat lovers alike and guarantee cooking success regardless of your culinary experience. Its Family meal plan is particularly designed for families of 4 and brings you 2 or 3 meal kits of your choice per week. Created with busy parents in mind, HelloFresh's family kits allow you to get a mouthwatering dinner on the table in just about half an hour.
6. Purple Carrot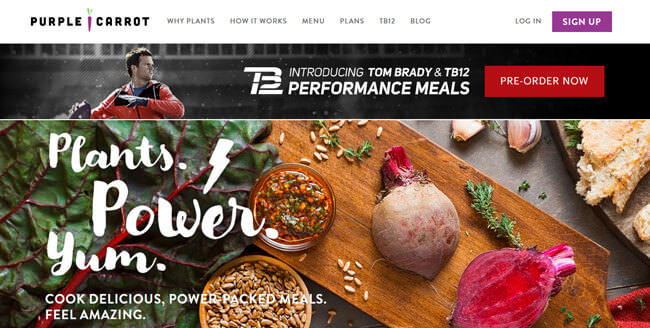 Purple Carrot is a family-friendly vegan service that offers an excellent meal plan for families of 6. Every week, you get to cook 2 nutritious plant-based meals that can be ready in about 30 minutes. The company's family meals are rich in nutrients and they are usually high in protein, which makes them perfectly satisfying. Depending on your needs, you can enrich your weekly orders with 1 extra breakfast or lunch that takes just 5 minutes to prepare.
7. Green Chef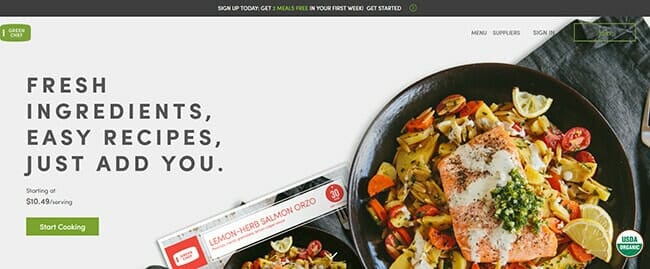 As the first certified organic and gluten-free meal kit service in America, Green Chef is a premium choice for families that want to eat healthily. Its Family meal plan is designed for carnivores and omnivores and brings you 2 picky-eater-approved recipes per week. Green Chef's family recipes are always delicious, flamboyant, and well-balanced and they are designed to satisfy the appetites of a family of 4.
8. Marley Spoon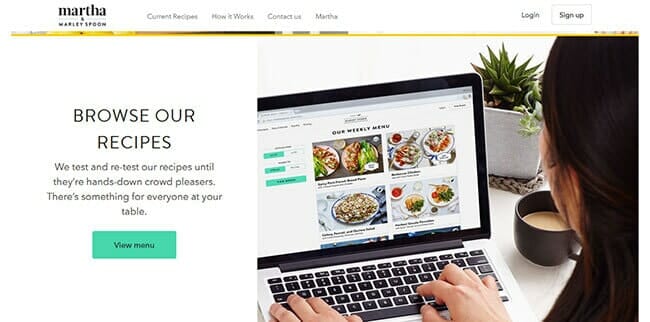 Marley Spoon is a meal kit service that invests extra effort into creating recipes the whole family is sure to enjoy. Out of 20 delightful Martha Stewart recipes on its weekly menu, as many as 10 are kid-friendly. The service allows you to quickly cook a delicious dinner for a family of 4. Your weekly deliveries include 2, 3 or 4 recipes that you like the most. Marley Spoon meals usually take no more than 30 minutes to prepare and they are as healthy as they are tasty.
9. Gobble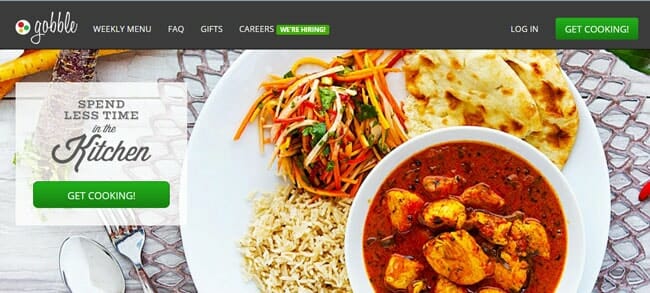 Gobble is a meal kit service that understands the needs of busy parents. Its meal kits include healthy ingredients that are measured, chopped, sliced, and trimmed by a team of pro chefs. That means that your family dinners can be ready in only 10 to 15 minutes. Every week, you can choose from 2 dozen beautiful recipes focusing on veg, meat, and seafood. You can choose any 3 family-friendly recipes that suit your needs and taste and effortlessly cook soul-warming dinners for 4 people.
10. Dinnerly

Designed to make family cooking stress-free, Dinnerly provides fresh and natural ingredients and quick and healthy recipes that both kids and adults love. It focuses on classics and comfort food and comes up with 14 fresh dinner recipes every week. You can choose from a variety of options, including omnivore, carnivore, low-carb, low-calorie, and allergen-free meals. Dinnerly's prices are the lowest on the market and its subscriptions can be easily modified, paused or canceled anytime.