Compare Prices
The following price comparison is designed to help you easily figure out which of our top-ranked meal delivery services for singles best fits your budget. We have brought all the pricing information to one place, including the shipping costs and details about the companies' delivery areas, so you can identify the perfect fit in a single glance.
Company
Avg. Meal Price
Shipping
Delivery Areas
Freshly
Avg. Meal Price
Shipping Cost
$0
Delivery Areas
Bistro MD
Avg. Meal Price
Shipping Cost
$19.95
Delivery Areas
RealEats
Avg. Meal Price
Shipping Cost
$0-$7.99
Delivery Areas
Fresh Meal Plan
Avg. Meal Price
Shipping Cost
$0-$20
Delivery Areas
MealPro
Avg. Meal Price
Shipping Cost
$9.99
Delivery Areas
Home Bistro
Avg. Meal Price
Shipping Cost
$15.95-$59.95
Delivery Areas
Veestro
Avg. Meal Price
Shipping Cost
$0
Delivery Areas
Diet-to-Go
Avg. Meal Price
Shipping Cost
$9.99
Delivery Areas
Trifecta Nutrition
Avg. Meal Price
Shipping Cost
$0
Delivery Areas
Healthy Chef Creations
Avg. Meal Price
Shipping Cost
$20.00
Delivery Areas
Benefits Of Meal Delivery Services For Singles
The scarcity of one-person meal delivery services is as strange as it is infuriating. Most meal delivery services nowadays still primarily cater to couples and families, which is why many people who live alone either opt for takeout and frozen dinners or cook for themselves, often having to deal with more leftovers than they need. However, even though the situation is not as good as we would like it to be, we have managed to find several excellent single-friendly options that can make your dreams of eating healthy and gourmet food while investing zero effort into meal prep a reality.
With meal delivery services for singles, you do not have to make any compromises. You can always have plenty of single-serving options at your disposal, so you do not have to order more food than you need. You can pick the meals you like and enjoy food that perfectly suits your dietary needs and preferences. You can schedule recurring deliveries or order as often and as many meals as you wish. These services are tailored to your needs and provide the ultimate home dining experience for singles.
No longer do you have to order 2-serving meals and eat the same dish two days in a row. All your meals can be individually portioned and packaged, so you can just heat them or eat them straight from the box, with no clean-up or time wasted in the kitchen. Plus, with our top picks, you get to enjoy healthy food designed with various diets in mind, so your meals are not only good for you, they are also free from all the ingredients you dislike or need to eliminate from your diet.
How Are The Best Meal Delivery Services For Singles Different
The best meal delivery services for singles are unique because they create their meals with singles in mind, unlike most meal delivery services currently available on the market. However, this is not the only feature that sets them apart from the rest.
Their meals are single-friendly and designed to accommodate their patrons' different personal preferences and lifestyles. Therefore, they do not only suit your needs portion-wise but aim to provide a completely personalized experience. They understand that single people cannot all fit into one homogenous category, providing a variety of options for special diets and leaving plenty of room for customization, both in terms of meal variety and ordering options.
These services are as flexible as they get. Even if they offer pre-defined meal plans, they let you choose the number of meals you want to enjoy per day and during the week, allow you to skip deliveries, and enable you to create custom meal plans of your own, so you do not have to settle for anything that does not perfectly suit your expectations. With these services, you are the boss and have full control over what you receive in your deliveries.
On top of that, they are usually much more affordable than takeout, so you can order completely carefree. With high-quality, single-portion meals designed to meet your dietary requirements, flexible ordering, and reasonable prices, all the meal delivery services for singles featured on our list constitute one of the best – if not the best option for single people seeking an easy and healthy eating solution that suits their lifestyle.
Choosing The Right Single-Friendly Meal Delivery Service For You
Our search for the best meal delivery services for singles begins with a simple question: what do singles expect from a meal delivery service? Of course, the first requirement that comes to mind is the availability of single-serving options. Although this is one of the primary criteria, it is still only one of the many requirements that services need to satisfy in order to get a spot on our list.
Our top picks always offer menus characterized by great variety. They know that all of their patrons have different tastes, which is why they offer everything from light, low-calorie meals to gourmet sensations that can impress virtually any foodie. Furthermore, they offer a range of meal options for patrons with special dietary needs, including gluten-free, vegetarian, vegan, diabetic-friendly, and many other delicious and healthy options.
Along with the number of portions per meal, we also analyze portion size. We choose companies that offer perfectly portioned meals, with no leftovers – unless you want them. However, our top choices do not only strive to satisfy your appetite, they also offer meals with optimal nutritional values, providing your body with all the valuable nutrients it needs.
In the final step of our selection process, we focus on subscription flexibility and affordability. We make sure that the companies on our list allow you to modify both your orders and your subscription any way you wish and that they offer meals that fit the average consumer's budget.
By applying all of these rigorous criteria, we can guarantee that all of the companies featured here can meet the expectations of their single patrons, regardless of their budget, preferences, and eating habits.
Best Meal Delivery Companies For Singles
What all of our top picks have in common is that they are currently the best single-friendly options on the market. Now it is time to discover what makes each of these meal delivery companies unique. Explore their distinctive features in the mini-reviews below and choose the one that best satisfies your personal needs.
1. Freshly

Freshly is a gluten-free meal delivery that offers healthy meals designed for one person. Its rich menu features around 30 delicious entrées, including vegetarian, Paleo, low-calorie, low-carb, soy-free, and high-protein dishes. All the items on the menu are single-serving, made of all-natural, wholesome ingredients, and free from gluten, peanuts, artificial ingredients, preservatives, refined sugars, and hydrogenated oils. Order between 4 and 12 meals per week. Shipping is free on all orders.
2. BistroMD

BistroMD is a meal delivery for one person that offers tasty meals designed to promote healthy weight loss. Its meals are calorie-controlled with an average daily intake of 1,100 to 1,400 calories. They rely on lean protein, complex carbs, and healthy fats and allow you to improve your diet and health while shedding pounds. Paying special attention to its customers' varying dietary needs, BistroMD offers gluten-free, diabetic, senior, and menopause meal programs.
3. RealEats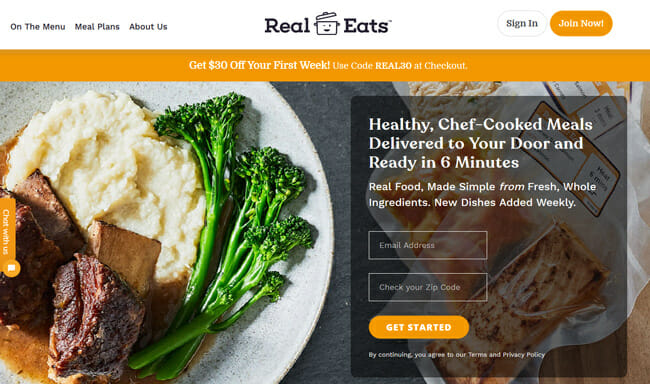 RealEats is a meal delivery for singles that uses organically grown, locally-sourced ingredients to prepare single-serving breakfasts and dinners that are great for your body. You can get dinners only or enjoy breakfasts as well. Meal plans start at 4 single-serving meals per week. Most meals feature meat, but there are always a couple of veggie and pescatarian items on the menu too. All the meals are fully cooked and delivered fresh. They can last for 7 days in a fridge and they take 6 minutes to reheat in a pot of boiling water.
4. Fresh Meal Plan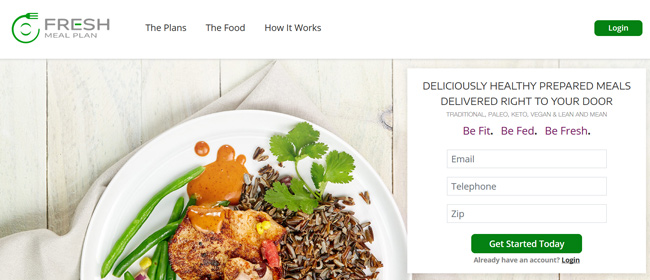 Fresh Meal Plan has more than 500 meals for singles in its offer, 100+ of which are available on its menu whenever you shop. It provides classic, optimally balanced dishes, as well as Paleo, keto, vegan, and bodybuilding meals. In addition to pre-made, ready-to-heat, single-serving meals, you can order cooked proteins, entrées, and sides and create meals of your own. Either way, you get to enjoy fresh, never frozen food that is ready to eat in 2 to 3 minutes. Since the meals are perfectly fresh, they can last for more than a week in a fridge, so you do not have to worry about them going bad before you get a chance to enjoy them.
5. MealPro

With Meal Pro, you can get 18 or 20 single-serving frozen meals per delivery and order as often as you please. All the meals are made of fresh, sustainable ingredients and they are suitable for a variety of diets, including gluten-free, Paleo, keto, vegan, and vegetarian. You can customize each meal by adding extra carbs, proteins or veg, eliminating carbs or adding animal proteins to veggie meals. On top of that, the meals are lightly seasoned and come with condiment, spice, and sauce packets, so you can customize the flavor as well. If you like creating your own meals, you can order cooked proteins, carbs, and veg, which are sold by the pound. The meals are moderate in calories and usually contain 500-700 calories per serving. If you want to save cash, you can subscribe, earn reward points with every order, and exchange your points for free meals.
6. Home Bistro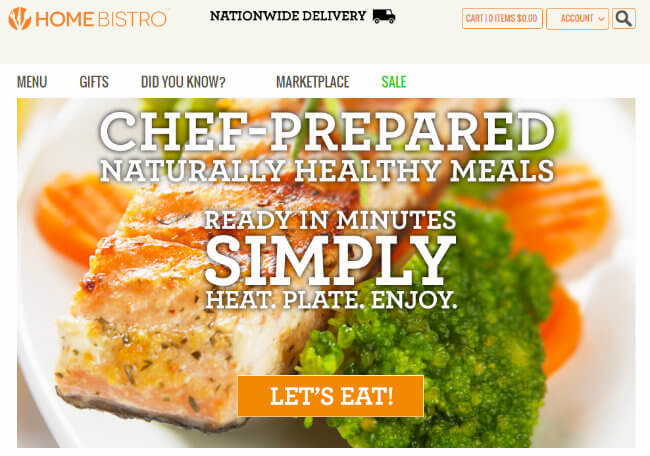 Home Bistro is a healthy meal delivery for one person that allows you to enjoy some of the finest meals available on the market in the comfort of your own home. All the meals are freshly made by a top chef, using nothing but the freshest, natural ingredients, and delivered frozen for easier storage. The meals are calorie-controlled, low in sodium, and rich in superfoods. You can freely choose from dozens of individual meals and meal combos.
7. Veestro


Veestro is a single-friendly vegan meal delivery that allows you to shop any way you wish. You can order a la carte and choose from all kinds of plant-based breakfasts, entrées, soups, desserts, and juices. You can opt for one of the 8 meal packs for special diets and occasions. You can shed pounds with its weight loss meal plans or wash away toxins with its juice cleanses. Just choose your preferred ordering method and wait for healthy deliciousness to arrive.
8. Diet-To-Go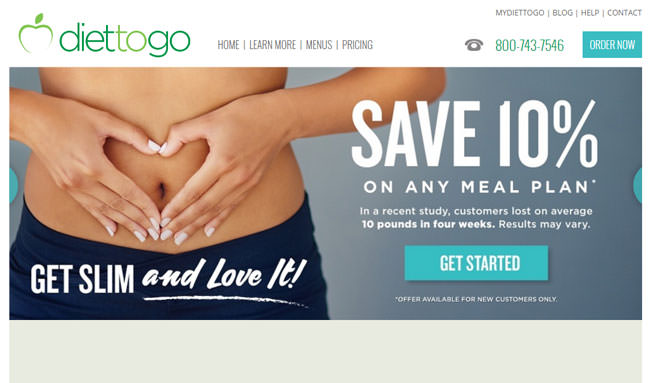 Diet-To-Go is a one-person weight loss meal delivery service with a decades-long tradition. Its weight loss programs are designed to help you both improve your health and reach your goal weight more easily, without starving and giving up on delicious food. Its famous heart-healthy, low-calorie Balance menu is available in 3 versions, created with omnivores, vegetarians, and diabetics in mind. If you need to chuck out carbs, you can opt for the excellent Keto-Carb30 menu.
9. Trifecta Nutrition

Trifecta Nutrition is an organic meal delivery for singles known for its dedication to quality. It uses only the highest-quality, all-natural, organic ingredients and crafts meals suitable for vegans, vegetarians, keto and Paleo dieters, fans of classic, well-balanced dishes, and people who want to eat clean. Opt for one of the 6 specialized meal plans or order pre-cooked proteins, carbohydrates, and vegetables in bulk and create innovative meals that perfectly suit your taste.
10. Healthy Chef Creations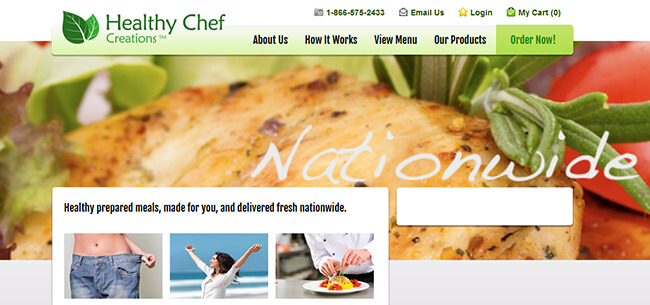 Healthy Chef Creations is a healthy meal delivery that offers meal plans for all kinds of healthy lifestyles. Whether you want to lose weight or just eat healthily, you can choose from a variety of pre-defined meal plans, request a custom meal plan or create a completely personalized plan by ordering from the a la carte menu. All meals are individually portioned and packaged and made from fresh, wholesome ingredients.