Compare Prices
The following price comparison is designed to help you easily figure out which of our top-ranked meal delivery services for singles best fits your budget. We have brought all the pricing information to one place, including the shipping costs and details about the companies' delivery areas, so you can identify the perfect fit in a single glance.
Company
Avg. Meal Price
Shipping
Delivery Areas
Freshly
Avg. Meal Price
$9.99
Shipping Cost
$0
Delivery Areas
Bistro MD
Avg. Meal Price
$10.50
Shipping Cost
$19.95
Delivery Areas
The Good Kitchen
Avg. Meal Price
$10.00
Shipping Cost
$0
Delivery Areas
Home Bistro
Avg. Meal Price
$14.50
Shipping Cost
$15.95-$59.95
Delivery Areas
Veestro
Avg. Meal Price
$9.90
Shipping Cost
$0
Delivery Areas
Diet-to-Go
Avg. Meal Price
$10.50
Shipping Cost
$20.00
Delivery Areas
Trifecta Nutrition
Avg. Meal Price
$14.99
Shipping Cost
$0
Delivery Areas
Healthy Chef Creations
Avg. Meal Price
$12.99
Shipping Cost
$20.00
Delivery Areas
Vegin' Out
Avg. Meal Price
$8.59
Shipping Cost
$0
Delivery Areas
Magic Kitchen
Avg. Meal Price
$10.00
Shipping Cost
$18.00-$20.00
Delivery Areas
Best Meal Delivery Companies For Singles
What all of our top picks have in common is that they are currently the best single-friendly options on the market. Now it is time to discover what makes each of these meal delivery companies unique. Explore their distinctive features in the mini-reviews below and choose the one that best satisfies your personal needs.
1. Freshly
Freshly is a gluten-free meal delivery that offers healthy meals designed for one person. Its rich menu features around 30 delicious entrées and breakfasts, including vegetarian, Paleo, low-calorie, low-carb, soy-free, and high-protein dishes. All the items on the menu are single-serving, made of all-natural, wholesome ingredients, and free from gluten, peanuts, artificial ingredients, preservatives, refined sugars, and hydrogenated oils. Order between 4 and 12 meals per week. Shipping is free on all orders.
2. BistroMD
BistroMD is a meal delivery for one person that offers tasty meals designed to promote healthy weight loss. Its meals are calorie-controlled with an average daily intake of 1,100 to 1,400 calories. They rely on lean protein, complex carbs, and healthy fats and allow you to improve your diet and health while shedding pounds. Paying special attention to its customers' varying dietary needs, BistroMD offers gluten-free, diabetic, senior, and menopause meal programs.
3. The Good Kitchen

The Good Kitchen is an organic meal delivery for singles that offers 3 excellent pre-defined meal plans and one custom meal plan that you can tailor to your needs. You can order anywhere between 5 and 35 single-serving meals per week and enjoy clean and tasty meals made of sustainably sourced and organic ingredients of the highest quality. The Good Kitchen meals are suitable for vegetarians, Paleo fans, Whole30 dieters, and people on the gluten-free diet.
4. Home Bistro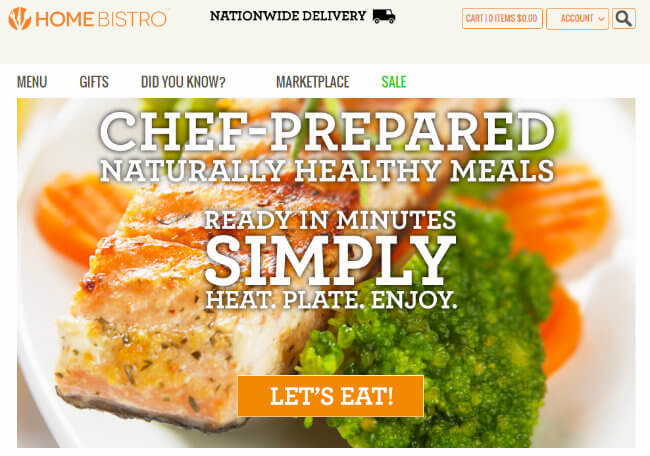 Home Bistro is a healthy meal delivery for one person that allows you to enjoy some of the finest meals available on the market in the comfort of your own home. All the meals are freshly made by a top chef, using nothing but the freshest, natural ingredients, and delivered frozen for easier storage. The meals are calorie-controlled, low in sodium, and rich in superfoods. You can freely choose from dozens of individual meals and meal combos.
5. Veestro

Veestro is a single-friendly vegan meal delivery that allows you to shop any way you wish. You can order a la carte and choose from all kinds of plant-based breakfasts, entrées, soups, desserts, and juices. You can opt for one of the 8 meal packs for special diets and occasions. You can shed pounds with its weight loss meal plans or wash away toxins with its juice cleanses. Just choose your preferred ordering method and wait for healthy deliciousness to arrive.
6. Diet-To-Go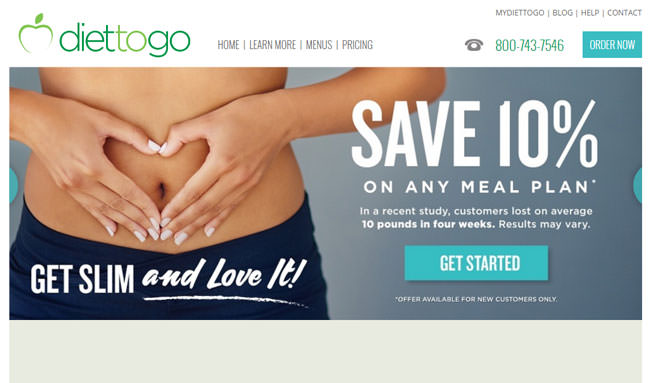 Diet-To-Go is a one-person weight loss meal delivery service with a decades-long tradition. Its weight loss programs are designed to help you both improve your health and reach your goal weight more easily, without starving and giving up on delicious food. Its famous heart-healthy, low-calorie Balance menu is available in 3 versions, created with omnivores, vegetarians, and diabetics in mind. If you need to chuck out carbs, you can opt for the excellent Carb30 menu.
7. Trifecta Nutrition

Trifecta Nutrition is an organic meal delivery for singles known for its dedication to quality. It uses only the highest-quality, all-natural, organic ingredients and crafts meals suitable for vegans, vegetarians, Paleo lovers, fans of classic, well-balanced dishes, and people who want to eat clean. Opt for one of the 5 customizable meal plans or order pre-cooked proteins, carbohydrates, and vegetables in bulk and create innovative meals that perfectly suit your taste.
8. Healthy Chef Creations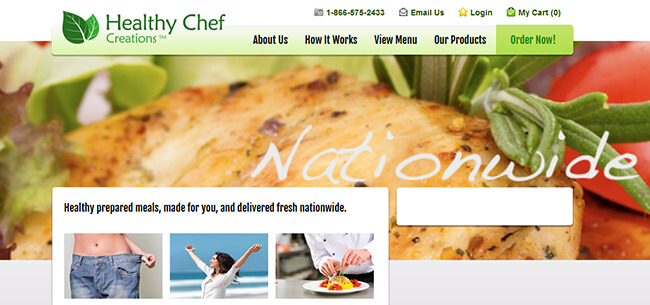 Healthy Chef Creations is a healthy meal delivery that offers meal plans for all kinds of healthy lifestyles. Whether you want to lose weight or just eat healthily, you can choose from a variety of pre-defined meal plans, request a custom meal plan or create a completely personalized plan by ordering from the a la carte menu. All meals are individually portioned and packaged and made from fresh, wholesome ingredients.
9. Vegin' Out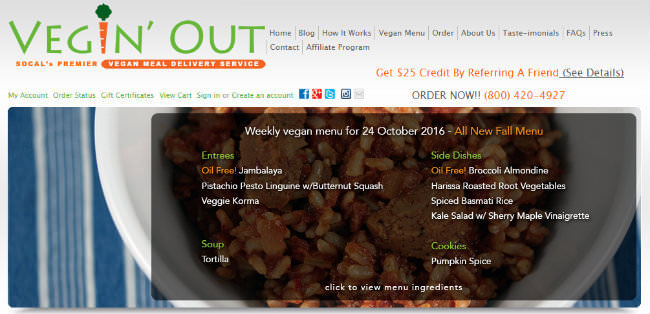 Vegin' Out is a vegan meal delivery for one person that offers gorgeous plant-based meals for individuals who prefer cruelty-free cuisine and want to eat healthily. Its menu changes every week and includes 8-9 delicious items. You get to enjoy professionally cooked vegetarian-vegan entrées, soups, side dishes, and the famous Vegin' Out vegan cookies. If you need more food for the week, you can order additional entrées, sides, cookies, and salad dressings.
10. Magic Kitchen
With Magic Kitchen healthy meal delivery, you can easily plan your meals for the week and enjoy delicious dishes that perfectly suit your needs. You can order main courses, side dishes, soups, and desserts a la carte and opt for convenient one-person meal bundles. Alternatively, you can get complete meals including an entrée and 1-2 sides. You can receive 1, 2 or 3 meals per day, with plenty of special diet options at your disposal, including gluten-free, diabetic-friendly, renal-friendly, low-sodium, and more.

* All the prices on this website are subject to change without notice. While we put a great deal of effort into making sure that all the prices are accurate, one or more products may have outdated prices. Please visit the specific product's official website for exact prices.