Benefits Of Beer Clubs
We are living in a golden age of craft booze and underground, hard-to-find brands and breweries are constantly popping up on a global scale. Most of the premium brands are a real treat for beer guzzlers all over the world, but you can't just go out and buy yourself a six-pack of those at your local store, now can you? 
The first problem with craft breweries is that their products are so difficult to get unless you happen to live right in the neighborhood in which case you're awesome and we want to hang out at your place. Beer clubs solve this problem by bringing small local breweries to your home. Every month, you'll receive a shipment of carefully curated beers you've probably never tasted or even seen before. 
So, the biggest advantage of becoming a member of top-tier beer clubs is the fact that you'll gain access to brands you'd never be able to get your hands on otherwise. You won't have to travel to another state to try that amazing obscure brand your buddy told you about; instead, you can simply have it delivered to your doorstep. Now, how convenient is that? 
Craft beers are a lot of things, but they're not cheap and treating yourself to a lavish tasting session can definitely burn a hole in your wallet. Beer clubs, on the other hand, feature teams of beer experts that taste more than 500 brands on a weekly basis and pick your next delivery based on flavor, mouthfeel, aromatic profile, appearance, body and balance, and many other factors. 
How Are Beer Clubs Different
First of all, beer clubs are incredibly convenient, bringing high-quality beers from reputable craft beer brands right to your doorstep. This saves you both time and money you would spend hunting for some underground brand you heard about at your local watering hole. Depending on your delivery choices, every month will bring a certain variety of brands you most likely never tasted before, which will allow you to experience a wide range of different beer types and keep up-to-date with the latest crafting trends. 
Every shipment you receive is curated by individuals who basically live for beer. All renowned beer clubs have impressive teams of beer experts that filter out subpar brands on a weekly basis, making sure the company sends you only "the good stuff." In other words, you'll not only get top-shelf booze every single week, but you'll also save a lot of money on beers that simply aren't worth it. 
Beer clubs will also give you the opportunity to taste an incredible range of craft beers, which is particularly great for individuals who were just awakened to the possibilities and flavors this branch of brewing has to offer. The entire model is built around convenience and making sure you enrich your beer pallet with incredible new brews from all corners of the world. 
Finally, beer clubs often partner with small brewing companies, which allows them to offer their products at lower prices, so you won't have to break the bank for the month in order to taste the most amazing beers currently on the market. Furthermore, you'll also avoid dealing with constantly changing state regulations that can make the whole process of shipping beer to your location unnecessarily tedious and complicated, not to mention more expensive than it should be. 
Choosing The Right Beer Club For You
Our researchers' main effort in selecting, reviewing, and ranking beer clubs was to help you find a club that fits your needs perfectly. With the craft brewing culture on the rise, the sheer amount of beer clubs on the market can make things a bit confusing for an aspiring customer. Most of these beer clubs are more or less affordable, but it's still money out of your pocket so we wanted to make sure you get just what you need. 
We have followed several criteria that seemed the most important to us. The first factor is a rather logical one – beer quality. If you are serious about beer – and we are sure you are; otherwise you wouldn't be here – you want beer that excels in all aspects of quality, from flavor and aroma to the quality of the ingredients used to make a particular brew. We also made sure these clubs offer beer that is made following strict craft brewing procedures. 
Brand reputation is our second criterion. Bear in mind that these are not major corporations or famous beer brands – these are mostly small, artisanal breweries, but breweries that are still held in high regard in the world of beer connoisseurs. Some of them you've probably already heard of, but there are so many amazing, award-winning breweries and brands just waiting for you to discover them. 
All of the beer clubs that made it to our list are known for offering not only great beer but also education on the beers included in the box, on beer in general, and on the amazing and inspiring process of brewing craft beer. You can also expect information about how to pair beer with food, how to taste beer like a connoisseur, and many other useful, educational articles. 
We also appreciate it when a beer club offers good customization options to its customers. It is very important to be able to customize your orders (or gift subscriptions you get for others) in terms of delivery frequency, shipping times, the amount of beer you get, and the kind of beer you want or don't want to get in your beer club delivery box. 
As we already mentioned earlier, beer clubs are generally affordable, but they are definitely not free and some of them are not exactly cheap either. This means that you have to look for good value for money. If you will be spending a couple dozen dollars per month on a beer club subscription, you obviously want to get your money's worth, enjoy professional, reliable service, and receive top-notch craft beer. 
When you sum all these factors up, what you get is overall experience. As with all things in life, we want it to be as good as possible. In the case of beer clubs, this means enjoying a wide selection of the best beers around, high-quality service, and decent prices. We are confident that all the beer clubs you will find on our list offer great to excellent experiences and that you will have no trouble finding a club that works perfectly for you. 
Best Beer Clubs
What all of our top picks have in common is that they are currently the best on the market. Now it is time to discover what makes each of these beer clubs unique. Explore their distinctive features in the mini-reviews below and choose the one that best satisfies your personal needs.
1. Give Them Beer

Give Them Beer was founded back in 2013 and has since grown its portfolio to encompass more than 150 different craft brands, including lagers, ales, IPAs, stouts, and porters, as well as specialty and seasonal beers. The company specializes in IPAs with more than 40 represented brands.  
Apart from microbreweries that produce limited amounts of beer, Give Them Beer also features products from major breweries, such as Miller, Corona, Budweiser, and Guinness.  
2. The Craft Beer Club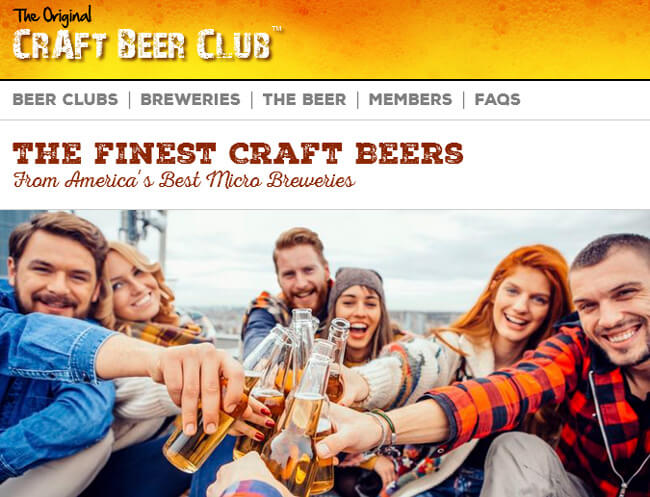 The Craft Beer Club hand-picks only the best American craft beers and delivers them right to your doorstep. The company delivers its monthly bundles all across the contagious United States. It currently cooperates with around 20 craft breweries to offer all standard craft beer types, from porters and stouts to IPAs. 
The monthly selection always includes 4 different styles, each represented with 3 bottles. If you're a fan of any particular style, you can contact the club and personalize your monthly delivery. 
3. Clubs Of America Beer Of The Month Club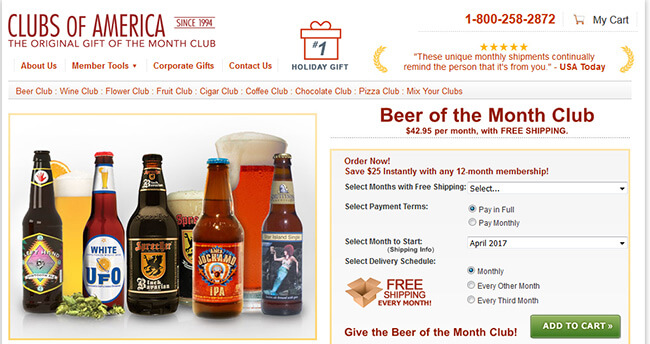 Beer of the Month is a renowned beer club launched back in 1994 with a proven track record and thousands of satisfied customers. The company specializes in offering rare and exclusive American craft beers on a monthly, bi-monthly, and quarterly basis. 
Beer of the Month mostly offers ales (pale ales, IPAs, APAs, farmhouse ales, red and brown ales…) but also has a pretty impressive variety of weissbiers, stouts, porters, and lagers. 
4. The Microbrewed Beer Of The Month Club

The Microbrewed Beer of the Month Club is a serious and dedicated beer club with a 20-year tradition in the business and 5 different clubs to choose from. If you are interested in receiving top-shelf, hard-to-find beer on a regular basis, this is the right beer club for you. 
The Microbrewed Beer of the Month Club features an impressive team of beer testers who curate the contents of each shipment and make sure the customers receive only top-notch products.