Whether you have already mastered the art of home cooking or are just getting started in the kitchen, with HelloFresh meal kits, you can enjoy cooking more and prepare delicious, healthy meals for your loved ones on a regular basis. If you have not yet tried HelloFresh meals and want to know what makes them better than those offered by other meal delivery companies, here are the reasons why we consider HelloFresh meals to be a perfect choice for home cooks across America.

Superior-Quality Ingredients
HelloFresh brings you the finest, freshest meat, fish, and seasonal produce. Everything you get in your meal kit is premeasured and perfectly portioned. Therefore, you do not have to worry about getting the quantity wrong and disturbing the balance of the flavors.
Easy Preparation
The meals are incredibly easy to prepare. Every recipe comes with simple, step-by-step instructions that guide you through the entire cooking process. The time it takes to prepare the meals varies, but it is never more than 40 minutes and some of the dishes take as little as 20 minutes to make. What's more, HelloFresh has designed handy apps for Android and iOS that can make it even easier to follow the recipes and improve your skills with tips and tricks and great cooking videos.
Abundance Of Options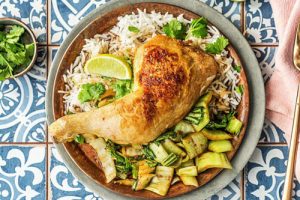 HelloFresh meals are available within 3 meal plans: Classic, Veggie, and Family. Every week, there are 8 meals on the Classic menu, 3 meals on the Veggie menu, and 5 meals on the Family menu. The Classic meals are designed for omnivorous gourmets, the Veggie meals are created with vegetarians in mind, and the Family meals are kid-friendly and bring joy to the taste buds of all members of the family. All dishes come with allergen information and many of them are free from gluten, nuts, eggs, and dairy, so you can easily find meals that meet your dietary restrictions.
Kick It Up A Notch
HelloFresh likes to turn mealtime into a unique culinary experience by bringing something extra to the table. If you want to make your meals even more special, you can rely on HelloFresh to provide excellent wine to go perfectly with your little culinary wonders. That way, you can always be minutes away from a romantic dinner or a nice surprise for your dinner guests.
Wine or no wine, veggie or meat, light or decadent, HelloFresh meals are sure to impress everyone at the table and make you feel proud of your skills. If you have been searching for some culinary inspiration, HelloFresh is definitely the way to go.