Imagine you're in a supermarket and you're looking for biscuits. You found the brand you prefer and what's the first thing you check? The price or the expiration date? The price, of course. If the price is too high, you won't even bother to check whether it's going to be good to eat in the next couple of days. On the other hand, if the price is satisfactory, you will probably make a purchase.
This means that prices are very important to us, even when we talk about food. So, let's check out HelloFresh prices before we start talking about the quality of service. HelloFresh offers three different meal plans, including Classic, Veggie, and Family. Obviously, HelloFresh prices are different for each of these plans.

HelloFresh Prices For The Classic Plan
The Classic plan offers the biggest variety of excellent recipes and quality ingredients. You can order up to 4 recipes a week for two or four adults, whatever suits you better. HelloFresh prices are counted per serving and 1 serving with the Classic plan costs $9.99. If you opt for a 2-in-1 Dinner 2 Lunch recipe, that is, a dinner recipe that comes with an optional lunch add-on, you can get a 2-serving lunch add-on for $10.
HelloFresh Prices For The Veggie Plan
The Veggie plan is primarily made for vegetarians, but if some of you meat lovers would like to change your everyday diet, you can also give it a try. It provides a great deal of seasonal produce and meat-free proteins followed by chef-created recipes. The Vegetarian plan doesn't provide as many options as the Classic plan, though. You get three handpicked meals every week. The price is $9.99 per serving and you can order 2-serving or 4-serving meals.
HelloFresh Prices For The Family Plan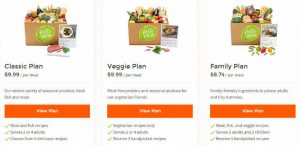 The Family plan is created to fulfill the dietary needs of both children and adults. With this plan, your family can get 2 or 3 out of 5 meals on the menu every week. Each meal includes two servings for adults and two for kids. HelloFresh price of one serving is $8.74 with the Family plan. All the ingredients come from local, trusted suppliers and you don't have to worry about the quality of your food. Although you don't get the opportunity to pick the dishes on your own, you can be certain that all the meals meet your family's nutritive needs – there are veggie, meat, and fish recipes.
Discounts & Penalties
HelloFresh prices go down as your orders go up, so don't hesitate to double your serving or add a meal or two to your regular plan. In addition to that, HelloFresh gives $40 discount for new members. You'll pay $20 less for the first two orders.
And if you decide to skip a week for any reason, you can do it completely free of charge. All you have to do is change or cancel your order. It's completely free if your order hasn't been processed yet, so make sure you cancel it at least five days before the delivery date.
Are HelloFresh Prices Reasonable?
HelloFresh provides high-quality ingredients, which are carefully picked by local suppliers. You get chef-created recipes and healthy food delivered to your doorstep. You also get awarded with lower prices for your loyalty. HelloFresh food can be delivered to your home, no matter where in the US you live. What's more, it's delivered for free whenever you want and how many times a week you want. You only pay for shipping if you order 2 meal kits for 2 people, in which case there is a $7.99 shipping fee per delivery.
To find out more about what HelloFresh has to offer, check out our detailed review. After you get all the information, making a decision will be a piece of cake.