We're not going to talk to you about your health this time as we're sure you already know how important it is. What we are going to talk about is BistroMD's Heart Healthy Meal Plan. Unlike other meal plans that are focused on weight loss or a specific diet, it focuses on the most important organ in your whole body. If you've been diagnosed with a heart condition or are at risk of developing heart disease, this meal plan will be perfect for you. Of course, it will also help you reduce your heart disease risk even if you're perfectly healthy.
And don't think that Heart Healthy Meal Plan is some bland mess. Because it most certainly isn't! We will give you as proof this sample menu that consists of three meals:
Pork Enchiladas With Salsa Verde
Grilled Chicken With Savory Almond And Date Sauce
Hickory Smoked BBQ Pork Crepe
Now, do you believe us? All of these meals are at or below American Heart Association recommendations for calories, sodium, total fat, and saturated fat. None of them contain Trans Fats, MSG, or are freeze-dried. You can choose from over 100 rotating heart-healthy meals. Also, with this huge number of meals, you can keep your diet varied and interesting. This makes it so easy to stick to the plan and keep your heart healthy.
However, you should know that it's not just your heart that's going to thank you if you decide to sign up for the BistroMD's Heart Healthy plan. Your overall health depends on your dietary choices. Especially if you're leading either a busy or a sedentary lifestyle. It's hard to first think of tasty and healthy meals, then make them, and then, finally, to do this consistently.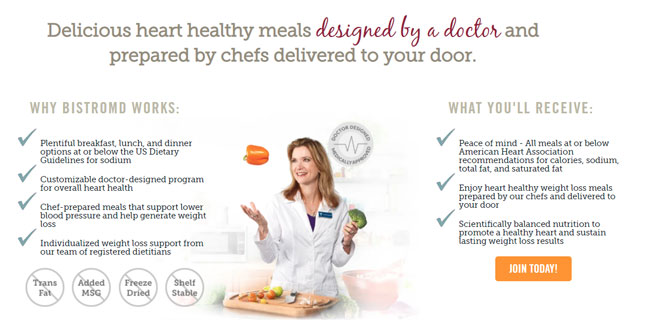 BistroMD Heart Healthy meal plans have been designed by doctors and prepared by chefs. Registered dietitians are also helping them to come up with the best possible meals to keep your heart healthy. They also support lower blood pressure and help generate weight loss. And remember, you can skip weeks, change menus, or your preferences with just a few clicks. If you want to know more you can read our comprehensive BistroMD review.
And now for the best part. Pricing. After reading all this, you might be wondering how much this costs and we'll tell you right away. The full 7-day program costs $199.95. That's 7 breakfasts, 7 lunches, 6 dinners + My Night. However, that's the full price of the meal plan and we here at Top 10 Meal Delivery Services have prepared a special offer for you.
You will get 25% off plus free shipping! This brings the price down for a full 7-day program or 21 full meals to just $149.96! You can also go for the 5-day plan or Lunches & Dinners plan that comes in 5-day or 7-day versions.