All meal delivery services we review offer something special that sets them apart from the rest of the lot. The main reason why we decided to do our Green Chef review is that we rarely come across a service that manages to satisfy such a wide range of dietary preferences and needs. Not only that, but its recipes are wonderfully easy, healthy, and tasty and so inspiring that we wanted to talk a bit more about them and offer our readers some additional tasty details about Green Chef recipes.

Cooking Difficulty
While some meal kit services just ship pre-measured produce, meat, and fish, along with recipe cards, Green Chef service is happy to be your sous chef who takes care of nearly everything preceding the cooking process. The ingredients you receive are optimally portioned and mostly prepped, so the preparation time is reduced to a minimum. Plus, the service promises to help you cook a fabulous meal in less time than it would take to watch the latest episode of your favorite TV show. Meals for 2 people are always ready in just about half an hour and family meals never take more than 45 minutes to make.
The recipe cards include a little story about the dish you are preparing, provide information about what you get in your kit and the pantry staples you should have at hand, and cover every step of the way, from the moment you open your kit to the moment your meal is ready to enjoy. The instructions are detailed and accompanied by lovely photos, so you get to check whether you are doing everything right. The recipes do not involve any complicated cooking techniques and procedures and they never require the use of any pricey or unusual kitchen tools and aids. They are designed to be beginner-friendly but interesting enough to appeal to experienced home chefs as well.
Ingredients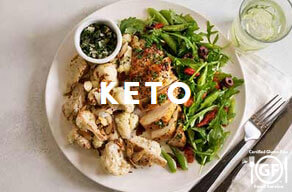 No matter how good the recipe may be, it is the ingredients that make or break a dish. That is why it is important to know that Green Chef is the first USDA-certified organic meal kit company in the US. It is committed to providing only the freshest, natural, non-GMO, organic produce, meat, seafood, and artisanal products sourced from farmers, ranchers, fishermen, and artisans who employ the best sustainable practices and reinvest in the environment.
Apart from providing the healthiest ingredients available, Green Chef makes sure every meal you prepare is special and enriched with the unique, exciting flavors of its pre-made signature sauces, dressings, and spice blends you cannot find at the store.
Nutritional Value & Portion Size
Green Chef recipes are always nutritionally balanced and rich in both micro- and macro-nutrients. They are designed to suit a variety of nutritional requirements, so whether you are on a high-protein, low-carb or meat-free diet, you can easily find Green Chef recipes that suit your needs. Usually, the calorie count ranges between 500 and 800 calories per serving.
Portion size is based on the rules of healthy eating, but that does not mean that the portions are not ample. Usually, portion size ranges between 18 oz. and 23 oz., so even those with a really big appetite can leave the table happy and satiated.
Variety
Now, let us finally focus on the most interesting part and that is the diversity of dishes that appear on the company's menu. First of all, we should note that the service comes up with new recipes every week, so you get to enjoy a perfectly varied diet.
Based on the number of portions, Green Chef recipes are divided into two major categories – those suitable for two people or one hungry person who likes leftovers and the ones created with families of 4 in mind.
2-Person Recipes

With the 2-person option, you get to enjoy 3 recipes per week. The recipes are available on 7 different menus. Each menu is designed for one of the 7 meal programs for 2 people: Omnivore, Carnivore, Vegetarian, Vegan, Gluten-Free, Paleo, and Keto. The weekly menus include 3 recipes each.
Family Recipes
With the family option, you receive 2 recipes per week. Unlike 2-person recipes, family recipes come in only 2 varieties – Omnivore and Carnivore. Family Omnivore and Carnivore weekly menus feature 2 recipes each.
Green Chef Recipes For Omnivores
Like mentioned above, Green Chef recipes for omnivores are available to both couples and families. They are designed to provide maximum variety and include ample portions of fresh produce, healthy, whole grains, and proteins of all sorts, including red meat, poultry, fish, and seafood. If you are not picky and want to taste all the flavors nature has to offer, Green Chef recipes for omnivores are the right choice for you.
Green Chef Recipes For Carnivores
Just like recipes for omnivores, Green Chef recipes for carnivores are designed with both couples and families in mind. They are quite similar to omnivore recipes – in fact, you may often find the same recipe on both the Carnivore and Omnivore menus. However, unlike omnivore recipes, carnivore recipes always focus on animal protein. They usually feature rich red meat and poultry, although fish and seafood recipes are not rare either.
Green Chef Recipes For Vegetarians
Green Chef offers some of the most creative vegetarian recipes we have ever seen. You get to try out the exotic Mongolian or Cuban tofu, artichoke "crab" cakes, za'atar roasted veggies, and many more meat-free delights that you may have never tried before. The colorful organic veg and herbs make all Green Chef recipes for vegetarians quite irresistible and downright delicious.
Green Chef Recipes For Vegans
If you are an epicurean herbivore, Green Chef recipes for vegans are sure to be a real treat for you. They mostly originate from European and Asian cuisines and they are often quite exotic. We recently tried the famous Green Chef vegan "crab" cakes and we can honestly say that they are much more delicious than the non-vegan version. Since you get to prepare the dishes using nothing but all-natural ingredients, you can be sure that your meals will be bustling with flavor and valuable nutrients.
Green Chef's Gluten-Free Recipes
Unlike many other meal kit services, Green Chef offers recipes that are not just free from added gluten but actually certified gluten-free. Green Chef recipes for individuals on gluten-free diets are quite similar to omnivore recipes, as they contain everything from delicious organic produce to protein-packed meat, fish, and seafood, minus the grains and other gluten-containing ingredients.
Green Chef Recipes For Paleo Lovers
Green Chef's Paleo recipes are also certified gluten-free and they are designed in accordance with all the rules of the Paleo diet. They are rich in protein and veggies and free from processed foods, grains, dried legumes, and dairy. Plus, they are quite varied and range from classics (e.g. shrimp scampi) to quite innovative and exotic dishes (like Kenyan curried chicken thighs with coconut cauliflower "rice").
Green Chef Recipes For Keto Dieters
Finally, Green Chef's keto recipes are simply perfect for those who are trying to steer clear of carbs. They are all certified gluten-free, low in carbs, and dairy-free. Usually, they feature a lot of protein-rich meat and seafood, heaps of healthy leafy greens, and some nuts for a more exciting texture.
Conclusion
What makes Green Chef recipes so amazing is that they are healthy, varied, well-balanced, innovative, and quick and easy to make, all at the same time. They allow you to discover new cuisines, cooking techniques, and exciting flavors and textures in unusual combinations. They let you cook like a pro and eat like a king.
It is also good to know that no matter which option you go with, you can change your preferences at any time, so you can enjoy vegetarian meals one week, go keto the next, and opt for completely different recipes every time you want to mix things up a bit. If you are having trouble deciding what to cook next, Green Chef recipes may be just what you need to get your creative juices flowing.