The magic of wine brings a colorful spectrum of tastes to our lives. Wine is an extraordinary drink that can enrich any occasion, from a wedding anniversary to a regular movie night at home. The enjoyment can increase when an excellent wine is combined with the right food.

Food & Wine Combinations
Before widening the story with specific vintages that can enrich your dessert or main course, it is important to know a thing or two about matching food & wine in general.
To begin with, we can divide wines into four simple groups, including red, white, sparkling, and dessert wines. Each of these groups can be further separated and classified, but there's no need for such an in-depth categorization.
Let's take a look at these four groups closely:
Reds
Red wine contains a lot of tannin, which can make it a bit bitter in some cases. This also means that it goes great with rich, spicy, mouthwatering food. A bottle of red wine is a great addition to your roasted chicken, rib-eye steak, or lobster. If you're a vegetarian, you can enjoy a premium red wine with a generous portion of grilled vegetables or several slices of tasty hard cheese.
Whites
If you aren't a big fan of greasy, hearty food, then white wine must be your favorite.White wines bring perfection to your table when served with fish, soft cheese or any kind of vegetable. If you have a sweet tooth, you are going to be happy to find out that white wines can be magnificently paired with desserts as well.
Sweet & Sparkly
Dessert wines should be consumed with desserts, but also with bacon, pastrami, ham, cured fish, and soft cheese. Sparkling wines, on the other hand, belong everywhere and with everything. Thanks to their fresh, delightful tastes, sparkling wines taste best when served with veggies, cheese or fish.
Food & Wine Pairings
The above-mentioned tips can serve as great guidelines when you're planning a big family gathering or a romantic dinner for two. Although they're useful, those guidelines aren't very specific, so let's concentrate on some dishes we all love and enjoy and find out what sorts of wine can make them even better and tastier.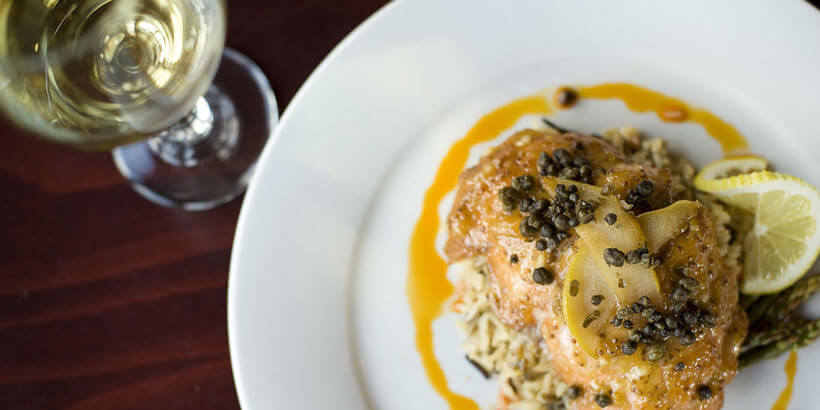 Steak
Different steaks should go with different wines, so pay close attention to your choices. If you like your steak rare, then opt for a leaner red wine. If you prefer your meat better done, go with fruit driven vintages. Fillet goes best with Pinot Noir or red burgundy while sirloin should be eaten with Merlot of Cabernet. Try sipping a glass or two of Syrah or Tuscan red with a rib-eye steak.
Grilled Salmon
Fish is usually a perfect match with white wine, but salmon isn't your typical fish. It's greasier and full flavored, so it's better when paired with red wine. Enrich your delicious grilled salmon with a bottle of Pinot Noir or Pinot Gris and enjoy a first-class meal at your own dining table.
Turkey
What's holiday season without turkey? Turkey should definitely be paired with champagne! Go for the finest champagne and you can't make a mistake. Your holidays are going to be sparkly this year!
Lasagna
The opulent flavor of the lasagna requires good wine. You can pair it with fruity Chianti and let the majestic party of tastes splash your palate. If you're a vegetarian, you can pair your veggie lasagna with an oak/aged Chardonnay.
Macaroni Cheese
There are several mac & cheese varieties, but we'll focus on the good old-fashioned home recipe. Macaroni cheese is delicious when served with a glass of Chardonnay. Fetch a bottle, get your mac & cheese out of the oven, and a relaxing evening at home can begin.
Cheeseburger
If you think fast food is unworthy of a premium wine, you might want to think again. Wine may be a blue-ribbon drink, but Lady and the Tramp made such a great couple. Pair up your cheeseburger tramp with a lady Cabernet Sauvignon and let the magic happen in your very dining room.
Chicken Wings
You don't want to miss the Super Bowl chicken wings party, but you're not much of a beer lover? That's not a problem at all! We have a perfect solution for you. Grab a bucket of chicken wings, pour a glass of domestic sparkling wine, and let the games begin!
Pizza
Finally, food we all love – pizza! It's an Italian dish, so it can make an awesome pair with some superior wine. To satisfy all your senses and enjoy movie nights to the fullest, order your favorite pizza and open a bottle of Merlot.
Wine is a luxury we all need. It can take your dinner parties to the next level and add some class to the most ordinary of nights. You can either match it with the food you plan on eating or choose a wine your love and plan your main course accordingly. Enjoy!