Mass production is seriously damaging our environment. It can also lead to bad health, high air pollution, and huge environmental problems. If the air and water are polluted, our food is going to be polluted too. Consequently, our health is endangered as well. Not to mention nature itself. That is the reason why recycling is extremely important. We cannot avoid the extensive use of natural resources, but we can all try to contribute as much as possible. Recycling is one of the best ways to do it.
How To Recycle?
Paper, plastic, glass, metal, wood, all of these materials can be recycled. However, before you throw them in appropriate recycle bins, try to reuse stuff as much as you can. Plastic bags that are piling up in your cupboard can be reused as trash bags, for instance. There's no need to buy whole packs of new bags when your house is full of bags from supermarkets and other stores. They might be smaller than usual trash bags, but taking the trash out more often can only be a good thing.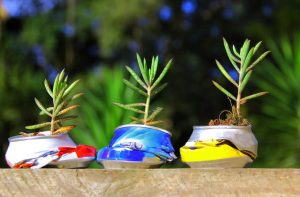 It's not necessary to underline that plastic bags aren't a lonely example of reusing. You can reuse almost any package that enters your house – paper bags, boxes, bottles, paper… Use your imagination, browse the internet, and check out some DIY tutorials and ideas. Not only will you recycle more, but you're also going to freshen up your home with new stuff and decorations. If you're a parent, you can also let your children play. Kids are incredibly creative and you will be surprised what they can do with a couple of boxes, bottles, and crayons.
Why Is Food Recycling Important?
Another important aspect of recycling is food recycling. Those things we buy "in case we need them" usually end up rotten in some far corner of the fridge. This unfortunate destiny is sealed for most meals people prepare on a daily basis.
Meal delivery services are a great choice if you're struggling with too much food or don't have enough time to plan your meals properly. They deliver all the ingredients to your doorstep. The ingredients are all carefully prepared and pre-portioned, so you most likely won't throw anything away.
Why Choose Blue Apron
When it comes to recycling, the Blue Apron recycling plan is especially interesting and totally worth your attention.
How does Blue Apron recycle? There are three different options for Blue Apron recycling. First, you can, of course, decide to recycle at home. In that case, you can visit the Blue Apron recycle web page and learn how to recycle the Blue Apron packaging, which usually includes boxes, bags, liners, and ice packs. If curbside delivery isn't available in your area, you can find a nearby recycling center on the Blue Apron website as well. You can also enter your location and find out more about your community's rules of recycling.
The second option Blue Apron recycling offers is to return the whole packaging to Blue Apron for free. All you need to do is to log into the Blue Apron Recycling Center and print your own free return shipping label.
And the third option is to upcycle, which means that you can reuse all Blue Apron packaging. If you lack ideas for upcycling, the Blue Apron recycling team has collected ideas from their customers, so you can use some of them. If nothing else crosses your mind, you can always reuse the packaging for the same purpose – food transportation. If you're planning a picnic or a weekend away from home, you can pack your food in the Blue Apron packaging and upcycle it that way. The food will remain fresh and you'll reuse the packaging.
Recycling is very important if we want our children to live in a healthy, unpolluted world. Talking about it isn't enough, we must act. So, start from simple things, start from your own household. Try a meal delivery service like Blue Apron-they aren't just convenient, they can reduce the amount of food waste your produce. And if you really want to make a difference, the Blue Apron recycling program will assure you that if you choose them, you won't make a mistake.