What A Crock VS Sun Basket
If your body is craving something healthy and tasty, but there is no room for cooking in your overcrowded schedule, it is time to give meal delivery services a shot. Check out our What A Crock VS Sun Basket comparison and find out which one to trust with taking care of your diet. Enjoy amazing meals, hassle-free!

Delicious Crock-Pot-Ready Meals
VS
Cooking healthy meals in no time
Highlights

What A Crock allows you to prepare delicious and affordable meals by simply dropping the content of your meal kit into your slow cooker and letting it cook on low while you finish your daily tasks.
Average Price Per Meal:

$8.50

Shipping Cost:

$0

*

Delivery Area:

31 states
With Sun Basket, you can handpick recipes that suit your taste, diet, and lifestyle, decide on the number of recipes you want to order per week, double or triple your order when you need more food, choose between high-quality and premium meat options, and completely personalize your orders and meal plan.
Average Price Per Meal:

$11.99

Shipping Cost:

$6.99

Delivery Area:

47 states
Compare Features

Best For
Best for fans of slow-cooker recipes
Menu/Meal Plans
What A Crock offers one menu divided into various sections, such as beef entrees, chicken entrees, pork entrees, vegetarian & vegan entrees, soups and sides, and more. It also provides meal bundles.
Recipes/Meal Options
What A Crook features 100+ meal options and 10+ meal bundles on its menu.
Meal & Recipe Variety
What A Crock offers slow-cooker recipes for beef, chicken, pork, seafood, vegetarian, vegan, gluten-free, and lean entrées, dips, soups, sides, and desserts. Its recipes are incredibly easy and everything you receive is ready to go into your slow cooker, with no prep required.
Food Quality
What A Crock promises to use only the best ingredients, craft all the sauces from scratch, and use no added preservatives.
Nutritional Value & Portion Size
What A Crock meals come in portions weighing between 1.5 and 2 pounds. The meals are rather well-balanced and rich in nutrients but may contain significant amounts of saturated fats.
Subscription Flexibility
For any information about subscription flexibilty, you should contact What A Crock directly.
Refunds
For any information about refunds, you should contact What A Crock directly.
Best For
Best for home cooks looking for a perfect combination of variety, quality, and customizability
Menu/Meal Plans
With Sun Basket, you can choose between the Classic Menu and the Family menu.
Recipes/Meal Options
Sun Basket features 18 new recipes on the Classic Menu and 6 new recipes on the Family Menu each week.
Meal & Recipe Variety
Sun Basket offers Paleo, lean and clean, gluten-free, vegetarian, vegan, pescatarian, Mediterranean, Heart-Check certified, dairy-free, soy-free, and family-friendly recipes. Most meals are ready in around half an hour and there are plenty of easy-prep, one-pot, stir-fry, and make-ahead options. The recipes are inspired by various world cuisines. including Thai, Italian, Vietnamese, Mediterranean, American, and Mexican.
Food Quality
Sun Basket sources the best organic produce of the season, its seafood is of the highest quality and recommended by the Monterey Bay Aquarium Seafood Watch, and its meat is humanely raised, grass-fed and free from antibiotics and hormones.
Nutritional Value & Portion Size
The average calorie count for Sun Basket meals is between 500 and 800 calories per serving. All meals are optimally balanced and approved by its in-house nutritionist. The meals on the Classic menu are perfectly portioned for 2 or 4 adults and the ones on the Family menu are designed for 4 adults with leftovers.
Subscription Flexibility
With Sun Basket, you can make changes to your order or skip, pause, and cancel your delivery at any time. All changes must be made by Noon PST / 3pm EST the Wednesday before your delivery is due.
Refunds
Sun Basket boasts an excellent 100% money-back guarantee, so if you are not happy with your order for whatever reason, just notify the company within 7 days of delivery and you will be issued a refund or credit.
Suitable For

Meals For Families
Meals For Kids
Meals For Seniors
Meals For One
Meals For Families
Meals For Kids
Meals For Seniors
Meals For One
Compare Meal Options

Vegetarian Meals
Vegan Meals
Paleo Meals
Keto Meals
Low-Carb Meals
Low-Fat Meals
Meals For Diabetics
Gluten-Free Meals
Organic Meals
Weight Loss Meals
Vegetarian Meals
Vegan Meals
Paleo Meals
Keto Meals
Low-Carb Meals
Low-Fat Meals
Meals For Diabetics
Gluten-Free Meals
Organic Meals
Weight Loss Meals
Compare Sample Meals

Bacon Mozzerella Meatballs
BBQ Pulled Pork
Beef Broccoli
Chili
Chipotle rubbed chicken with strawberry and kale salad
Poached cod in tomato broth with potato and golden raisins
Spicy roasted shrim with and ajo blanco sauce
Thai style salmon in spicy red curry
Compare Extras

A La Carte Menu
Gift Cards
Marketplace
A La Carte Menu
Gift Cards
Marketplace
Compare User Reviews

Submitted By Elizabeth Berger on 04/12/2018

5 Stars all the way from value to taste to convince to customer service this company is a life saver for a busy mom! What a Crock has made my busy schedule so much more bearable and the food is amazing.

Submitted By Brian Bentley on 03/10/2018

Great food servings are huge and the customer service is outstanding. I am currently on a meal plan with this company and everything has been top notch.

Submitted By Kelly Martin on 02/08/2018

I cant say enough good things about this company. The quality, quantity, and taste all exceed expectations and the customer service just puts the cherry on top. I had a very small issue with one of my meals (it was missing a pack of rice) after reaching out they went above and beyond to make sure I was happy. Delivery was also fantastic. After reading a little about the company I realized they are a smaller family owned business and because of that I did not expect to receive my meals very quickly but but I place my first order at 9 am on a Thursday and they where waiting for me Friday when I came home from work, I placed my second order on a Sunday evening and had my meals waiting for me on Tuesday. Give them a try you will not be disappointed!

Submitted By Jessica on 01/13/2018

I had my first order arrive last week. The meals are not only delicious but the portions are huge! We love this service and how convenient it is to cook. We tried other services in the past but didn't always have the time to spend 30 minutes to an hour in the kitchen to cook them. With What a Crock we just place the meal in the crock pot in the morning and its ready when we get home that night. I also love the fact they come frozen that way if something pops up I don't have to worry about them going bad if I don't eat them right away.
Submitted By Melanie L. on 07/17/2018

We received our first box of meals today. I was excited to try something new since we had been using Blue Apron for the last 6 weeks. I loved how the ingredients were already separated according to recipe, something that I had been wishing Blue Apron would do. The quality of ingredients was poor! The radishes seemed to have been kept at too high of a temp at some point, the peach wasnt ripe and the avocado had been substituted with grape tomatoes. Disappointment! Worst of all the chicken had the strangest texture that I couldnt even explain. I throwing the rest out. I personally don't trust it to be ok. Back to Blue Apron for sure. I haven't been disappointed with even one meal.

Submitted By Mercy on 07/14/2018

There have been a few hiccups with orders (it feels like they're still adjusting to their growth), but their customer service is always 100% friendly and supportive. The food has been great (fresh, high quality meat and produce). But I especially like their many diet options, from vegan to paleo. Paleo pescetarian is especially hard to find (at no additional cost) and has been a great option/compromise for me and my husband!

Submitted By PegggPePePSauPeggyP SaunkeahP Saunkeah on 07/12/2018

Sun Basket delivery service and customer service is the least efficient of all the meal plans on the market today. It is more expensive than most and the delivery date is unpredictable resulting in spoiled, rotten food that is your meals for that week. Total inconvenience and we have spent too many weeks trying to resolve these issues with Customer Service even providing pictures of the disintegrated boxes and spoiled food. Customer service is willing to discount a small percentage on future deliveries which is what we have done, several times, but the delivery problems continue and we will be using Plated. If SB cannot get the food delivered on the scheduled date and fresh, other food delivery services can! Buyer beware!!!!!

Submitted By Jules on 05/17/2018

My husband and I love to eat and are adventurous eaters who enjoy ethnic food and a variety of flavors. Unfortunately, my husband and I do not enjoy cooking. We actually kind of hate it. So, all that translates to a LOT of take-out and eating out. This service hasn't magically transformed us into chefs who now love to cook, but it has made our dinners much easier and healthier. Some people complain about the price; however, keep in mind that the service: 1. Takes care of finding recipes and meal planning 2. Provides all the (organic!) ingredients so you don't have to go to the store - big one for us! 3. Portions out all the ingredients so you don't overeat and you also don't have 9/10th a bushel of parsley rotting in your fridge. 4. Allows you to cook with unique spices/sauces without having to invest in an entire bag/bottle. Suffice it to say, it's worth it for us and folks like us who are culinarily challenged. We enjoy the variety of recipes/cuisines and meal plans (i.e. gluten free, vegetarian, etc.) compared to some of the other meal delivery services. Here are the CONS we've experienced: - Some of the recipes are fairly complex with quite a few steps which makes it tough if you're cooking solo. - It's not the cheapest, especially if you upgrade the meats. - Delivery days are limited depending on your location. - They send a new recipe book… every week! Seems excessive and wasteful. I've got a huge pile accumulating. All in all, we are satisfied enough with the past 6 months of service and plan to continue.
Winner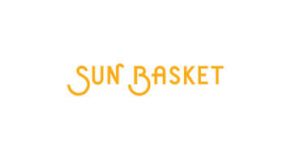 Sun Basket helps you save time while cooking for yourself or your loved ones. A renowned California chef, an in-house nutritionist, and all of the country's best farmers work together to provide you with everything you need to make great meals quickly. Discover if this is the right meal kit delivery service for you in our Sun Basket review.