What A Crock VS Purple Carrot
If your body is craving something healthy and tasty, but there is no room for cooking in your overcrowded schedule, it is time to give meal delivery services a shot. Check out our What A Crock VS Purple Carrot comparison and find out which one to trust with taking care of your diet. Enjoy amazing meals, hassle-free!

Delicious Crock-Pot-Ready Meals
VS

Vegan Meals For A Healthy Lifestyle
Highlights

What A Crock allows you to prepare delicious and affordable meals by simply dropping the content of your meal kit into your slow cooker and letting it cook on low while you finish your daily tasks.
Average Price Per Meal:

$8.50

Shipping Cost:

$0

*

Delivery Area:

31 states

Purple Carrot offers reasonably priced natural, plant-based meal kits designed for fitness enthusiasts, athletes, and vegans who want to eat healthily and cook effortlessly.
Average Price Per Meal:

$11.33

Shipping Cost:

$0

Delivery Area:

48 states
Compare Features

Best For
Best for fans of slow-cooker recipes
Menu/Meal Plans
What A Crock offers one menu divided into various sections, such as beef entrees, chicken entrees, pork entrees, vegetarian & vegan entrees, soups and sides, and more. It also provides meal bundles.
Recipes/Meal Options
What A Crook features 100+ meal options and 10+ meal bundles on its menu.
Meal & Recipe Variety
What A Crock offers slow-cooker recipes for beef, chicken, pork, seafood, vegetarian, vegan, gluten-free, and lean entrées, dips, soups, sides, and desserts. Its recipes are incredibly easy and everything you receive is ready to go into your slow cooker, with no prep required.
Food Quality
What A Crock promises to use only the best ingredients, craft all the sauces from scratch, and use no added preservatives.
Nutritional Value & Portion Size
What A Crock meals come in portions weighing between 1.5 and 2 pounds. The meals are rather well-balanced and rich in nutrients but may contain significant amounts of saturated fats.
Subscription Flexibility
For any information about subscription flexibilty, you should contact What A Crock directly.
Refunds
For any information about refunds, you should contact What A Crock directly.

Best For
Best for vegan home cooks with an active lifestyle
Menu/Meal Plans
Purple Carrot features 2 menus: 1-2 Person and TB Performance Meals
Recipes/Meal Options
Both menus offered by Purple Carrot feature only 3 meal options per week.
Meal & Recipe Variety
Purple Carrot offers vegan meals suitable for lunch and dinner. Its selection includes both everyday, healthy-eating meals and performance meals for active individuals. The meals are usually inspired by Moroccan, Chinese, Italian, and Spanish cuisines and include veggie stews, risottos, pastas, quesadillas, and grain bowls. The prep and cook time is around 30-45 minutes.
Food Quality
Purple Carrot delivers fresh, nutrient-packed ingredients that are sustainably sourced. All ingredients are of high-quality, chosen in accordance with the season, and completely natural.
Nutritional Value & Portion Size
Purple Carrot meals come in medium-sized portions and contain 500-800 calories on average. They are nutritionally balanced, with the right quantities of healthy fats, lean proteins, and complex carbohydrates.
Subscription Flexibility
With Purple Carrot, you can skip or cancel your order anytime. You must inform the company about any changes to your order by Tuesday night at 11:59 PM EST the week before your next delivery is due.
Refunds
For information about returns and refunds, you must contact Purple Carrot within 7 days of your delivery.
Suitable For

Meals For Families
Meals For Kids
Meals For Seniors
Meals For One

Meals For Families
Meals For Kids
Meals For Seniors
Meals For One
Compare Meal Options

Vegetarian Meals
Vegan Meals
Paleo Meals
Keto Meals
Low-Carb Meals
Low-Fat Meals
Meals For Diabetics
Gluten-Free Meals
Organic Meals
Weight Loss Meals

Vegetarian Meals
Vegan Meals
Paleo Meals
Keto Meals
Low-Carb Meals
Low-Fat Meals
Meals For Diabetics
Gluten-Free Meals
Organic Meals
Weight Loss Meals
Compare Sample Meals

Bacon Mozzerella Meatballs
BBQ Pulled Pork
Beef Broccoli
Chili

Butter Lettuce Wraps
Coconut Ramen
Coconut Tofu
Smashed White Bean and Avocado Club
Compare Extras

A La Carte Menu
Gift Cards
Marketplace

A La Carte Menu
Gift Cards
Marketplace
Compare User Reviews

Submitted By Elizabeth Berger on 04/12/2018

5 Stars all the way from value to taste to convince to customer service this company is a life saver for a busy mom! What a Crock has made my busy schedule so much more bearable and the food is amazing.

Submitted By Brian Bentley on 03/10/2018

Great food servings are huge and the customer service is outstanding. I am currently on a meal plan with this company and everything has been top notch.

Submitted By Kelly Martin on 02/08/2018

I cant say enough good things about this company. The quality, quantity, and taste all exceed expectations and the customer service just puts the cherry on top. I had a very small issue with one of my meals (it was missing a pack of rice) after reaching out they went above and beyond to make sure I was happy. Delivery was also fantastic. After reading a little about the company I realized they are a smaller family owned business and because of that I did not expect to receive my meals very quickly but but I place my first order at 9 am on a Thursday and they where waiting for me Friday when I came home from work, I placed my second order on a Sunday evening and had my meals waiting for me on Tuesday. Give them a try you will not be disappointed!

Submitted By Jessica on 01/13/2018

I had my first order arrive last week. The meals are not only delicious but the portions are huge! We love this service and how convenient it is to cook. We tried other services in the past but didn't always have the time to spend 30 minutes to an hour in the kitchen to cook them. With What a Crock we just place the meal in the crock pot in the morning and its ready when we get home that night. I also love the fact they come frozen that way if something pops up I don't have to worry about them going bad if I don't eat them right away.

Submitted By Beth Reich on 09/11/2018

I am a senior citizen that was given a gift of Purple Carrot after a major accident. I did not fill the gift order for months due to a subsequent major surgery. When I finally filled it, I was told , even though I only planned to get my gift box , I had to provide my credit card even though it was easy to cancel. My gift box arrived with 2 out of 3 of the meals having a major ingredient either totally or at least 1/2 rotten. I did not report this since I planned to only receive my gift box. I emailed a notification to cancel, which the company said they received, and sent in a subsequent survey. The company said they never got my survey and the steps needed to cancel were not followed, even though I had been assured these were simple. I heard nothing for 1 month, at which time I was told I was receiving a box the next day and had been charged $72 for goods we did not even like. We sent the box back and complained, but were told we had signed a contract and no reparations, let alone apologies, were offered. My husband is retired and I am barely working. I feel this is a totally dishonest and unacceptable manner in which to run a business, and would never recommend this company to anyone.

Submitted By Michael on 09/06/2018

I received my first meal kit from Purple Carrot today, and I was horrified when I open the box. Where to begin. First, the inside of the box was a soggy mess because the ice packs had melted completely, and one was punctured so the slimy gel contents coated the entire order. Second, much of the produce - the kale (yellowing), avocado (rotten and mushy), scallions (rotten and slimy), and peas (rotten and slimy) - were inedible. I wish there was an option for zero stars. Needless to say, I cancelled my account.

Submitted By Kathleen on 09/06/2018

I'm going to cancel my subscription. Everything is so inconsistent. My first box arrived in good shape, and I prepared the Take-Out Style Noodles with asparagus and sesame ginger sauce. The sauce was delicious, and I will keep that recipe to make again. But the proportions was just so far off. I followed the directions exactly, even though it seemed to me there were far too many noodles for the sauce and asparagus. I should have listened to myself, and used about 2/3 of the noodles. I next prepared the Curried Carrot Fritters. They were okay but not something I would make again. The tamarind "chutney" that was included was not good, and was not a chutney. It was just a weird watery sauce that did not complement the flavor of the fritters. The mango/avocado salad was not worth the preparation time. My third dish -- Blueberry Barbecue Skewers -- was awful. For one thing, there were no skewers included, and I didn't have any. I ended up stir frying the tofu and vegetables, and serving that with the sauce. Unbelievably, the blueberry barbecue sauce was bland, bland, bland. I ate all of the dishes, because they are healthy and I don't throw food away. But I did not enjoy it at all. I received my second box before I had a chance to cancel after my first experience. It fell open and all the contents fell out on my living room floor. Upon further examination, it was obvious that either the box had not been sealed correctly or it had been damaged in shipping. It was also obvious that the box had come open at least once during shipping, since the contents were in the box upside down. The ice packs were completely thawed out, and there was some kind of gunk all over everything in the box. When I contacted customer service, they told me that everything was "probably essentially in good shape." BS. I asked if the agent would feed her children food that was in that state, and she agreed that she would not. I did get a refund for that shipment. Unbelievably, another shipment is on its way now, even though I tried to cancel. I know this is long, but please beware. You can make a lot of vegan meals for less than what this costs, and they will probably taste much better.

Submitted By Shulita Weitz on 08/25/2018

Purple Carrot has no commitment to organic, and since their merger with Fresh Del Monte corporation I have given up all hope for them. The concept and inventive recipes are great - but there is no point doing this for unhealthy, pesticide laden, industrially grown crap. So sad about Purple Carrot. I would have loved to love you.
Winner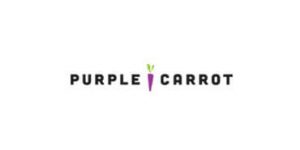 Purple Carrot brings you nothing but the freshest seasonal ingredients available and 100% vegan recipes. If you are on a vegan diet or just trying to eat healthily, Purple Carrot can make things simple and do all the grocery shopping and meal planning for you. Read our objective review and learn how Purple Carrot can help you improve your health.