What A Crock VS Purple Carrot
If your body is craving something healthy and tasty, but there is no room for cooking in your overcrowded schedule, it is time to give meal delivery services a shot. Check out our What A Crock VS Purple Carrot comparison and find out which one to trust with taking care of your diet. Enjoy amazing meals, hassle-free!

Delicious Crock-Pot-Ready Meals
VS

Vegan Meals For A Healthy Lifestyle
Highlights

What A Crock allows you to prepare delicious and affordable meals by simply dropping the content of your meal kit into your slow cooker and letting it cook on low while you finish your daily tasks.
Average Price Per Meal:

$8.50

Shipping Cost:

$0

*

Delivery Area:

31 states

Purple Carrot offers reasonably priced natural, plant-based meal kits designed for fitness enthusiasts, athletes, and vegans who want to eat healthily and cook effortlessly.
Average Price Per Meal:

$11.33

Shipping Cost:

$0

Delivery Area:

48 states
Compare Features

Best For
Best for fans of slow-cooker recipes
Menu/Meal Plans
What A Crock offers one menu divided into various sections, such as beef entrees, chicken entrees, pork entrees, vegetarian & vegan entrees, soups and sides, and more. It also provides meal bundles.
Recipes/Meal Options
What A Crook features 100+ meal options and 10+ meal bundles on its menu.
Meal & Recipe Variety
What A Crock offers slow-cooker recipes for beef, chicken, pork, seafood, vegetarian, vegan, gluten-free, and lean entrées, dips, soups, sides, and desserts. Its recipes are incredibly easy and everything you receive is ready to go into your slow cooker, with no prep required.
Food Quality
What A Crock promises to use only the best ingredients, craft all the sauces from scratch, and use no added preservatives.
Nutritional Value & Portion Size
What A Crock meals come in portions weighing between 1.5 and 2 pounds. The meals are rather well-balanced and rich in nutrients but may contain significant amounts of saturated fats.
Subscription Flexibility
For any information about subscription flexibilty, you should contact What A Crock directly.
Refunds
For any information about refunds, you should contact What A Crock directly.

Best For
Best for vegan home cooks with an active lifestyle
Menu/Meal Plans
Purple Carrot features 2 menus: 1-2 Person and TB Performance Meals
Recipes/Meal Options
Both menus offered by Purple Carrot feature only 3 meal options per week.
Meal & Recipe Variety
Purple Carrot offers vegan meals suitable for lunch and dinner. Its selection includes both everyday, healthy-eating meals and performance meals for active individuals. The meals are usually inspired by Moroccan, Chinese, Italian, and Spanish cuisines and include veggie stews, risottos, pastas, quesadillas, and grain bowls. The prep and cook time is around 30-45 minutes.
Food Quality
Purple Carrot delivers fresh, nutrient-packed ingredients that are sustainably sourced. All ingredients are of high-quality, chosen in accordance with the season, and completely natural.
Nutritional Value & Portion Size
Purple Carrot meals come in medium-sized portions and contain 500-800 calories on average. They are nutritionally balanced, with the right quantities of healthy fats, lean proteins, and complex carbohydrates.
Subscription Flexibility
With Purple Carrot, you can skip or cancel your order anytime. You must inform the company about any changes to your order by Tuesday night at 11:59 PM EST the week before your next delivery is due.
Refunds
For information about returns and refunds, you must contact Purple Carrot within 7 days of your delivery.
Suitable For

Meals For Families
Meals For Kids
Meals For Seniors
Meals For One

Meals For Families
Meals For Kids
Meals For Seniors
Meals For One
Compare Meal Options

Vegetarian Meals
Vegan Meals
Paleo Meals
Keto Meals
Low-Carb Meals
Low-Fat Meals
Meals For Diabetics
Gluten-Free Meals
Organic Meals
Weight Loss Meals

Vegetarian Meals
Vegan Meals
Paleo Meals
Keto Meals
Low-Carb Meals
Low-Fat Meals
Meals For Diabetics
Gluten-Free Meals
Organic Meals
Weight Loss Meals
Compare Sample Meals

Bacon Mozzerella Meatballs
BBQ Pulled Pork
Beef Broccoli
Chili

Butter Lettuce Wraps
Coconut Ramen
Coconut Tofu
Smashed White Bean and Avocado Club
Compare Extras

A La Carte Menu
Gift Cards
Marketplace

A La Carte Menu
Gift Cards
Marketplace
Compare User Reviews

Submitted By Elizabeth Berger on 04/12/2018

5 Stars all the way from value to taste to convince to customer service this company is a life saver for a busy mom! What a Crock has made my busy schedule so much more bearable and the food is amazing.

Submitted By Brian Bentley on 03/10/2018

Great food servings are huge and the customer service is outstanding. I am currently on a meal plan with this company and everything has been top notch.

Submitted By Kelly Martin on 02/08/2018

I cant say enough good things about this company. The quality, quantity, and taste all exceed expectations and the customer service just puts the cherry on top. I had a very small issue with one of my meals (it was missing a pack of rice) after reaching out they went above and beyond to make sure I was happy. Delivery was also fantastic. After reading a little about the company I realized they are a smaller family owned business and because of that I did not expect to receive my meals very quickly but but I place my first order at 9 am on a Thursday and they where waiting for me Friday when I came home from work, I placed my second order on a Sunday evening and had my meals waiting for me on Tuesday. Give them a try you will not be disappointed!

Submitted By Jessica on 01/13/2018

I had my first order arrive last week. The meals are not only delicious but the portions are huge! We love this service and how convenient it is to cook. We tried other services in the past but didn't always have the time to spend 30 minutes to an hour in the kitchen to cook them. With What a Crock we just place the meal in the crock pot in the morning and its ready when we get home that night. I also love the fact they come frozen that way if something pops up I don't have to worry about them going bad if I don't eat them right away.

Submitted By Stephen Eingorn on 06/15/2018

He pluses are that the items arrived as promised, and that the company is easy to deal with and to cancel the subscription.. I only had to send two emails( the first was "lost," ) The menu cards are nice.y illustrates and the steps easy to follow. The cons: Food can be quite high as in fat. Often 60-70%. Some dishes are inedible, for example the so called fish and chips. Sodium is often too high. The food is mostly not organic, even when organic varieties are readily available in local,chain supermarkets. I refer to avocados, chickpeas and many others. The quality of the food is only fair. The preparation time is often longer than stated and sometimes the recipes omit important steps Although well,packaged, the food often arrives warm. Spoilage is a concern. The ice packs are always melted when we unpack the boxes You could purchase much more food for the price in any supermarket. I am disappointed in Mark Bitman, whom I have admired for his writing and common sense approach to eating. I have cancelled my subscription. Too bad. It was a great idea

Submitted By Kimberly Zeh on 06/05/2018

Do not order Purple Carrot. Unlike listed on their website, or in this review of their food. Purple Carrot does not have 100% plant-based ingredients. Some of their recipes include High Fructose Corn Syrup. When I approached them about it, here's what they told me: "I just wanted to take a moment and share with you that we are not and do not claim to be a health service, a dietary service and have never made claims that we source specifically non-GMO or Organic produce. While I do understand the wants for more "whole foods" as you put it, I just want to ensure you that we have always and will always stick to our mission of providing delicious, hassle-free plant-based meals for our customers to prepare in home." I too received boxes of food perished or main ingredients missing - and they have been nice about refunding me. However, I cannot and will not continue my service with them because I feel cheated from their false advertisement. For those of us looking for healthy options, MAKE SURE you read all the packages before you use. Also, their spices, pastes, dairy substitutes come in containers that label the name of the ingredient - you don't actually know what the stuff is made up or what brand it is from. Anyway folks, BE CAREFUL.

Submitted By David Herring on 05/19/2018

1st meal delivery for me . WOW!! Talk about good. 5 stars is not enough. Purple Carrot is the best.

Submitted By jennifer Hughes on 04/09/2018

I'm reading reviews and I havent experienced any of the bad they speak of. I'm going on 6 months of getting weekly deliveries and I'm blown away more with every recipe I make. Absolutely delicious meals incorporating ingredients I've never tried before. Eating plant based has never been so easy!
Winner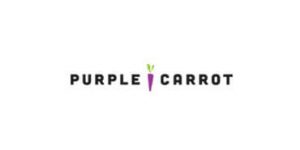 Purple Carrot is a meal kit service that offers the freshest seasonal ingredients and 100% vegan recipes. It makes cooking simple by doing all the grocery shopping and meal planning for you. Learn how Purple Carrot can help you improve your health in our objective review and Purple Carrot reviews from our readers who have tried the company's kits.