Trifecta Nutrition VS Hungryroot
When choosing between two such amazing services like Hungryroot and Trifecta Nutrition, you need to take a good look at all the little details that may make one superior to the other. The goal of this Hungryroot VS Trifecta Nutrition comparison is to provide an objective assessment of the quality of both services based on the degree to which they satisfy all the major criteria for meal delivery comparison. View the scores they received on every criterion, take a look at their most prominent features side by side, and discover which one of them has done more to ensure your complete satisfaction.

Pre-Prepped Vegan Comfort Food
VS

Highlights

Hungryroot allows you to get a healthy, tasty, plant-based meal on the table in 0-20 minutes.
Average Price Per Meal:

$69.00

Shipping Cost:

$0

*

Delivery Area:

48 states
*
If you opt for air shipping, a $10 shipping fee applies to every delivery

Trifecta Nutrition allows you to enjoy ready-made organic meals that suit your lifestyle and create budget-friendly custom meals of your own by ordering precooked ingredients from the a la carte menu.
Average Price Per Meal:

$14.99

Shipping Cost:

$0

Delivery Area:

50 states
Compare Features

Best For
Best for busy vegans on low-calorie diets
Menu/Meal Plans
Hungryroot offers 2 meal plans: The Starter Set and The Good Life.
Recipes/Meal Options
Hungryroot menu features 50+ items and new products are added regularly.
Meal & Recipe Variety
Hungryroot offers a variety of vegan meals and meal kits, including breakfasts, lunches, dinners, side dishes, snacks, and sweets. All items on the menu are plant-based, gluten-free, dairy-free, egg-free, under 500 calories, and low in sugar and sodium. Some items are soy-free.
Food Quality
Hungryroot sources non-GMO and organic ingredients whenever possible and uses only the freshest food available. Its meals and kits are made using natural ingredients and they are generally free from harmful additives.
Nutritional Value & Portion Size
Hungryroot meals and meal kits are optimally balanced, rich in nutrients, and normally contain between 90 and 460 calories per serving. There are plenty of options under 200 calories and most items contain fewer than 300 calories. The meals are designed to serve 2 people while the sides, snacks, and sweets can usually satisfy 1-3 people, depending on appetite. The portions are not too large and individuals with big appetites may need to supplement the meals with 1-2 sides. The meals usually come in 8-10 oz. packages, which amounts to 4-5 oz. per serving.
Subscription Flexibility
Hungryroot allows you to skip a delivery or modify or cancel your subscription at any time, problem-free, directly from your Hungryroot account. All changes should be made by 5 pm EST the Friday before the delivery is scheduled.
Refunds
If you receive damaged goods or notice something is missing from your order, Hungryroot urges you to get in touch with the support staff immediately. You cannot get a replacement or a refund, but you can get a credit for missing/damaged items. The credit automatically applies to your next order.

Best For
Best for active individuals who want to eat healthily with zero effort
Menu/Meal Plans
Trifecta Nutrition offers 5 meals plans, including Clean, Paleo, Classic, Vegetarian, and Vegan.
Recipes/Meal Options
With Trifecta Nutrition, if you go with one of the meal plans, you can opt to receive 2-4 meals per day for 5-7 days a week. The company's a la carte menu has more than 30 items.
Meal & Recipe Variety
Trifecta Nutrition offers Paleo, vegetarian, vegan, classic, and clean, minimally processed meals. In addition to fully prepared meals, it offers precooked proteins, carbs, and veggies that can be bought in bulk and freely combined and seasoned to taste. All meals on the menu are organic and free from gluten, dairy, and soy.
Food Quality
Trifecta Nutrition delivers meals made of the highest-quality ingredients, all of which are USDA-certified organic. Its meals are fresh, never frozen, fish and seafood are wild-caught, and all meat is grass-fed. All meals are free from processed foods and artificial ingredients.
Nutritional Value & Portion Size
Trifecta Nutrition meals are optimally balanced and rich in fiber, protein, and healthy monounsaturated and polyunsaturated fats. They rarely contain added oil and the oil used is of the highest quality. Portion size is carefully calculated and satisfies the needs of adults with an active lifestyle.
Subscription Flexibility
With Trifecta Nutrition, you can edit, skip, pause or cancel your order whenever you want. The cutoff day to make changes to your order is the Friday a week before your expected delivery.
Refunds
Trifecta Nutrition may issue a refund or credit if you are not satisfied with your order.
Suitable For

Meals For Families
Meals For Kids
Meals For Seniors
Meals For One

Meals For Families
Meals For Kids
Meals For Seniors
Meals For One
Compare Meal Options

Vegetarian Meals
Vegan Meals
Paleo Meals
Keto Meals
Low-Carb Meals
Low-Fat Meals
Meals For Diabetics
Gluten-Free Meals
Organic Meals
Weight Loss Meals

Vegetarian Meals
Vegan Meals
Paleo Meals
Keto Meals
Low-Carb Meals
Low-Fat Meals
Meals For Diabetics
Gluten-Free Meals
Organic Meals
Weight Loss Meals
Compare Sample Meals

Brownie Batter
Curried Peas
Fried Rice
Pasta Puttanesca

venison
Shrimp
Beef
Ahi Tuna
Compare Extras

A La Carte Menu
Gift Cards
Marketplace

A La Carte Menu
Gift Cards
Marketplace
Compare User Reviews

Submitted By Rosie Whittle on 06/10/2018

Just discovered Hungryroots, a colleague brought their pad thai fried rice to work and it looked real good so we shared. I can't remember having a better meal ever since I switched to plant based. I ordered the starter set today, if everything is as good as the rice, I'm getting a lifetime subscription :D

Submitted By Joey Nash on 04/18/2018

Everything great except for the portions, could be larger. I can eat the whole meal myself and it's supposed to be 2 servings.

Submitted By Lisa Henderson on 04/15/2018

Got my first box yesterday, loved the packaging and everything looked and smelled really nice. I was just surprised that there are such great differences in taste and quality among meals, some were awesome and some just meh. But I guess it takes a couple of orders to figure out what you like.

Submitted By Samantha on 09/13/2018

I just started ordering from Trifecta, and so far I LOVE it. I've managed to eat healthier this week than I have in a long time, and I know if I continue on this path I'll definitely be seeing some weight loss results. At first I was apprehensive because of the price, plus I've had some meal delivery food in the past that has tasted kind of "meh", but I've really enjoyed all the meals I've tried! They're surprisingly good, and taste just like home-cooked meal prep food, but with a little extra attention to flavor detail that I rarely have time to care about when batch-cooking for the week. As far as the price goes, I've saved a TON of time that I would have normally spent meal planning, grocery shopping, and cooking on my weekends. I honestly feel kind of liberated. This is the easiest nutrition plan I've ever followed, and I'm loving the time back. The convenience of these meals it making it much easier for me to say "no" to crappy fast food, etc. that I shouldn't eat. Bonus- their customer service is on point- the chat tool on the website is amazing.

Submitted By D L Williams on 08/22/2018

Wanted to like the food but only 2 out of 7 were edible. The chicken was a little too pink and was rubbery, the steak dish was tough. Alas, will keep trying for a a frozen food delivery company where food is very good.

Submitted By Ashley B on 07/21/2018

Delivery is consistent but so are the meals. Unfortunately there is not any diversity of flavor of the food. Very few types of veggies and spices are used. Food became bland after the first week.

Submitted By Erika on 06/14/2018

I really wanted to like Trifecta. I have two teenage boys and a husband that eat very substantial meals, that I enjoy cooking. But I need to lose a few pounds, which is tough when I am always cooking meals for my family. Our family eats a very healthy, 100% organic diet and it seemed like this would be a good service for me to eat a smaller meal, while continuing to cook for my family. I ordered the vegan plan because, although I am not vegan, I am allergic to a lot of foods and vegan meals are the safest. I then ordered some elk and fish a la cart to add to a meal or throw in a salad. After receiving the shipment, I was pretty disappointed in how the meals looked. Pretty unappetizing and not at all how the pics on the website looked. The next morning, I had a breakfast meal, which was a "loaf". It was disgusting. Dry and basically flavorless. I only ate half, because who wants a huge portion of cardboard? Plus I want some fruit and a little protein in the morning. The rest of the meals were blah. They were pretty small and higher calories than I would have expected for such small meals. The elk was okay but had a big piece of gristle running through it. I have not had the fish yet and I just threw it in the freezer. I gave Trifecta 3 stars instead of 2 because it would be a good service for a single person that doesn't cook and wants to eat healthy. That just isn't me.
Winner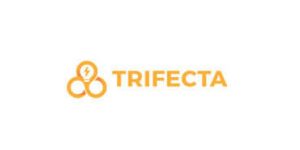 The idea behind Trifecta Nutrition meal delivery service is to offer what most of us strive to achieve: eating healthy meals which fulfill all our dietary needs, every day, without all the hassle. Whether you are a vegan or vegetarian, wish to go Paleo, or simply want to eat clean, Trifecta has got you covered. Eating healthy has never been easier.