Sous Kitchen VS Home Chef
If you'd like to start eating healthier but don't have time to cook, meal delivery services may be the perfect solution to your problem! Check out or objective Sous Kitchen VS Home Chef comparison to get a better idea of what these two services offer and determine which one is the right choice for you and your family.

Budget-Friendly, Ready-To-Cook Meals
VS

Planet-friendly meal service
Highlights

Sous Kitchen is an affordable solution for effortless cooking that allows you to prepare healthy meals in minutes, no prep required.
Average Price Per Meal:

$15.00

Shipping Cost:

$0

*

Delivery Area:

7 states

Home Chef offers budget-friendly prices, great flexibility, a diverse menu, and time-saving recipes suitable for all cooking skill levels.
Average Price Per Meal:

$9.95

Shipping Cost:

$0

*

Delivery Area:

48 states
*
free over $45. Shipping is $10 for orders less than $45.
Compare Features

Best For
Best for busy individuals looking for healthy, ready-to-cook meals
Menu/Meal Plans
Sous Kitchen has one menu that changes on a monthly basis.
Recipes/Meal Options
Sous Kitchen offers nearly 50 dishes on its menu.
Meal & Recipe Variety
Sous Kitchen offers quick recipes for omnivores, carnivores, and vegetarians. It offers gluten-free, dairy-free, nut-free, low-fat, low-sodium, and low-carb options. In addition to entrées, the menu includes sides and delicious desserts.
Food Quality
Sous Kitchen provides fresh, locally sourced produce, organic whenever possible. Its meat is free from hormones and antibiotics. It provides CAB-quality beef and USDA pork. Its seafood is wild-caught and its farm-raised fish is free from hormones and dyes.
Nutritional Value & Portion Size
Sous Kitchen makes sure that all your meals are rich in nutrients, optimally balanced, and well-suited for the dietary needs of both adults and children.
Subscription Flexibility
For any questions about changing or canceling your order, you should contact Sous Kitchen directly.
Refunds
For any questions about refunds, you should contact Sous Kitchen directly.

Best For
Best for home cooks with a busy schedule
Menu/Meal Plans
Home Chef does not separate its meals into distinct meal plans but instead offers one weekly menu to choose from.
Recipes/Meal Options
Home Chef offers 16 new recipes each week, including a smoothie and fruit basket.
Meal & Recipe Variety
Home Chef's weekly selection always includes omnivore, vegetarian, carb-conscious, and calorie-conscious recipes. Depending on your needs and preferences, you can choose to receive recipes that do not contain pork, red meat, gluten, mushrooms, soy, nuts, dairy or shellfish. Lunches and smoothies take just 5 minutes to make and dinners are usually ready in around 30 minutes.
Food Quality
Home Chef sources its ingredients from trusted suppliers and farmers that employ the best sustainability practices. It sources locally whenever possible and makes sure that the food you receive is fresh, natural, and good for you.
Nutritional Value & Portion Size
The calorie count of Home Chef meals significantly varies, from under 200 calories to more than 750 calories. Calorie-conscious meals are clearly labeled. The meals are rich in all valuable nutrients and come in ample portions, keeping you full for hours.
Subscription Flexibility
With Home Chef, you can edit or customize your subscription anytime you want. You can also skip, pause or cancel your order whenever you wish. All changes to your order must be made by 12pm(CST) on the Friday prior to the scheduled delivery day.
Refunds
If you are not satisfied with your delivery from Home Chef, you may be eligible for a refund or credit.
Suitable For

Meals For Families
Meals For Kids
Meals For Seniors
Meals For One

Meals For Families
Meals For Kids
Meals For Seniors
Meals For One
Compare Meal Options

Vegetarian Meals
Vegan Meals
Paleo Meals
Keto Meals
Low-Carb Meals
Low-Fat Meals
Meals For Diabetics
Gluten-Free Meals
Organic Meals
Weight Loss Meals

Vegetarian Meals
Vegan Meals
Paleo Meals
Keto Meals
Low-Carb Meals
Low-Fat Meals
Meals For Diabetics
Gluten-Free Meals
Organic Meals
Weight Loss Meals
Compare Extras

A La Carte Menu
Gift Cards
Marketplace

A La Carte Menu
Gift Cards
Marketplace
Compare User Reviews

Submitted By Jay Adams on 04/25/2017

I've been ordering for years and always have Sous Kitchen meals in my freezer. As easy and quick as takeout, just healthier and more delicious.

Submitted By Larry Bicks on 02/07/2017

Don't expect to get the best meals you've ever had. Still, it's good enough and quick to make and great if you're not a fan of cooking.

Submitted By Joanna Kisbey on 01/15/2017

We're a large family and I don't always have the time to cook, so Sous Kitchen is can be a real life-saver. Everyone likes the meals and they're not that expensive either.

Submitted By Gina Marie on 04/19/2018

The food is good however their customer service is not. The delivery schedule is more of an approximate date than when my food was actually delivered. There were times my food was not delivered on schedule and the ice packs had melted and the food was warm. Customer service was very flippant about the situation and the fact that I had to discard the items. Today I am still waiting on a delivery that was supposed to have been here yesterday. I asked for my account to be canceled and they informed me that they don't cancel accounts, just pause them. I don't understand the reasoning for this nor was I given a straight answer. My account is paused however I will not be resuming it.

Submitted By KMcHenry on 04/18/2018

Their "customer service" is rude as hell. First, I would like to mention that at this point I had brought them TWO loyal customers who had been ordering with them for over a month and a half. I travel for work so my address changes every three months or so. I lived in Denver and was dating someone that lived three hours away. I had my order sent there so we could eat it over our weekend together. He then ordered one to the same address and they accused us of trying to make duplicate accounts. I told them what was really going on and would have showed proof (my rental/work contract) but they told me it was no big deal. My contract ended there and before my left, I emailed to let them know I would be changing my address for 2 weeks (as I was going to be home in between contracts). I ordered a Homechef there and then towards the end of my stay, my parents were intrigued by the concept. I signed them up under THEIR address (I was only staying there for two weeks...) and I got this REALLY nasty email about how they have previously warned me THREE???? times about creating double accounts. Uhmm...excuse me? The account was under my father, paid for by his card, at HIS address. I called to clear things up and the lady was a complete b*tch to me. She was cutting me off and raising her voice at me. I told her I completely understand the confusion but there is no need to be rude. Also, that I could provide proof of my address changing frequently. If that is how they treat a loyal customer who has brought them business, not thanks. Needless to say, I will never be ordering with them again. OH, and after all this they told me there was no way for them to delete/close my account...

Submitted By Kimberly Houston on 04/15/2018

I have been using Home Chef since February. It is only my 14 year daughter and myself and Home Chef has worked out perfectly. I love cooking and have the fresh meals without the headache of having to pour over the internet to find recipes that we both would enjoy. I love that we have the ability to try recipes and use ingredients that we would not typically use. We have even used the recipe cards to make our favorites again (Turkey Avocado Toastados are great and easy). I aIm diabetic and each week I have at least 1 low carb option. In addition, I can check the nutritional information of the meals before I order. We only had one delivery issue but was due to weather and I received an email alerting me of the issue. My daughter and I looked at both Blue Apron and Plated last year, but neither were a great fit, although Plated may cone close. We are happy with Home Chef and enjoy the day each week when we get our new box!

Submitted By Jessica on 04/10/2018

I've been using Home Chef for about 1.5 years with very few hiccups. The fees times I've had a small issue (leaky meat, missing ingredient, etc) it was handled quickly and easily. The meals are always delicious and most have easy repeatability which is great when we love a meal and want it again.
Winner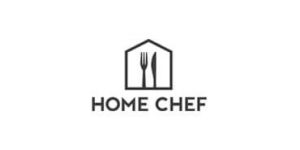 Home Chef is a meal delivery service which takes care to supply you with only the freshest, highest quality ingredients. What sets them apart from other popular meal delivery services is the amazing variety of recipes you can chose from. After you've filled out your taste preference chart, the system will use it to present you with meals you're likely to love.