Purple Carrot VS Takeout Kit
Takeout Kit and Purple Carrot are designed to take the stress out of meal planning and this Takeout Kit VS Purple Carrot comparison is designed to make it much easier to choose between them. Get a comprehensive overview of these companies' crucial features and scroll down to discover the definite winner of the comparison.

As Easy As Takeout & Twice As Tasty
VS

Vegan Meals For A Healthy Lifestyle
Highlights

Takeout Kit is a budget-friendly, family-friendly meal kit service that provides authentic imported ingredients and quick, easy-to-follow recipes for the most popular meals and drinks from around the world.
Average Price Per Meal:

$8.25

Shipping Cost:

$0

Delivery Area:

50 states

Purple Carrot offers reasonably priced natural, plant-based meal kits designed for fitness enthusiasts, athletes, and vegans who want to eat healthily and cook effortlessly.
Average Price Per Meal:

$11.33

Shipping Cost:

$0

Delivery Area:

48 states
Compare Features

Best For
Best for fans of international cuisine
Menu/Meal Plans
With Takeout Kit, you can choose between individual kits, samplers, and subscriptions.
Recipes/Meal Options
If you opt for Takeout Kit's individual kits, you have 13 options at your diposal. There are 9 samplers and 3 drink kits on the menu as well. The company also offers 4 subscription plans, which differ only in the subscription length.
Meal & Recipe Variety
With Takeout Kit, you can cook hallmarks of various African, Asian, European, and South American cuisines. You can opt for omnivore, carnivore, vegan, and vegetarian delights and choose from a nice selection of meals, coffee, teas, and iced tea kits. The meals are usually ready in 30 to 45 minutes.
Food Quality
Takeout Kit mainly uses USDA-certified organic and preservative-free ingredients of the finest quality. However, since many of its ingredients are imported to ensure authentic flavor, it is not always possible to obtain preservative-free products.
Nutritional Value & Portion Size
Takeout Kit offers meal kits designed to feed 4 adults with a hearty appetite. Individuals who do not have a big appetite may find the portions to be too large. The calorie count ranges from 200 to around 500 calories. The meals are generally well-balanced but can be rather high in carbs.
Subscription Flexibility
With Takeout Kit, if you would like to modify or cancel your subscription, you must do it before the 15th of the month. Keep in mind, however, that you can only cancel your monthly subscription.
Refunds
If you are not satisfied with your delivery from Takeout Kit, that is, if you are missing an item in your order or get a damaged or incorrect meal kit, you can contact the company within 7 days of the delivery day and either receive a replacement, credit or refund.

Best For
Best for vegan home cooks with an active lifestyle
Menu/Meal Plans
Purple Carrot features 2 menus: 1-2 Person and TB Performance Meals
Recipes/Meal Options
Both menus offered by Purple Carrot feature only 3 meal options per week.
Meal & Recipe Variety
Purple Carrot offers vegan meals suitable for lunch and dinner. Its selection includes both everyday, healthy-eating meals and performance meals for active individuals. The meals are usually inspired by Moroccan, Chinese, Italian, and Spanish cuisines and include veggie stews, risottos, pastas, quesadillas, and grain bowls. The prep and cook time is around 30-45 minutes.
Food Quality
Purple Carrot delivers fresh, nutrient-packed ingredients that are sustainably sourced. All ingredients are of high-quality, chosen in accordance with the season, and completely natural.
Nutritional Value & Portion Size
Purple Carrot meals come in medium-sized portions and contain 500-800 calories on average. They are nutritionally balanced, with the right quantities of healthy fats, lean proteins, and complex carbohydrates.
Subscription Flexibility
With Purple Carrot, you can skip or cancel your order anytime. You must inform the company about any changes to your order by Tuesday night at 11:59 PM EST the week before your next delivery is due.
Refunds
For information about returns and refunds, you must contact Purple Carrot within 7 days of your delivery.
Compare Plans & Pricing

Takeout Kit Plans & Pricing
Month-to-Month Subscription
Meal kits per month
Meal kit price
Price per serving
1
$32.99
$8.25
2
$65.99
$8.25
3
$92.99
$7.75

Purple Carrot Plans & Pricing
Purple Carrot (2 servings)
Meals per week
Meal kit price
Price per serving
3
$72.00
$12.00
TB12 (2 servings)
Meals per week
Meal kit price
Price per serving
3
$78.00
$13.00
Suitable For

Meals For Families
Meals For Kids
Meals For Seniors
Meals For One

Meals For Families
Meals For Kids
Meals For Seniors
Meals For One
Compare Meal Options

Vegetarian Meals
Vegan Meals
Paleo Meals
Keto Meals
Low-Carb Meals
Low-Fat Meals
Meals For Diabetics
Gluten-Free Meals
Organic Meals
Weight Loss Meals

Vegetarian Meals
Vegan Meals
Paleo Meals
Keto Meals
Low-Carb Meals
Low-Fat Meals
Meals For Diabetics
Gluten-Free Meals
Organic Meals
Weight Loss Meals
Compare Sample Meals

German Beer Garden Spätzle
Indian Butter Chicken
Paella
Truffle Risotto

Butter Lettuce Wraps
Coconut Ramen
Coconut Tofu
Smashed White Bean and Avocado Club
Compare Extras

A La Carte Menu
Gift Cards
Marketplace

A La Carte Menu
Gift Cards
Marketplace
Compare User Reviews

Submitted By Scott Fisher on 11/29/2017

Easier than other meal kits, real good food, I usually cook twice with 1 kit. The only problem is that some ingredients are hard to divide in two, I have to repack them, it's a bit of a hassle. It's not exactly single-friendly.

Submitted By Linda Hernandez on 10/21/2017

Quick, tasty and really fun, I love reading about the dishes and they are really different from anything else I've tried. The prices are good too, I googled some of the products in the kit, they can get real expensive.

Submitted By Jane Patton on 10/02/2017

Perfect for families, get ready for a lot of leftovers if you are cooking for 1-2.

Submitted By Liz Robinson on 08/19/2017

I am hooked! Everything is delicious and smells divine, easy to cook, and for me, the best part is learning about new ingredients and dishes, educational and tasty at the same time :D

Submitted By Stephen Eingorn on 06/15/2018

He pluses are that the items arrived as promised, and that the company is easy to deal with and to cancel the subscription.. I only had to send two emails( the first was "lost," ) The menu cards are nice.y illustrates and the steps easy to follow. The cons: Food can be quite high as in fat. Often 60-70%. Some dishes are inedible, for example the so called fish and chips. Sodium is often too high. The food is mostly not organic, even when organic varieties are readily available in local,chain supermarkets. I refer to avocados, chickpeas and many others. The quality of the food is only fair. The preparation time is often longer than stated and sometimes the recipes omit important steps Although well,packaged, the food often arrives warm. Spoilage is a concern. The ice packs are always melted when we unpack the boxes You could purchase much more food for the price in any supermarket. I am disappointed in Mark Bitman, whom I have admired for his writing and common sense approach to eating. I have cancelled my subscription. Too bad. It was a great idea

Submitted By Kimberly Zeh on 06/05/2018

Do not order Purple Carrot. Unlike listed on their website, or in this review of their food. Purple Carrot does not have 100% plant-based ingredients. Some of their recipes include High Fructose Corn Syrup. When I approached them about it, here's what they told me: "I just wanted to take a moment and share with you that we are not and do not claim to be a health service, a dietary service and have never made claims that we source specifically non-GMO or Organic produce. While I do understand the wants for more "whole foods" as you put it, I just want to ensure you that we have always and will always stick to our mission of providing delicious, hassle-free plant-based meals for our customers to prepare in home." I too received boxes of food perished or main ingredients missing - and they have been nice about refunding me. However, I cannot and will not continue my service with them because I feel cheated from their false advertisement. For those of us looking for healthy options, MAKE SURE you read all the packages before you use. Also, their spices, pastes, dairy substitutes come in containers that label the name of the ingredient - you don't actually know what the stuff is made up or what brand it is from. Anyway folks, BE CAREFUL.

Submitted By David Herring on 05/19/2018

1st meal delivery for me . WOW!! Talk about good. 5 stars is not enough. Purple Carrot is the best.

Submitted By jennifer Hughes on 04/09/2018

I'm reading reviews and I havent experienced any of the bad they speak of. I'm going on 6 months of getting weekly deliveries and I'm blown away more with every recipe I make. Absolutely delicious meals incorporating ingredients I've never tried before. Eating plant based has never been so easy!
Winner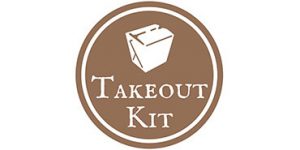 Takeout Kit is an extraordinary meal kit service that takes you on a culinary trip around the globe with the finest takeout classics and a variety of exotic dishes handpicked for real foodies. You can subscribe or shop commitment-free. Read this Takeout Kit review and learn all about the unique meal kits that stay fresh much longer than others.