Purple Carrot VS Chef's Plate
Advertiser Disclosure
This website features affiliate links. For purchases made via these links, we earn commissions that allow us to keep producing helpful content. To find out more
click here
.
Close
Choosing between Chef's Plate and Purple Carrot, you are faced with a rather difficult task. Both services have unique qualities that make them highly popular among hungry customers nationwide. However, that does not mean that the choice is impossible to make, as one of these services does have a bit more to offer. Our Chef's Plate VS Purple Carrot comparison below allows you to discover what it is that makes these two services different from each other, as well as which one constitutes a better choice.

Cook Chef-Worthy Meals In No Time
VS

Vegan Meals For A Healthy Lifestyle
Highlights

Chef's Plate is a Canadian meal kit service catering to couples and families looking for quick and easy recipes, flexible subscriptions, and affordable prices.
Average Price Per Meal:

$10.35

Shipping Cost:

$0

Delivery Area:

9 areas in Canada

Purple Carrot offers reasonably priced natural, plant-based meal kits designed for fitness enthusiasts, athletes, and vegans who want to eat healthily and cook effortlessly.
Average Price Per Meal:

$10.35

Shipping Cost:

$0

Delivery Area:

48 states
Compare Features

Best For
Best for Canadian home cooks who like to experiment with different flavors
Menu/Meal Plans
Chef's Plate features 4 menus - Classic, Family, 15-Minute, and Vegetarian
Recipes/Meal Options
Chef's Plate offers 12 recipes on the Classic menu, 9 recipes on the Family menu, 4 recipes on the 15-Minute menu, and 4 meal ideas on the Vegetarian menu.
Meal & Recipe Variety
Chef's Plate recipes are best suited for omnivores and vegetarians, but the service does occasionally provide vegan, gluten-free, and dairy-free recipes. The meals can be ready in as little as 15 minutes and if you want to minimize cleanup, you can opt for one-pot wonders. The menu features comfort food from around the world.
Food Quality
Chef's Plate sources its natural ingredients from national and local farms that employ good sustainability practices. Its goal is to get its ingredients from the closest sources in order to ensure maximum freshness, quality, and flavor.
Nutritional Value & Portion Size
With Chef's Plate, the calorie count normally ranges from 430 to 720 calories per serving. The portions are ample and should satisfy adults with a healthy appetite. The meals are usually well-balanced, with moderate carb content.
Subscription Flexibility
With Chef's Plate, you can manage your orders up to 4 months in advance. If you would like to edit your order, skip a week or cancel your delivery, you must inform the company before the weekly deadline at Thursday 11:59pm EST for Monday deliveries or Monday at 11:59pm EST for Thursday deliveries.
Refunds
If you are not satisfied with your order from Chef's Plate, you may receive a credit for your next delivery.

Best For
Best for vegan home cooks with an active lifestyle
Menu/Meal Plans
Purple Carrot features 2 menus: 1-2 Person and TB Performance Meals
Recipes/Meal Options
The standard Purple Carrot menu features 6 recipes per week while the TB12 Performance Meals menu features 3 recipes per week.
Meal & Recipe Variety
Purple Carrot offers vegan meals suitable for lunch and dinner. Its selection includes both everyday, healthy-eating meals and performance meals for active individuals. The meals are usually inspired by Moroccan, Chinese, Italian, and Spanish cuisines and include veggie stews, risottos, pastas, quesadillas, and grain bowls. The prep and cook time is around 30-45 minutes.
Food Quality
Purple Carrot delivers fresh, nutrient-packed ingredients that are sustainably sourced. All ingredients are of high-quality, chosen in accordance with the season, and completely natural.
Nutritional Value & Portion Size
Purple Carrot meals come in medium-sized portions and contain 500-800 calories on average. They are nutritionally balanced, with the right quantities of healthy fats, lean proteins, and complex carbohydrates.
Subscription Flexibility
With Purple Carrot, you can skip or cancel your order anytime. You must inform the company about any changes to your order by Tuesday night at 11:59 PM EST the week before your next delivery is due.
Refunds
For information about returns and refunds, you must contact Purple Carrot within 7 days of your delivery.
Suitable For

Meals For Families
Meals For Kids
Meals For Seniors
Meals For One

Meals For Families
Meals For Kids
Meals For Seniors
Meals For One
Compare Meal Options

Vegetarian Meals
Vegan Meals
Paleo Meals
Keto Meals
Low-Carb Meals
Low-Fat Meals
Meals For Diabetics
Gluten-Free Meals
Organic Meals
Weight Loss Meals

Vegetarian Meals
Vegan Meals
Paleo Meals
Keto Meals
Low-Carb Meals
Low-Fat Meals
Meals For Diabetics
Gluten-Free Meals
Organic Meals
Weight Loss Meals
Compare Sample Meals

English Fish & Potato Cakes
Hawaiian Pork Loco Moco
Lemon Chicken Pasta
Middle Eastern Rubbed Steak

Butter Lettuce Wraps
Coconut Ramen
Coconut Tofu
Smashed White Bean and Avocado Club
Compare Extras

A La Carte Menu
Gift Cards
Marketplace

A La Carte Menu
Gift Cards
Marketplace
Compare Customer Reviews

Submitted By Angela on 04/12/2019

I just started using chef's plate , 3 orders. I have a number of very busy nurse friends using it so I thought I would try it out. This is the only meal delivery company that offers 2 meals which was perfect for me. So for me that is 4 to 5 meals. The serving are large . There is no waste , no shopping for meat, chicken and all the things that go with meals. Everything is all preped you just follow the recipes . I am a good cook , so I have added a few spices to kick it up for my taste. But not necessary. The food is fresh ,packed great , lots of choices ,delivery to your door. Perfect.

Submitted By Mark Addelman on 12/19/2017

There is nothing really wrong with the service, I guess I just thought that the meals be less… ordinary.

Submitted By Stephen Fraser on 12/02/2017

My girlfriend dumped me 7 ½ months ago and I had to start cooking on my own. A friend recommended Chef's Plate and helped me solve the problem instantly. I now even enjoy cooking and the prices are really ok.

Submitted By Martha Evans on 11/12/2017

Food allergies are a real thing and there are many people who are allergic to gluten, dairy, etc. I don't see how you expect to get a lot of customers if you refuse to offer allergen-free meals.

Submitted By Kristina on 04/12/2019

They promised that all packaging would be recyclable. It was not. My box arrived in a huge silver plasticine bag (not recyclable) AND although they promised that the "ice packs" contained a substance that is environmentally friendly, OMG! - What a gelatinous GOO !!! I had taken the packs outside on my gravel driveway to melt. Thank God I had a bucket nearby when I went to slit them open. An unctuous liquid started coming out and just sat there in an actual "pile" on the gravel. I threw both packs into the bucket and flushed them down the toilet. Then I had to take Dawn dishwashing liquid to remove the STAIN left by whatever chemical this stuff was. And last, when it came to the vegan selection, it's really limited and not very tasty. Oh, and I agree with the other person that I was so busy minding a boiling pot of beans while working with a blender and keeping an eye on the broiler. Dang - I want meals delivered that are EASY! I had a meltdown.

Submitted By Josette Romain, M.D. on 03/16/2019

I have been a vegan for many years and have been repetitively using the same type of meals, with no variety, because of the limited option offered in my non-vegan world. Purple Carrot opened my eyes, and my taste buds, to the large array of vegan food available not only locally but also from other countries. I have been using their food for more than a year now and they very seldom repeat the same recipe. I highly recommend Purple Carrot.

Submitted By Anitra on 12/02/2019

Average at best, we did the TB12 experience. Most of the vegetables were either too ripe, not ripe enough or needed to be tossed. The first week the meals were ok however the quality was progressively worse week after week. When I tried to cancel, my email went into spam and I was charged for an additional week of product that I did not want. I would say, choose another meal plan that is more tried and reliable.

Submitted By Jennifer Moline on 10/21/2018

I have to stress I'm not a vegan, I just had to switch to plant-based because of health problems. I've always loved meat and it was hard for me to find anything vegan that was satisfying enough. This is my third order so far and apart from (ironically) a couple of carrots in the first order that didn't look all that fresh when I got them, I've never had any problems with the service and when I told them about the carrots, they offered a full refund, which was really nice (I didn't take it because everything else was fine). I like the recipes and the portions are just right for me, I'll definitely keep ordering, at least until I start eating meat again.
Winner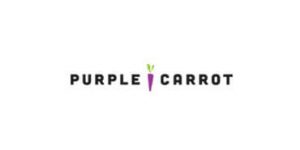 Purple Carrot brings you nothing but the freshest seasonal ingredients available and 100% vegan recipes. If you are on a vegan diet or just trying to eat healthily, Purple Carrot can make things simple and do all the grocery shopping and meal planning for you. Read our objective review and learn how Purple Carrot can help you improve your health.