Purple Carrot VS Chef's Plate
Choosing between Chef's Plate and Purple Carrot, you are faced with a rather difficult task. Both services have unique qualities that make them highly popular among hungry customers nationwide. However, that does not mean that the choice is impossible to make, as one of these services does have a bit more to offer. Our Chef's Plate VS Purple Carrot comparison below allows you to discover what it is that makes these two services different from each other, as well as which one constitutes a better choice.

Cook Chef-Worthy Meals In No Time
VS

Vegan Meals For A Healthy Lifestyle
Highlights

Chef's Plate is a Canadian meal kit service catering to couples and families looking for quick and easy recipes, flexible subscriptions, and affordable prices.
Average Price Per Meal:

$10.35

Shipping Cost:

$0

Delivery Area:

9 areas in Canada

Purple Carrot offers reasonably priced natural, plant-based meal kits designed for fitness enthusiasts, athletes, and vegans who want to eat healthily and cook effortlessly.
Average Price Per Meal:

$11.33

Shipping Cost:

$0

Delivery Area:

48 states
Compare Features

Best For
Best for Canadian home cooks who like to experiment with different flavors
Menu/Meal Plans
Chef's Plate features two menus - the 2 Person Plan and the Family Plan.
Recipes/Meal Options
Chef's Plate provides 9 recipes with the 2 Person Plan and 7 recipes with the Family Plan.
Meal & Recipe Variety
Chef's Plate recipes are best suited for omnivores and vegetarians, but the service does occasionally provide vegan, gluten-free, and dairy-free recipes. The meals can be ready in as little as 15 minutes and if you want to minimize cleanup, you can opt for one-pot wonders. The menu features comfort food from around the world.
Food Quality
Chef's Plate sources its natural ingredients from national and local farms that employ good sustainability practices. Its goal is to get its ingredients from the closest sources in order to ensure maximum freshness, quality, and flavor.
Nutritional Value & Portion Size
With Chef's Plate, the calorie count normally ranges from 430 to 720 calories per serving. The portions are ample and should satisfy adults with a healthy appetite. The meals are usually well-balanced, with moderate carb content.
Subscription Flexibility
With Chef's Plate, you can manage your orders up to 4 months in advance. If you would like to edit your order, skip a week or cancel your delivery, you must inform the company before the weekly deadline at Thursday 11:59pm EST for Monday deliveries or Monday at 11:59pm EST for Thursday deliveries.
Refunds
If you are not satisfied with your order from Chef's Plate, you may receive a credit for your next delivery.

Best For
Best for vegan home cooks with an active lifestyle
Menu/Meal Plans
Purple Carrot features 2 menus: 1-2 Person and TB Performance Meals
Recipes/Meal Options
Both menus offered by Purple Carrot feature only 3 meal options per week.
Meal & Recipe Variety
Purple Carrot offers vegan meals suitable for lunch and dinner. Its selection includes both everyday, healthy-eating meals and performance meals for active individuals. The meals are usually inspired by Moroccan, Chinese, Italian, and Spanish cuisines and include veggie stews, risottos, pastas, quesadillas, and grain bowls. The prep and cook time is around 30-45 minutes.
Food Quality
Purple Carrot delivers fresh, nutrient-packed ingredients that are sustainably sourced. All ingredients are of high-quality, chosen in accordance with the season, and completely natural.
Nutritional Value & Portion Size
Purple Carrot meals come in medium-sized portions and contain 500-800 calories on average. They are nutritionally balanced, with the right quantities of healthy fats, lean proteins, and complex carbohydrates.
Subscription Flexibility
With Purple Carrot, you can skip or cancel your order anytime. You must inform the company about any changes to your order by Tuesday night at 11:59 PM EST the week before your next delivery is due.
Refunds
For information about returns and refunds, you must contact Purple Carrot within 7 days of your delivery.
Suitable For

Meals For Families
Meals For Kids
Meals For Seniors
Meals For One

Meals For Families
Meals For Kids
Meals For Seniors
Meals For One
Compare Meal Options

Vegetarian Meals
Vegan Meals
Paleo Meals
Keto Meals
Low-Carb Meals
Low-Fat Meals
Meals For Diabetics
Gluten-Free Meals
Organic Meals
Weight Loss Meals

Vegetarian Meals
Vegan Meals
Paleo Meals
Keto Meals
Low-Carb Meals
Low-Fat Meals
Meals For Diabetics
Gluten-Free Meals
Organic Meals
Weight Loss Meals
Compare Sample Meals

English Fish & Potato Cakes
Hawaiian Pork Loco Moco
Lemon Chicken Pasta
Middle Eastern Rubbed Steak

Butter Lettuce Wraps
Coconut Ramen
Coconut Tofu
Smashed White Bean and Avocado Club
Compare Extras

A La Carte Menu
Gift Cards
Marketplace

A La Carte Menu
Gift Cards
Marketplace
Compare User Reviews

Submitted By Mark Addelman on 12/19/2017

There is nothing really wrong with the service, I guess I just thought that the meals be less… ordinary.

Submitted By Stephen Fraser on 12/02/2017

My girlfriend dumped me 7 ½ months ago and I had to start cooking on my own. A friend recommended Chef's Plate and helped me solve the problem instantly. I now even enjoy cooking and the prices are really ok.

Submitted By Martha Evans on 11/12/2017

Food allergies are a real thing and there are many people who are allergic to gluten, dairy, etc. I don't see how you expect to get a lot of customers if you refuse to offer allergen-free meals.

Submitted By Fiona Pool on 10/27/2017

Pretty good, a nice discount every now and then wouldn't hurt.

Submitted By Scott Morris on 07/25/2018

Missing meals and i can't get anybody to return any communications about why or a refund? Really poor communication on behalf of customer service i quit

Submitted By Stephen Eingorn on 06/15/2018

He pluses are that the items arrived as promised, and that the company is easy to deal with and to cancel the subscription.. I only had to send two emails( the first was "lost," ) The menu cards are nice.y illustrates and the steps easy to follow. The cons: Food can be quite high as in fat. Often 60-70%. Some dishes are inedible, for example the so called fish and chips. Sodium is often too high. The food is mostly not organic, even when organic varieties are readily available in local,chain supermarkets. I refer to avocados, chickpeas and many others. The quality of the food is only fair. The preparation time is often longer than stated and sometimes the recipes omit important steps Although well,packaged, the food often arrives warm. Spoilage is a concern. The ice packs are always melted when we unpack the boxes You could purchase much more food for the price in any supermarket. I am disappointed in Mark Bitman, whom I have admired for his writing and common sense approach to eating. I have cancelled my subscription. Too bad. It was a great idea

Submitted By Kimberly Zeh on 06/05/2018

Do not order Purple Carrot. Unlike listed on their website, or in this review of their food. Purple Carrot does not have 100% plant-based ingredients. Some of their recipes include High Fructose Corn Syrup. When I approached them about it, here's what they told me: "I just wanted to take a moment and share with you that we are not and do not claim to be a health service, a dietary service and have never made claims that we source specifically non-GMO or Organic produce. While I do understand the wants for more "whole foods" as you put it, I just want to ensure you that we have always and will always stick to our mission of providing delicious, hassle-free plant-based meals for our customers to prepare in home." I too received boxes of food perished or main ingredients missing - and they have been nice about refunding me. However, I cannot and will not continue my service with them because I feel cheated from their false advertisement. For those of us looking for healthy options, MAKE SURE you read all the packages before you use. Also, their spices, pastes, dairy substitutes come in containers that label the name of the ingredient - you don't actually know what the stuff is made up or what brand it is from. Anyway folks, BE CAREFUL.

Submitted By David Herring on 05/19/2018

1st meal delivery for me . WOW!! Talk about good. 5 stars is not enough. Purple Carrot is the best.
Winner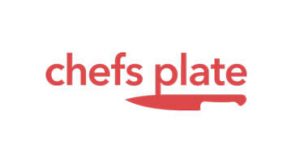 Chef's Plate is one of the finer meal kit services in Canada. It offers fresh, natural ingredients and innovative recipes that allow home cooks to create amazing dishes in even less than half an hour. It is great for couples and families or even a single hearty eater. Discover its menu, pricing, and other particulars in this Chef's Plate review.