Personal Trainer Food VS Yumble
If you would like to start eating healthier but do not have time to cook, meal delivery services may be the perfect solution to your problem! Check out or objective Yumble VS Personal Trainer Food comparison to get a better idea of what these two services offer and determine which one is the right choice for you and your family.

Fun & Healthy Meals For Kids
VS

A Weight Loss Meal Service That Cares
Highlights

Yumble offers organic, allergy-friendly, ready-to-eat meals for children aged 1 to 12, available within customizable, budget-friendly meal plans.
Average Price Per Meal:

$7.49

Shipping Cost:

$0

Delivery Area:

26 states

Personal Trainer Food is an incredibly affordable weight loss solution that allows you to save time and cash, lose weight, and create your own custom meals by mixing and matching delicious entrées and sides from its menu.
Average Price Per Meal:

$3.85

Shipping Cost:

$0

Delivery Area:

48 states
Compare Features

Best For
Best for busy parents looking for an easy way to feed their kids healthy, delicious foods
Menu/Meal Plans
Yumble features one menu for its patrons to choose from.
Recipes/Meal Options
Yumble has around 20 recipes on its menu.
Meal & Recipe Variety
Yumble offers organic lunches, dinners, and snacks that can double as healthy breakfasts. The meals are designed with the nutritional needs and tastes of children in mind and include omnivore, vegetarian, egg-free, gluten-free, and dairy-free meals, as well as meals free from tree nuts, peanuts, and coconuts. Most meals include an entree, grains, and vegetables and they occasionally feature a dipping sauce.
Food Quality
Yumble exclusively uses clean, natural, and organic ingredients that are farm-fresh and locally sourced. The meat is always free from antibiotics and hormones. All meals are free from preservatives and refined sugars.
Nutritional Value & Portion Size
Yumble bases serving sizes on the recommendations of the American Academy of Pediatrics and makes sure that all of its meals are nutritionally balanced and nutrient-dense in order to adequately support your child's development. If you are ordering for a child over the age of 12, you may need to increase the number of meals/portions per week.
Subscription Flexibility
With Yumble, you can make changes to your order, skip a week or pause/cancel your subscription at any time. The weekly cutoff day for editing your order is Wednesday at noon EST.
Refunds
For any information about refunds, you should contact Yumble directly.

Best For
Best for dieters who value variety and want to say goodbye to their sugar addiction
Menu/Meal Plans
Personal Trainer Food offers its customers 3 meal plans, including Rev, Core, and You Choose.
Recipes/Meal Options
Personal Trainer Food offers more than 100 options on the menu.
Meal & Recipe Variety
Personal Trainer Food offers healthy diet breakfasts, entrées, veggie sides, and snacks. All the items on the menu are sure to look familiar because the company likes to stick to well-known favorites. The menu includes diabetic-friendly, gluten-free, and Paleo-friendly dishes.
Food Quality
Personal Trainer Food admits that its meals are not organic or non-GMO. However, it does provide meals that are not overly processed and makes sure that they are rich in nutrients coming from healthy produce. The meals are free from processed sugars and starches.
Nutritional Value & Portion Size
With Personal Trainer Food, you get relatively large portions, considering that the service offers diet meals. Meat and egg items come in 3-5 oz. servings and veggie items come in 4 oz. servings. The nutritional value of a complete meal depends on how you combine the entrées and sides, but any entrée combined with one or two veggie items makes for a balanced meal.
Subscription Flexibility
With Personal Trainer Food, it may not be possible to change your order. For more information, you should contact the company. If you want to cancel your subscription plan, you must contact the company during business hours and talk to a representative at least 10 days before your next delivery is due.
Refunds
Personal Trainer Food has a 100% satisfaction guarantee. However, it only applies to 28-day meal plans. The company states that it will issue a maximum of 1 refund per customer and that only the first order placed by the customer is eligible for the money-back guarantee. To get a refund, you must notify the company via email about your complaint within 5 days of receiving your delivery. Additionally, unused food must be shipped back to the company in its original cooler box within 15 days of the day you placed your order.
Compare Plans & Pricing

Yumble Plans & Pricing
Yumble meal prices
Meals per week
Price
Price per meal
6
$47.94
$7.99
12
$89.88
$7.49
24
$167.76
$6.99

Personal Trainer Food Plans & Pricing
RevTM
Order
Price per order
Price per meal
One time 28 day order
$343.85
$4.09
14 Day Subscription
$161.85
$3.85
Core
Order
Price per order
Price per meal
One time 28 day order
$285.35
$3.40
14 Day Subscription
$129.35
$3.08
You Choose
Order
Price per order
Price per meal
One time 28 day order
$324.35
$3.86
14 Day Subscription
$155.35
$3.70
Suitable For

Meals For Families
Meals For Kids
Meals For Seniors
Meals For One

Meals For Families
Meals For Kids
Meals For Seniors
Meals For One
Compare Meal Options

Vegetarian Meals
Vegan Meals
Paleo Meals
Keto Meals
Low-Carb Meals
Low-Fat Meals
Meals For Diabetics
Gluten-Free Meals
Organic Meals
Weight Loss Meals

Vegetarian Meals
Vegan Meals
Paleo Meals
Keto Meals
Low-Carb Meals
Low-Fat Meals
Meals For Diabetics
Gluten-Free Meals
Organic Meals
Weight Loss Meals
Compare Sample Meals

Cheeseburger
Chili
Grilled Chicken Strips
Tacos

Cranberry and Cognac Sausage
Diced Chicken Thigh
Gluten Free Breaded Chicken
Peppered Chicken
Compare Extras

A La Carte Menu
Gift Cards
Marketplace

A La Carte Menu
Gift Cards
Marketplace
Compare User Reviews

Submitted By Evelyn McConnell on 10/17/2018

Great quality, really creative and diverse, I am just a bit unhappy with the portions. My 8-year-old has a big appetite and quite often he asks for a snack soon after he finishes the meal. He always says he feels full, but I'd like it if the portions were just a bit larger, just to avoid snacking. Still, I could never get him to eat all the veggies and I'll definitely keep ordering, these guys really know what they're doing and they seem to understand my kid's taste better than I do :)

Submitted By William Clark on 09/27/2018

I'm not a good cook, my wife works long hours, and our twins are hungry every 2 hours. Yumble has really made things so much easier. The boys love the meals and they are happy they no longer have to put up with my lousy cooking, ha ha :smile: Plus, it's really cheap, I couldn't make anything nearly as delicious and healthy for that kind of money. 5 out of 5!

Submitted By Katy Silva on 09/18/2018

I bought this product seeking to avoid the typical frozen meal I can get in any supermarket for 5 dls but that was exactly what I received from Yumble. I think they spend too much on kid engagement with useless fictional characters and toys and too little on real healthy food. I'm trying to cancel my subscription at this moment.

Submitted By Julia on 09/07/2018

Tried Yumble for several months and had to cancel due to what I think is misleading marketing. This is NOT healthy food in the slightest. I understand the need to be "kid friendly" and I was OK with macaroni and cheese, chicken fingers, etc., as long as quality ingredients were being used, but when partially hydrogenated cottonseed oil (trans fat) was listed as an ingredient in one of the meals purchased I couldn't in good conscious continue with this service. I reached out to express my dismay and was told all the ingredients are made available on their site/the kitchen would be alerted. Fair enough, but when this is your tagline - HEALTHY KIDS MEALS, NO COOKING REQUIRED, you certainly shouldn't be using hydrogenated oils. In general, Yumble just ins't good quality food, lots of soy and canola oil used as well, which I didn't feel good about either. Overall, failing to see how the food is remotely healthy. Convenient yes, healthy no. Yumble should market itself accurately or improve the ingredients used.

Submitted By Anna Rogers on 09/03/2017

Finally, a weight-loss program that does not make me starve. Not all meals are my all-time favorites, but they keep me full and I can already see AND feel the difference.

Submitted By Gina Fernandez on 08/15/2017

I don't like that the meals are frozen, but it seems to work, I've already lost 5 pounds and I'm only halfway through my 28-day plan.

Submitted By Gene Philips on 06/24/2017

I've been struggling with weight for years, with 100 pounds to lose. I started with Personal Trainer Food a month ago and I am down 15 pounds, which never happened before, no matter how much I tried. I hope I'll keep slimming down at this rate, I can honestly say this changed my life!
Winner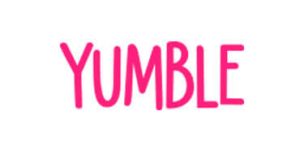 Yumble Kids is a meal delivery for children designed to make it easier to get your little ones to eat only what is perfectly good for them. You can choose from nearly 2 dozen healthy and delicious Yumble meals every week and customize your orders in accordance with your child's dietary restrictions. For more useful details, read our Yumble Kids review.