Home Bistro VS Daily Harvest
Choosing between Daily Harvest and Home Bistro, you are faced with a rather difficult task. Both services have unique qualities that make them highly popular among hungry customers nationwide. However, that does not mean that the choice is impossible to make, as one of these services does have a bit more to offer. Our Daily Harvest VS Home Bistro comparison below allows you to discover what it is that makes these two services different from each other, as well as which one constitutes a better choice.

Quick, Tasty & Convenient Superfood
VS

Gourmet meals for all tastes
Highlights

Daily Harvest is an easy, just-add-liquid solution for boosting your immunity and metabolism and improving overall well-being by enjoying delicious and nutritious smoothies, meals in a bowl, and more.
Average Price Per Meal:

$7.75

Shipping Cost:

$0

Delivery Area:

48 states

Home Bistro offers an impressive selection of restaurant-quality meals cooked by one of the best chefs in America, made of fresh, seasonal ingredients, and ready to eat in no more than 10 minutes.
Average Price Per Meal:

$14.50

Shipping Cost:

$15.95-$59.95

Delivery Area:

48 states
Compare Features

Best For
Best for busy people who want to lead a healthy lifestyle
Menu/Meal Plans
Daily Harvest lets its customers choose from two options, including the Weekly Plan and the Monthly Plan. You can also order individual items at your convenience.
Recipes/Meal Options
Customers opting for Daily Harvest's Weekly plan can get 6, 9, 12 or 24 cups per week whereas those who choose the Monthly plan receive 24 cups per month. If you decide to order individual products, you can choose from around 40 items.
Meal & Recipe Variety
Daily Harvest offers organic, gluten-free, low-carb, low-fat, Paleo-friendly, keto-friendly, vegan-friendly, and vegetarian-friendly smoothies, soups, lattes, oats, chia parfaits, sundaes, and meals in a bowl. Most of the products are dairy-free and soy-free and the company is currently working on making its products certified-kosher.
Food Quality
All the products offered by Daily Harvest are natural and healthy. About 98% of the ingredients used are organic. The company also sources from farms that are on a three-year path to becoming certified organic.
Nutritional Value & Portion Size
All Daily Harvest products are rich in nutrients and well-balanced and they are generally low in calories. They usually come in around 3 oz. servings (8 fl. oz. with liquid added).
Subscription Flexibility
With Daily Harvest, you can edit, skip or cancel your order at any time. However, you must notify the company of any changes to your order by Saturday at 6 PM ET.
Refunds
If you are not satisfied with your order from Daily Harvest for any reason, you must contact the company within 7 days of the delivery date and you will either get a replacement or a partial or full credit or refund.

Best For
Best for fans of gourmet food
Menu/Meal Plans
With Home Bistro, you can choose from 4 categories, including Meal Combos, Chefs Choice, Individual Meals, and SUPERBowls.
Recipes/Meal Options
Home Bistro features more than 100 options on its menu.
Meal & Recipe Variety
Whether you opt for Home Bistro's individual meals or meal combos, you get to enjoy a vast range of restaurant-grade entrées, including Paleo-friendly, diabetic-friendly, heart-healthy, vegetarian, Mediterranean, low-carb, and gluten-free dishes, as well as meals suitable for weight loss. The meals are often exotic, always gourmet, and sometimes quite luxurious.
Food Quality
Home Bistro carefully chooses its suppliers, making sure that all the ingredients are fresh and natural and that all the meat used to make its meals is humanely raised, vegetarian fed, and free from antibiotics, hormones, and steroids commonly used to induce growth.
Nutritional Value & Portion Size
With Home Bistro, the average calorie count is 700 calories per serving. The meals are generally high in protein and rich in superfoods. The portions are not small, but they may not be satisfying enough for individuals with a big appetite.
Subscription Flexibility
With Home Bistro, you can order and reorder as many meals as you like whenever you like. If you opt for a subscription, you can modify or cancel it anytime, just make sure to notify the company in advance.
Refunds
Home Bistro has a strict no refund policy.
Compare Plans & Pricing

Daily Harvest Plans & Pricing
Weekly Plan
Cups per week
Price per week
Price per cup
6
$47.94
$7.99
9
$69.75
$7.75
12
$89.88
$7.49
24
$167.76
$6.99

Home Bistro Plans & Pricing
Meal combos
Number of meals
Price
Price per meal
10
$115.99 - $174.99
$11.60 - $17.50
Individual meals
$12.29 - $24.99
SUPERBowls
Number of bowls
Price
Price per meal
7
$74.99
$10.71
14
$129.99
$9.28
Suitable For

Meals For Families
Meals For Kids
Meals For Seniors
Meals For One

Meals For Families
Meals For Kids
Meals For Seniors
Meals For One
Compare Meal Options

Vegetarian Meals
Vegan Meals
Paleo Meals
Keto Meals
Low-Carb Meals
Low-Fat Meals
Meals For Diabetics
Gluten-Free Meals
Organic Meals
Weight Loss Meals

Vegetarian Meals
Vegan Meals
Paleo Meals
Keto Meals
Low-Carb Meals
Low-Fat Meals
Meals For Diabetics
Gluten-Free Meals
Organic Meals
Weight Loss Meals
Compare Sample Meals

Acai Cherry Smoothie
Brussels Sprouts + Tahini
Ginger+Turmeric Latte
Mulberry+Dragon Fruit

Chefs Choice
Paleo
SUPER Lunch Bowls
Vegetarian
Compare Extras

A La Carte Menu
Gift Cards
Marketplace

A La Carte Menu
Gift Cards
Marketplace
Compare User Reviews

Submitted By Suzanne Martin on 05/12/2018

These smoothies are really good. I use coconut almond milk for mine. This is my second month and I am very pleased with the product.

Submitted By Jessica on 04/26/2018

I've been getting Daily Harvest for about a year. I can't believe some of the negative reviews on here! My experience has been amazing! I regularly skip months when I'm traveling and have never had a problem with skipping. The website is easy to navigate and skipping is simple. As for the food: I like almost all of the smoothies (as does my 6 year old). Super yummy and definitely makes 2 servings for me. I like the ice creams but they are challenging to blend! Still worth it to me to have a healthy dessert. My son likes the strawberry cheesecake a lot. I like the soups, But I don't love all of them. My favorite is the lentil and chipotle chili. I LOVE all of the bowls. I bring one to work every day! The lates are so yummy!

Submitted By Patrick Lee on 03/14/2018

Really blown away by the quality of the recipes and just how darn convenient these cups are. Perfect for when you're in a pinch for time, and also organic ingredients and superfoods that are healthy and also super tasty. When I make smoothies, I use the same four ingredients, and this is a great way to have variety and try new flavors. And because they're frozen, they don't turn bad like the vegetables you buy for the refrigerator. Confused as to why there are so many negative reviews. Most seem to be focused on cancellation and customer service, which I haven't experienced.

Submitted By Brandie Tumey on 03/07/2018

ABSOLUTELY HORRIFIC CUSTOMER SERVICE. I had opted to freeze a couple of months because we were moving and I wouldn't have the room to store all of these in the freezer. Well they sent a box and billed me anyways and then said they only saw one of my pauses. $170 in food wasted and an absolutely horrible customer service rep and supervisor. I use services like this all of the time and I will NEVER use them again... so disappointed.

Submitted By Maria Jackson on 05/14/2018

The available cookbooks use simple ingredients I've actually heard about but the meal choices are always elegant and delicious, so I can even prepare them for my friends without feeling like I'm serving them scrambled eggs.

Submitted By Ian Cage on 05/12/2018

Excellent meal delivery for people who try to steer clear of meat as much as possible but still enjoy a good steak from time to time. I'm no cooking wizard by any stretch of the imagination, so the professional service tips I got with every delivery were more than welcome.

Submitted By Tina Carlson on 05/05/2018

A great fusion of rustic and modern recipes really allows me to express my current mood through the meals I eat and serve to my partner after a hard day's work. The wine suggestions are also a neat little addition that saves a lot of time to wine ignoramuses like me

Submitted By Cheryl burgan on 01/15/2018

My son purchased 10 meals for his grandmother on dec 24....still have not received meals or has any contact been made by company about delay. Just send a refund if you are not going to ship
Winner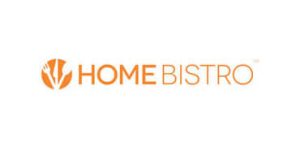 Home Bistro is a one-stop-shop when it comes to ordering premium quality restaurant-grade cuisine. The food is prepared by a kitchen team led by a Certified Executive Chef and all the ingredients are chosen to ensure the highest possible standards in taste, as well as nutrition. The deliveries are fresh frozen and ready to eat in 10 minutes.