Gobble VS Takeout Kit Comparison
Advertiser Disclosure
This website features affiliate links. For purchases made via these links, we earn commissions that allow us to keep producing helpful content. To find out more
click here
.
Close
Choosing between Takeout Kit and Gobble, you are faced with a rather difficult task. Both services have unique qualities that make them highly popular among hungry customers nationwide. However, that does not mean that the choice is impossible to make, as one of these services does have a bit more to offer. Our Takeout Kit VS Gobble comparison below allows you to discover what it is that makes these two services different from each other, as well as which one constitutes a better choice.

As Easy As Takeout & Twice As Tasty
VS

Healthy, Fresh, And Ready In No Time
Highlights

Takeout Kit is a budget-friendly, family-friendly meal kit service that provides authentic imported ingredients and quick, easy-to-follow recipes for the most popular meals and drinks from around the world.
Price Range:

$

Average Price Per Meal:

$7.32

Shipping Cost:

$0

Delivery Area:

50 states

Gobble allows you to cook a beautiful meal in just 10 to 15 minutes and choose from a wide variety of healthy recipes that can satisfy virtually all tastes.
Price Range:

$$

Average Price Per Meal:

$10.86

Shipping Cost:

$6.99

Delivery Area:

48 states
Compare Features

Best For
Best for fans of international cuisine
Menu/Meal Plans
With Takeout Kit, you can choose between individual kits, samplers, and subscriptions.
Recipes/Meal Options
If you opt for Takeout Kit's individual kits, you have about 15 options at your disposal. There are around 12 samplers on the menu as well, each containing 3 kits. The company also offers 4 subscription plans, which differ only in the subscription length.
Meal & Recipe Variety
With Takeout Kit, you can cook hallmarks of various African, Asian, European, and South American cuisines. You can opt for omnivore, carnivore, vegan, and vegetarian delights and choose from a nice selection of meals, coffee, teas, and iced tea kits. The meals are usually ready in 30 to 45 minutes.
Food Quality
Takeout Kit mainly uses USDA-certified organic and preservative-free ingredients of the finest quality. However, since many of its ingredients are imported to ensure authentic flavor, it is not always possible to obtain preservative-free products.
Nutritional Value & Portion Size
Takeout Kit offers meal kits designed to feed 4 adults with a hearty appetite. Individuals who do not have a big appetite may find the portions to be too large. The calorie count ranges from 200 to around 500 calories. The meals are generally well-balanced but can be rather high in carbs.
Subscription Flexibility
With Takeout Kit, if you would like to modify or cancel your subscription, you must do it before the 15th of the month. Keep in mind, however, that you can only cancel your monthly subscription.
Refunds
If you are not satisfied with your delivery from Takeout Kit, that is, if you are missing an item in your order or get a damaged or incorrect meal kit, you can contact the company within 7 days of the delivery day and either receive a replacement, credit or refund.

Best For
Best for home cooks who want to skip the prep and go straight to cooking
Menu/Meal Plans
Gobble offers its customers one weekly menu, which is divided into 4 parts, including From the Range, From the Ranch, From the Sea, and From the Earth.
Recipes/Meal Options
Gobble's weekly menu features 6 recipes in each section of its menu, amounting to 24 options.
Meal & Recipe Variety
Gobble offers family-friendly, low-carb, low-fat, omnivore, and vegetarian recipes. Its meals are conveniently categorized by protein source (poultry, red meat, seafood, and veg) and mostly inspired by hallmarks of the Italian, Spanish, Chinese, and American cuisines. In addition to dinner recipes, Gobble also offers sides, including soups, salads, cookies, and drink mixes. You can customize your order to exclude beef, fish, lamb, pork, poultry, shellfish or all of the above if you are a vegetarian.
Food Quality
Gobble sources fresh, local ingredients and works with the same farmers and purveyors as the local Michelin star restaurants.
Nutritional Value & Portion Size
Most meals you cook with Gobble have between 700 and 900 calories per serving and they are highly satisfying. The meals are nutritionally balanced and rich in nutrients.
Subscription Flexibility
With Gobble, you can make changes to your order anytime. You can also cancel your subscription whenever you want. To edit your order, you must notify the company before Wednesday at 11:59pm PST for the following week's delivery.
Refunds
Gobble has an awesome 100% customer satisfaction guarantee, so if you are dissatisfied with your meals, you can contact the company within 7 days of your delivery date and either get a replacement or credit for your next order.
Compare Plans & Pricing

Takeout Kit Plans & Pricing
1-month subscription
Meal kits per month
Total price
Price per month
1
$29.99
$29.99
3-month subscription
Meal kits per month
Total price
Price per month
1
$86.99
$28.99
6-month subscription
Meal kits per month
Total price
Price per month
1
$167.99
$27.99
12-month subscription
Meal kits per month
Total price
Price per month
1
$323.99
$26.99

Gobble Plans & Pricing
Two People Plan (2 servings)
Meals per week
Meal kit price
Price per serving
2
$55.96
$13.99
3
$71.94
$11.99
Four People Plan (4 servings)
Meals per week
Meal kit price
Price per serving
3
$143.88
$11.99
Suitable For

Meals For Families
Meals For Kids
Meals For Seniors
Meals For One

Meals For Families
Meals For Kids
Meals For Seniors
Meals For One
Compare Meal Options

Vegetarian Meals
Vegan Meals
Paleo Meals
Keto Meals
Low-Carb Meals
Low-Fat Meals
Meals For Diabetics
Gluten-Free Meals
Organic Meals
Weight Loss Meals

Vegetarian Meals
Vegan Meals
Paleo Meals
Keto Meals
Low-Carb Meals
Low-Fat Meals
Meals For Diabetics
Gluten-Free Meals
Organic Meals
Weight Loss Meals
Compare Sample Meals

German Beer Garden Spätzle
Indian Butter Chicken
Paella
Truffle Risotto

Chicken Florentine Rigatoni Bake
Pan Roasted Salmon
Potato Pierogies
Vietnamese Shaking Beef
Compare Extras

A La Carte Menu
Gift Cards
Marketplace

A La Carte Menu
Gift Cards
Marketplace
Compare Customer Reviews

Submitted By Joe Gasbarrone on 08/12/2018

Marvelous idea and excellent product, thank you! The kits are easy and fun, practical and affordable. We enjoy the preparation and the entire experience. We also enjoy sharing kits with friends as gifts. Ever try to prepare risotto? Well, don't bother, just buy this kit!

Submitted By Scott Fisher on 11/29/2017

Easier than other meal kits, real good food, I usually cook twice with 1 kit. The only problem is that some ingredients are hard to divide in two, I have to repack them, it's a bit of a hassle. It's not exactly single-friendly.

Submitted By Linda Hernandez on 10/21/2017

Quick, tasty and really fun, I love reading about the dishes and they are really different from anything else I've tried. The prices are good too, I googled some of the products in the kit, they can get real expensive.

Submitted By Jane Patton on 10/02/2017

Perfect for families, get ready for a lot of leftovers if you are cooking for 1-2.

Submitted By Dee Pinkston on 05/17/2019

I counted up my orders and I have ordered from Gobble 27 times in the past year. The good news is that the food is great and the prep is lower than other mealkit providers. The bad news is that they use Ontrac Delivery and Ontrac is a HORRIBLE delivery service. I am only able to eat my Gobble mealkits about 50% of the tim. A third of the time the mealkits arrive on time and in good shape. A third of the time they arrive a day late, sometimes you can eat them and other times you can't because they were ruined due to melted ice and high temperature. Then, a third of the time Ontrac doesn't even deliver them at all. For the ones that don't show, Ontrac says they got delayed and had to throw the box away. I left Gobble a few months back because of this and this week I decided to give them a try one more time. And the result is an F-. My order was supposed to arrive on Wednesday. I looked on the Ontrac website and it was on the truck for delivery on Wednesday. Unfortunately, it didn't arrive on Wednesday. I called Ontrac on Thursday and they said they had no idea why it wasn't delivered on Wednesday but it was back on the truck on Thursday for delivery. It did finally arrive on Thursday night. When I went outside to bring the box in I could smell the food. I opened the box and it smelled horrible. Both ice bags were completely melted and actually hot. All the food was ruined, so in the trash it went. I have contacted customer service countless times and the only thing they ever do is give me a credit towards a future order that will arrive late or never at all and it all starts over again. A true episode of Groundhog Day only it results in not having food to make for my family about half the time I order.

Submitted By Miki on 04/13/2019

Hi have tried two other meal delivery kits over about 15 months before Gobble, and this is my favorite. Their options are great (good variety of international flavors as well as 'american' fare), a lot of the sauces and veggies such as mirapoix are pre made/chopped to reduce prep time, and their packaging seems to be better and less waste. The meal choices are fantastic as mentioned, and they also offer many breakfast choices as well as lunch, soups and cookies. The time savings are enormous since you are getting some really great flavorful sauces, bases, and other chopped ingredients that would take a while to make from scratch. Lastly the packaging seems to have less than the others I've tried (one had insulation that was made of a fiber that was a cottony material!) They double bag anything that can potentially leak but I reuse the bags since they are always still clean, nothing has leaked yet! I highly recommend Gobble if you are looking for a way to provide your family with quick, great tasting, well balanced meals. There was one issue where instead of receiving tortellini I got veggies that looked like tortellini, and they credited my account the cost of the meals, so they seem to have good customer service.

Submitted By Michelle on 03/31/2019

DO NOT give this company your credit card information! I naively went through the steps that Gobble has potential customers take, and I put my credit card information in before I was able to see the menu. After seeing the menu, I realized that the meals were preselected for me and not kid friendly. I tried to change the items I wanted, and then decided that the meals did not seem suitable for my family, so I didn't want to continue with Gobble. I THOUGHT that I hadn't finalized my order, and I logged off. This was on a Tuesday. Today, Sunday, I got an email stating that my delivery would be arriving on Wednesday and that if I wanted to make any changes, I would need to do so before Friday. Ummm, it's Sunday. I called customer service to explain that I never finalized anything and did't want the delivery. The representative just kept repeated her script, saying that once I put in my credit card information that I had agreed to the terms. She also said that Friday was the last day I could make changes or cancel the order. I told her that I had just received the confirmation email today. She said that there was nothing she could do, and of course there was no supervisor I could speak to. This company is NOT trustworthy and they make it very difficult to cancel their service. I will never, ever recommend Gobble to anyone.

Submitted By Michael R Houghtaling on 03/20/2019

Please do not try this food service they are awful, army came soft bleeding into the box and we threw it all away. My wife explained it to them because they said they would stand by their stuff 100%. but of course we never heard another word from them so that just shows you what kind of place you're dealing with
Winner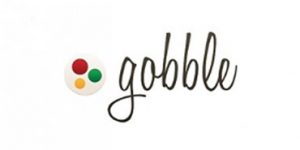 Gobble is a meal kit delivery service that offers par-cooked, pre-portioned ingredients alongside exquisite recipes to transform your tiresome everyday cooking into a joyful experience. Read our comprehensive Gobble review to learn more about this company's offer and check out the User Reviews section for useful customer-written Gobble reviews.