Bistro MD VS Daily Harvest
If your body is craving something healthy and tasty, but there is no room for cooking in your overcrowded schedule, it is time to give meal delivery services a shot. Check out our Daily Harvest VS Bistro MD comparison and find out which one to trust with taking care of your diet. Enjoy amazing meals, hassle-free!

Quick, Tasty & Convenient Superfood
VS

Meal plans for healthy weight loss
Highlights

Daily Harvest is an easy, just-add-liquid solution for boosting your immunity and metabolism and improving overall well-being by enjoying delicious and nutritious smoothies, meals in a bowl, and more.
Average Price Per Meal:

$7.75

Shipping Cost:

$0

Delivery Area:

48 states

With BistroMD, you can stop stressing about your weight and start shedding pounds by enjoying ready-made diet meals designed to suit your age, gender, and personal dietary needs.
Average Price Per Meal:

$10.50

Shipping Cost:

$19.95

Delivery Area:

50 states
Compare Features

Best For
Best for busy people who want to lead a healthy lifestyle
Menu/Meal Plans
Daily Harvest lets its customers choose from two options, including the Weekly Plan and the Monthly Plan. You can also order individual items at your convenience.
Recipes/Meal Options
Customers opting for Daily Harvest's Weekly plan can get 6, 9, 12 or 24 cups per week whereas those who choose the Monthly plan receive 24 cups per month. If you decide to order individual products, you can choose from around 40 items.
Meal & Recipe Variety
Daily Harvest offers organic, gluten-free, low-carb, low-fat, Paleo-friendly, keto-friendly, vegan-friendly, and vegetarian-friendly smoothies, soups, lattes, oats, chia parfaits, sundaes, and meals in a bowl. Most of the products are dairy-free and soy-free and the company is currently working on making its products certified-kosher.
Food Quality
All the products offered by Daily Harvest are natural and healthy. About 98% of the ingredients used are organic. The company also sources from farms that are on a three-year path to becoming certified organic.
Nutritional Value & Portion Size
All Daily Harvest products are rich in nutrients and well-balanced and they are generally low in calories. They usually come in around 3 oz. servings (8 fl. oz. with liquid added).
Subscription Flexibility
With Daily Harvest, you can edit, skip or cancel your order at any time. However, you must notify the company of any changes to your order by Saturday at 6 PM ET.
Refunds
If you are not satisfied with your order from Daily Harvest for any reason, you must contact the company within 7 days of the delivery date and you will either get a replacement or a partial or full credit or refund.

Best For
Best for dieters seeking a personalized weight loss solution
Menu/Meal Plans
BistroMD offers separate plans for men and women. Men can opt for the Men's Program, Gluten-Free Program, Diabetic Program or Silver Cuisine plan. Women can choose from the Women's Program, Gluten-Free Program, Diabetic Program, Menopause Program or Silver Cuisine plan.
Recipes/Meal Options
BistroMD has 150-200 meal options on the menu at all times.
Meal & Recipe Variety
Designed by doctors and prepared by professional chefs, BistroMD meals are healthy, nutritious, and suitable for seniors, women going through menopause, diabetics, and people on gluten-free diets. The service offers a vast assortment of breakfast, lunches, dinners, and healthy snacks and you are free to customize your menu.
Food Quality
All BistroMD diet meals are certified by the USDA. They are made of natural ingredients and contain no added MSG, aspartame or trans fats. The company carefully choses its suppliers and exclusively cooperates with farmers that employ sustainable farming methods.
Nutritional Value & Portion Size
With BistroMD, your daily calorie intake is 1,100-1,400 calories. About 40-45% of calories come from lean protein, 30-35% come from complex carbohydrates, and 20-25% come from healthy fats. Thus, the dishes are scientifically-balanced, calorie-controlled, and nutrient-rich. The portions are rather large, keeping you full until your next meal.
Subscription Flexibility
With BistroMD, you can modify your subscription whenever you want. You can pause, skip or canel your order anytime as well. Bear in mind that all changes to your subscription must be made before Sunday at 12am ET for week 1 members. For all future weeks, you must make changes by Wednesday at 5pm ET the week prior to the week your delivery is due.
Refunds
If you are not satisfied with your delivery from BistroMD, you may either receive a credit or refund.
Compare Plans & Pricing

Daily Harvest Plans & Pricing
Weekly Plan
Cups per week
Price per week
Price per cup
6
$47.94
$7.99
9
$69.75
$7.75
12
$89.88
$7.49
24
$167.76
$6.99

Bistro MD Plans & Pricing
Full Program
Days per week
Price
Price per meal
7
$179.95 (first week $134.96)
$8.99
5
$149.95 (first week $112.46)
$9.99
Lunches and Dinners
Days per week
Price
Price per meal
7
$149.95 (first week $112.46)
$10.71
5
$119.95 (first week $89.96)
$11.99
Suitable For

Meals For Families
Meals For Kids
Meals For Seniors
Meals For One

Meals For Families
Meals For Kids
Meals For Seniors
Meals For One
Compare Meal Options

Vegetarian Meals
Vegan Meals
Paleo Meals
Keto Meals
Low-Carb Meals
Low-Fat Meals
Meals For Diabetics
Gluten-Free Meals
Organic Meals
Weight Loss Meals

Vegetarian Meals
Vegan Meals
Paleo Meals
Keto Meals
Low-Carb Meals
Low-Fat Meals
Meals For Diabetics
Gluten-Free Meals
Organic Meals
Weight Loss Meals
Compare Sample Meals

Acai Cherry Smoothie
Brussels Sprouts + Tahini
Ginger+Turmeric Latte
Mulberry+Dragon Fruit

Artichoke Spinach and Roasted Red Pepper Frittata
Blackened Tilapia with Red Pepper Coulis
Turkey-Breast with Cranberry-Chutney and Wild Rice Blend
Turkey Sausage and Cheese Frittata
Compare Extras

A La Carte Menu
Gift Cards
Marketplace

A La Carte Menu
Gift Cards
Marketplace
Compare User Reviews

Submitted By Ben on 09/06/2018

Been using the service for 6+ months and am satisfied with ALL the products. The service is easy to use and making changes to your subscription is a piece of cake, so I don't get it why so many people have a hard time changing their orders. To be fair, I only skipped a couple of weeks so far, so I don't know what's the problem with cancelations. Definitely recommend the company to everyone who wants to eat healthier and feel better about themselves.

Submitted By Barbara Watson on 09/04/2018

Amazed with how good and healthy these cups are! The company makes it so easy to have tasty superfoods at hand whenever you need them. I love everything about them, and I feel much better knowing I eat more healthy than before.

Submitted By Jackie Joyce on 09/03/2018

Joining the Daily Harvest dissatisfied customers. I will not make a big deal about the fact that I didn't care for the food, we all have different tastes. I will say that it's not at all a good value, for the cost per "meal" I would have expected more. Also going to jump on the bandwagon about the poor customer service. I tried to cancel an order on a Sunday and was very surprised to receive a reply - Which means they had plenty of time to cancel considering it wasn't going to ship until Tuesday (based on the actual tracking) Unfortunately, the reply was basically "too bad". They claim their kitchen is on a tight schedule. Umm, this is frozen food people! You'll freeze it and cook a little less next week. $90 in the trash with the food.

Submitted By Danny Murphy on 09/01/2018

Daily Harvest is the best! I just don't understand why so many people keep complaining when the service is really as good as advertised (the cups are to die for!!!!). I've been a loyal customer for 4 months now and I don't plan on canceling any time soon.

Submitted By John Attenbury on 06/07/2018

This is really good food made with high quality ingredients. I like that it's a dr designed plan, as my dr told me that I need to lose 30 pounds to fall into a healthy(er) BMI. Couldn't be more pleased with the customer service, as I initially thought that I wasn't going to be home in time to accept my delivery (traveling for work) but they helped make sure that it was taken care of so I would be home when it arrived. Really pleased overall. Maybe 3-4 meals on the menu were terrible, but the rest were very good. I'm a long term customer for sure. One last thing... Don't get at all what the review from Nan says about the meals having artificial ingredients and loaded with preservatives. Was surprised and pleased that I could easily identify the ingredients on the labels. I didn't see anything that fits the bill that Nan described, but maybe I didn't get the same meals? Really doubt that my experience and theirs could be be that different on such a specific thing as quality of ingredients.

Submitted By Nan Down on 06/05/2018

The food is absolutely disgusting. Do not order this product under any circumstances. The abundance of positive reviews are fake and should not be believed. The food comes old, frozen and loaded with additives/preservatives and is certainly not cooked by a real chef. It is very unhealthy and tastes terrible. I honestly couldn't give any of it away and ended up throwing it all out in the garbage. I tried to get my money back within the legal amount of time that they should be required to refund me and they refused. They told me that it was my fault for not reading the fine print and looking at the ingredients first. You are better off buying any frozen meal product over this, which i would be cheaper and taste better. This is a scam. Don't do it.

Submitted By Dana Stokes on 12/19/2017

If I had to describe Bistro MD meals in one word, the word I'd use would be bland. Sure, it's supposed to be healthy, low-sodium and what not, but no one is going to die if you use enough salt to make the meals taste good.

Submitted By Doug Pagan on 12/19/2017

Really convenient, quite affordable and also quite tasty, but sometimes the meals are watery because of the freezing, not exactly perfect.
Winner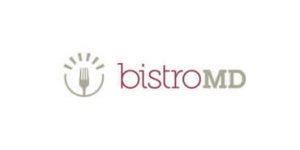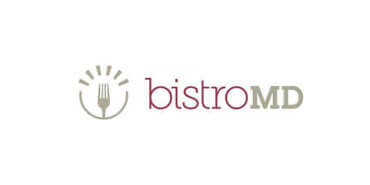 BistroMD prepares meals designed for your individual weight loss program and delivers them to your door. A team led by a board-certified medical practitioner with more than 20 years of experience creates the perfect combination of nutritionally optimized and tasty meals for your diet plan. All you have to do is finally enjoy losing weight.