Balance By BistroMD VS Atkins Meal Delivery Comparison
Advertiser Disclosure
This website features affiliate links. For purchases made via these links, we earn commissions that allow us to keep producing helpful content. To find out more
click here
.
Close
Atkins Meal Delivery and Balance By BistroMD are designed to take the stress out of meal planning and this Atkins Meal Delivery VS Balance By BistroMD comparison is designed to make it much easier to choose between them. Get a comprehensive overview of these companies' crucial features and scroll down to discover the definite winner of the comparison.

The Leading Low-Carb Diet Program
VS

Healthy meals for special diets
Highlights

Atkins Meal Delivery is a weight loss meal delivery service that provides budget-friendly low-carb meals, shakes, bars, and treats, along with free meal plans, grocery lists, and other useful weight loss tools and resources.
Price Range:

$

Average Price Per Meal:

$6.89

Shipping Cost:

$6.95

*

Delivery Area:

50 states
*
all orders over $99 come with free standard shipping

Balance By BistroMD is a convenient, budget-friendly weight loss solution that allows you to shed pounds by enjoying well-balanced meals that suit your unique dietary needs.
Price Range:

$

Average Price Per Meal:

$8.95

Shipping Cost:

$0

*

Delivery Area:

50 states
Compare Features

Best For
Best for dieters who want to cut down on carbs
Menu/Meal Plans
Atkins Meal Delivery does not offer standard meal plans.
Recipes/Meal Options
Atkins Meal Delivery has over 80 items on offer. New items are added sporadically.
Meal & Recipe Variety
Atkins products include frozen breakfasts, lunches, dinners, and pizzas, as well as meal bars, snack bars, harvest trail bars, shakes, and treats. The products are suitable for omnivores, vegetarians, vegans, pre-diabetics, and diabetics. There are some allergen-free items on offer, like gluten-free meals, shakes, and snacks, but they are not too numerous. Unfortunately, items suitable for special diets are not clearly labeled.
Food Quality
Atkins Meal Delivery does not use the highest-quality ingredients, like organic veg or 100% grass-fed meat. However, it does not use too many artificial substances either and it provides medium-quality food products that taste good and do not cost too much.
Nutritional Value & Portion Size
If you are on the Atkins diet and enjoy Atkins products, you get to consume 1,500 to 1,800 calories per day if you are a lady or 1,800 to 2,200 calories per day if you are a gentleman. These amounts are in line with the USDA recommendations for healthy eating. Atkins products do not come in large portions, but the program encourages you to eat frequently. All the products have limited carb content and they are rich in healthy fats.
Subscription Flexibility
Atkins Meal Delivery allows you to shop at its store as often as you want, with zero obligations or limitations. You can choose to subscribe in order to make use of the discount that comes with a subscription, but you can introduce modifications or cancel anytime, for whatever reason.
Refunds
Atkins Meal Delivery offers a 100% satisfaction guarantee. If there is something wrong with your shipment, return the faulty items immediately and a credit for the price of the items as well as all applicable taxes will be applied to your credit card. Shipping costs are non-refundable.

Best For
Best for dieters with special nutritional requirements
Menu/Meal Plans
Balance By BistroMD has one weekly menu for its patrons to choose from.
Recipes/Meal Options
Balance By BistroMD lets you choose from 100+ seasonal meal options on its menu.
Meal & Recipe Variety
Balance By BistroMD offers a multitude of healthy, low-calorie breakfasts, lunches, dinners, and snacks suitable for different diets. It provides diabetic-friendly, senior-friendly, menopause-friendly, heart-healthy, dairy-free, gluten-free, low-carb, and vegetarian meals suitable for weight loss. The meals are mostly classics, with no particularly exotic dishes on the menu.
Food Quality
Balance by BistroMD promises to use only fresh, top-quality ingredients in order to create healthy and tasty meals. It freezes its meals at peek freshness to preserve flavor and nutritional value.
Nutritional Value & Portion Size
Balance By BistroMD meals contain between 240 and 400 calories per serving. While low in calories and portion-controlled, the meals are satisfying because they are rich in protein. Furthermore, the meals are nutritionally balanced, with 20-25% of calories coming from healthy fats, 30-35% from complex carbs, and 40-45% from lean protein sources.
Subscription Flexibility
To cancel or change your order, you must notify Balance By BistroMD as soon as possible.
Refunds
Balance By BistroMD may provide refunds, but keep in mind that it will not give you a refund if you are simply unsatisfied with the taste of its meals.
Compare Plans & Pricing

Atkins Meal Delivery Plans & Pricing
Atkins meal kits
Easy Peasy Meal Kit
Evening Chef Meal Kit
Frozen Foodie Meal Kit
$97.99
$89.99
$69.99
Snack
Harvest trail bars
Meal bars
Shakes
$6.89
$8.89
$7.19 – $8.89
Treats
$6.29 per box

Balance By BistroMD Plans & Pricing
Individual meals
Meal
Price range
Breakfast
$5.99 - $9.89
Lunch and Dinner
$7.99 - $13.99
EATS Snacks
$10.99 - $19.99
Suitable For

Meals For Families
Meals For Kids
Meals For Seniors
Meals For One

Meals For Families
Meals For Kids
Meals For Seniors
Meals For One
Compare Meal Options

Vegetarian Meals
Vegan Meals
Paleo Meals
Keto Meals
Low-Carb Meals
Low-Fat Meals
Meals For Diabetics
Gluten-Free Meals
Organic Meals
Weight Loss Meals

Vegetarian Meals
Vegan Meals
Paleo Meals
Keto Meals
Low-Carb Meals
Low-Fat Meals
Meals For Diabetics
Gluten-Free Meals
Organic Meals
Weight Loss Meals
Compare Sample Meals

Roasted turkey with garlic mashed cauliflower
Ham cheese omlet
Beef merlot
Beef fiesta taco bowl

Meatloaf with Honey Bourbon Glaze
Macadamia Crusted Barramundi Seabass
Chicken with Mushroom Cream Sauce
Salted Caramel Pecan Bar 6 Count
Compare Extras

A La Carte Menu
Gift Cards
Marketplace

A La Carte Menu
Gift Cards
Marketplace
Compare Customer Reviews

Submitted By Miley York on 01/20/2019

I expected to lose weight faster, I lost only 4 pounds the first month. Still, I decided to stick with it because it obviously works and I feel better. I like that the meals are not all carrots, cabbage, and kale, but I'm still getting used to the small portions.

Submitted By Bertha Salyers on 12/20/2018

Don't know why I haven't tried Atkins before, I guess I thought that the new diets were more advanced or whatever. I was sure wrong because I've been on the Atkins diet for a month and already have I lost 6 lbs, which is a huge success for me. I haven't tried the meals yet, but the shakes are great and the bars are surprisingly satisfying. I can't say I never feel hungry, but I haven't been happier in a while, I can feel the progress and I'm getting my self-confidence back

Submitted By EriceeeeE on 06/12/2019

I have tried 7 different meals. Two of the meals were restaurant quality or even better. Two were on par with a typical frozen meal. The lasagna was better than any lasagna I have ever eaten. The key is to take them out of the freezer the night before to get the best taste and consistency. DO NOT cook them from frozen. I am actually surprised and happy. I only eat them for dinner. I have a small breakfast, a sandwich for lunch and a Frozen Garden smoothie as a snack. I have lost 7 pounds in one week.

Submitted By Tee Williams on 05/27/2019

It is fantastic to finally find an affordable meal service that offers such a large variety of food! I was looking for something for my parents and disabled siblings (as well as myself). We are all vegans (occasional dairy we do eat). The vegan meal delivery programs, while delicious are a good 10 - 20% more in price, sometimes 40%. In my opinion, I am willing to pay extra for convenience (this is why some folks eat out), however, for those prices, when I eat out, I am guaranteed to have left overs. It should not cost that much. BistroMD hit the mark on pricing. My only issue is that there seems to be a lack of understanding of what vegetarian means. Vegetarian diets do NOT, I repeat do NOT include anything with a face or that moves in and off itself, having not had its origins in something (a tree, shrub, grass, a weed, a stalk, a vine, a flower, etc.) that is rooted in the ground, growing out of soil. This means, NO SEAFOOD OF ANYKIND, NO FOWL, NO INSECT. Either lable that food pesketarian or seafood diet, not vegetarian. It is misleading, especially with so many meat analogues out there. Having said this, I am happy this service exists and, unlike some non-vegan meal service, you DO have vegatarian dishes that are strictly plant based. That is definitely a plus in my book.

Submitted By Jen Rivo on 07/01/2018

The review from this site has some inaccuracies on prices of food and how items are sent. They are discussing prior shipment boxes and not current ones. The website is quirky and not always user-friendly. It varies between users and a concern from individuals. Some meals are higher than 400 calories. There are issues with FedEx and delivery. It is confusing when you first order and more info is needed or clear info on the website. Food overall is good. It is pricey, but you are paying for convenience. The main issues are related to packaging. They are broken routinely when they arrive or unsealed. They address it, but it is inconvenient that FedEx does not care for packages correctly. There is quality that is inconsistent at times. One week the same dish is great and a week later it's not as good. Lastly, the support Facebook is great but if someone shares a concern with the product posts are closed. I know it's really for support, but some of that info is helpful. Some is not, but when it seems sensored then makes it a concern.

Submitted By Cindy Thomas on 03/31/2018

I became tired of cooking and bored with preparing the same dishes over and over. Then I discovered Balance by BistroMD and gave them a try. I love that I can order what I want and when I want it - no subscription commitment required. I love that ordering is easy and delivery is fast. I love that I don't have to prepare anything other than popping a tray into the microwave. Most importantly - I love the food - it's delicious, fresh, healthy, and satisfying.
Winner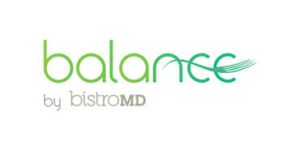 Balance By BistroMD is an innovative meal delivery service focused on healthy and highly personalized meal plans. All the meals are chef-prepared, doctor-approved, and delivered right to your doorstep. Whether you want to lose weight or just lead a healthier lifestyle, find out more about this impressive service in our Balance By BistroMD review.