22 Days Nutrition VS Jenny Craig
When choosing between two such amazing services like Jenny Craig and 22 Days Nutrition, you need to take a good look at all the little details that may make one superior to the other. The goal of this Jenny Craig VS 22 Days Nutrition comparison is to provide an objective assessment of the quality of both services based on the degree to which they satisfy all the major criteria for meal delivery comparison. View the scores they received on every criterion, take a look at their most prominent features side by side, and discover which one of them has done more to ensure your complete satisfaction.

Fully Personalized Weight Loss Solution
VS

Taking veganism to the next level
Highlights

With Jenny Craig weight loss meal delivery service, you can lose up to 16 pounds in a month with the help of a dedicated personal consultant and delicious, chef-crafted diet meals.
Average Price Per Meal:

$15.00

Shipping Cost:

$29.00

Delivery Area:

50 states

22 Days Nutrition offers plant-based meals that suit your lifestyle, whether you want to enjoy organic ready-made meals or complement your diet with meal replacement protein powders and bars that boost your energy.
Average Price Per Meal:

$11.50

Shipping Cost:

$20.00

Delivery Area:

48 states
Compare Features

Best For
Best for dieters who lack motivation
Menu/Meal Plans
Jenny Craig offers 2 meal programs: the 12-week trial program and the 12-month Premium program.
Recipes/Meal Options
Jenny Craig has more than 100 diet items in its offer.
Meal & Recipe Variety
Jenny Craig offers diet breakfasts, lunches, dinners, desserts, snacks, shakes, bars, soups, and veggie sides. It is suitable for omnivores and diabetics, has a limited selection of vegetarian dishes, and features few gluten-free options. It offers a vast range of low-calorie, low-fat, and low-sodium meals.
Food Quality
Although Jenny Craig does not offer precise information on ingredient sourcing, it does claim that all of its meals meet the USDA Dietary Guidelines for Americans. Plus, its meals contain less sodium and fat than most other prepackaged meals.
Nutritional Value & Portion Size
With Jenny Craig, the average daily calorie intake ranges from 1,200 to 2,300 calories, depending on current weight, level of physical activity, and weight goals. A single meal contains between 200 and 380 calories. The portions are small, but you get to eat 6 times a day. The meals are nutritionally balanced and created by accredited practicing dietitians.
Subscription Flexibility
Jenny Craig subscription can be canceled by contacting the support staff via phone, email or snail mail.
Refunds
For information on Jenny Craig's refund policy, please consult your Jenny Craig contract or get in touch with the support staff via phone or email.

Best For
Best for individuals who want to improve overall health and fitness by enjoying a clean, plant-based diet
Menu/Meal Plans
22 Days Nutrition has 2 menus to choose from, including A La Carte and Weekly Meal Plan.
Recipes/Meal Options
If you choose to order from the company's A La Carte menu, you have 5 breakfast options at your disposal. With the Weekly Meal Plan, you can recieve 5, 7 or 22 days' worth of meals.
Meal & Recipe Variety
22 Days Nutrition offers 100% vegan, gluten-free, dairy-free, soy-free breakfasts, lunches, and dinners on its rotating menu. In addition to vegan meals, the service offers meal replacement vegan protein bars and powders in a variety of flavors, mostly focusing on chocolate and nuts.
Food Quality
All 22 Days Nutrition products are USDA-certified organic and free from GMOs and gluten. They contain no added sugar but instead get flavor from high-quality natural sweeteners such as stevia. They are made from organic superfoods and free from artificial substances.
Nutritional Value & Portion Size
22 Days Nutrition breakfasts contain 250-400 calories and lunches and dinners have 400-600 calories. They are nutritionally balanced and rich in fiber and protein. Meal replacement powders contain 120 or fewer calories. All meals are satisfying and come in medium-sized portions.
Subscription Flexibility
With 22 Days Nutrition, you can modify, skip, pause or cancel your subscription anytime. All changes to your order must be made by Wednesday (11:59 PM EST) before your following week's order. For cancelations, the company points out that it works one week ahead for orders, meaning that if you cancel by the cutoff date, you will still receive one more order.
Refunds
22 Days Nutrition only provides refunds on orders canceled before the cutoff date.
Compare Plans & Pricing

Jenny Craig Plans & Pricing
The trial program
Costs per month
Enrollment fee
$39
0
The Premium program
Costs per month
Enrollment fee
$19
$99

22 Days Nutrition Plans & Pricing
Meal plans
Days per week
Number od meals
Price per week
Price per meal
5
2
$130.00
$13.00
5
3
$187.50
$12.50
7
2
$175.00
$12.50
7
3
$241.50
$11.50
22
2
$484.00
$11.00
22
3
$627.00
$9.50
Suitable For

Meals For Families
Meals For Kids
Meals For Seniors
Meals For One

Meals For Families
Meals For Kids
Meals For Seniors
Meals For One
Compare Meal Options

Vegetarian Meals
Vegan Meals
Paleo Meals
Keto Meals
Low-Carb Meals
Low-Fat Meals
Meals For Diabetics
Gluten-Free Meals
Organic Meals
Weight Loss Meals

Vegetarian Meals
Vegan Meals
Paleo Meals
Keto Meals
Low-Carb Meals
Low-Fat Meals
Meals For Diabetics
Gluten-Free Meals
Organic Meals
Weight Loss Meals
Compare Sample Meals

Beef Merlot
Margherita Pizza
Triple Chocolate Cheesecake
Chocolate Walnut Brownie

balsamic sweet potato brown rice
banana cranberry muffins
lemon eggplant nutmeg rice bowl
meals plan
Compare Extras

A La Carte Menu
Gift Cards
Marketplace

A La Carte Menu
Gift Cards
Marketplace
Compare User Reviews

Submitted By Gloria Moore on 05/08/2018

This is way too expensive, the food alone costs over $700 a month! Everyone says that it works, but it really is too much for most people.

Submitted By Delisa Kissner on 04/22/2018

Submitted By LisaLLLLIsa on 06/11/2018

Tastes pretty good, and there is enough food for a medium sized woman, but there is a HUGE problem: The meals provide only about half the protein a grown adult needs. Big problem unless you are planning to eat a fourth meal of pure protein.

Submitted By Jess on 05/30/2018

I have been vegan for over a year and I have tried several different meal plans and diets, all of which I enjoyed, until this one. My first impression was that a lot of the meals are basically the same over and over, the packaging is very hard to open. Most of the meals taste terrible, are literally unedible because some things are under cooked or over cooked. When I contacted them to request that they stop the service and refund me what they could they said they cannot stop the shipments even though they have not been sent yet and all the help they could offer was to talk to me on the phone about how to cook the meals... the meals that all have microwave instructions on them. Interestingly enough my review on their facebook page was promptly removed. I am beyond disappointed.

Submitted By Jenny on 05/08/2018

The food is the worst quality I've ever had. $1 cans of beans would be better than each meal I'm given. I'm disappointed/mad and can't believe a celebrity would put their name behind this.

Submitted By Lisa Mccaughey on 04/24/2018

I was hesitant on ordering this meal service based on reviews I have read. I read that the meals did not give you a lot of food and did not taste good. Well I started the plan anyway and I have to say I am very happy I went with my gut .I have had to actually split up my meals because it's too much food for me to eat. I don't eat bad to begin with my diet is healthy however I did eat chicken and meat but in small amounts I have decided to switch my lifestyle to become even healthier. I have loved every meal so far and they taste fantastic again I am shocked at the amount of food on my plate. I have not been hungry at all and have not snack in between at all. I will definitely be ordering the service again I am A very busy mom works full-time so having my meals already prepared is fantastic !
Winner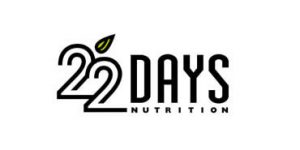 22 Days Nutrition is a meal delivery service for vegans and those who'd like to give the vegan diet a try. It delivers fresh, fully prepared, organic, vegan meals to your doorstep anywhere in the US. Our expert-made review and 22 Days Nutrition reviews written by the company's customers can help you learn all you need to know about this popular service.