Some may claim that vegans are a tough crowd to please, but it is a cold, hard fact that the meal delivery market offers too few options to the veggie-loving lot. Even the companies that specialize in vegan cuisine quite often offer bland meals cooked up by chefs who seem to know very little about the vegan diet. When it comes to meal kits, the situation is even worse.
Unfortunately, even the uber-popular meal kit company Blue Apron does not have special meal kits for vegans. However, it would be wrong to say that it has nothing to offer to those on a plant-based diet. In this Blue Apron Vegan review, we will cover the basic information about the company's vegan offer, introduce you to several Blue Apron vegan recipes that we loved, and show that even though they are scarce, they are more than worth the time you need to spend searching for them.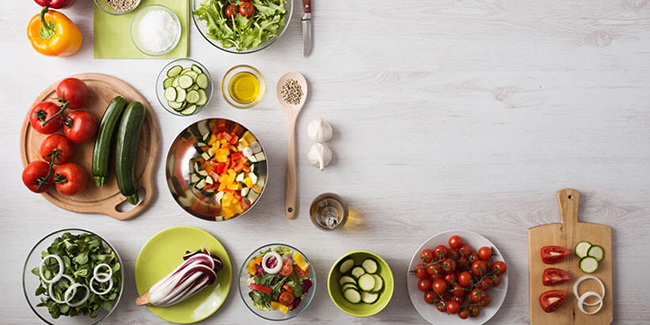 Blue Apron Vegan Options
Blue Apron meal kit delivery service does not offer vegan recipes per se. It does, however, offer 3-4 vegetarian recipes per week. Usually, Blue Apron vegetarian recipes contain dairy and eggs, but sometimes they are free from all animal-derived products.
As a vegan, you have two options if you want to try out Blue Apron recipes. You can either order vegetarian recipes and substitute potential animal-derived products with plant-based versions or you can browse the Blue Apron cookbook, find the vegan meals you like, and purchase all the ingredients yourself.
Blue Apron Vegan Recipes
Since Blue Apron vegan recipes are not available every week and you sometimes have to settle for vegetarian recipes and use vegan substitutions, it may seem like it is not worth the trouble. Still, there are numerous reasons why you do not want to miss the chance to cook with Blue Apron. Namely, Blue Apron vegan recipes are:
Chef-crafted
Incredibly creative and diverse
Easy to follow
Quick to make (around 30 minutes)
Healthy and nutritious
Optimally balanced
Thus, with Blue Apron vegan recipes, you get to expand your repertoire, easily cook a great meal in just half an hour, and enjoy all the benefits of a nutritious, balanced meal. The recipes are more inventive than most other vegan recipes we have tried. Plus, the ingredients you get from Blue Apron are farm-fresh and completely natural, which makes the meals even more delicious and nutritious.
Blue Apron Vegan Sample Dishes
When we say that Blue Apron vegan dishes are more than worth a try, we do not expect you to take our word for it. Take a look at our favorites below and discover the secret behind Blue Apron's universal appeal.
Farro & Pickled Rhubarb Salad With Radishes & Spiced Walnuts
A great choice for fans of grain salads, this dish features a wealth of fresh, flavorful veggies combined with earthy farro, including refreshing arugula and celery, rich, creamy avocado, sautéed shallot and radishes, and of course, gorgeous rhubarb pickled in vinegar with the addition of honey for some delicious extra sweetness.
Boasting a range of exciting textures, the dish is further enriched with an interesting, crunchy garnish – walnuts toasted with a fragrant spice blend including brown sugar, cayenne pepper, and cumin.
You can prepare this vegan delight in around 40 minutes and enjoy it even more with a bottle of pinot noir.
Kung Pao Broccoli With Garlic Chives & Black Rice Noodles
For us, the gorgeous photo of this exotic dish was enough to make us want to try it out immediately. Inspired by Sichuan Kung Pao, it features warm and delicate flavors that keep you craving for more.
The tenderly roasted broccoli is combined with nutty black rice noodles and infused with the rich aroma of the spicy sauce made of scallions, ginger, garlic chives, red chile paste, soy glaze, and hoisin sauce. Although beaming with a variety of flavors, it is perfectly balanced and incredibly delicious.
This vibrantly colored vegan Kung Pao with a twist is surprisingly easy to make and ready in just around half an hour.
Sweet Pepper, Zucchini & Corn Stir-Fry With Soba Noodles & Ginger Cashews
This lovely stir-fry is like summer on a plate, featuring all the favorite veggies of the season – zucchini, sweet peppers, and corn. The beautiful vegetables are mixed with hearty soba noodles and the dish is made even more flavorful with the addition of the amazing sweet chili-ponzu sauce.
Finished off with a garnish of pan-toasted cashews and citrusy ginger, the dish looks absolutely fantastic and tastes wonderful as well. It is sure to appeal to fans of Asian cuisine who like to experiment with new flavor combinations.
Plus, it takes just 30-35 minutes to make, so you can achieve restaurant-grade results in no time.
Bottom Line
As you can see, Blue Apron vegan recipes are about as creative as they get. They are perfectly crafted, featuring exciting combinations of fragrant spices, amazing textures, fresh, juicy produce, and earthy grains and nuts. They may not be on the menu every week, but they are worth the wait.  Now that you know what kind of incredible Blue Apron vegan recipes you can stumble upon, maybe it is time to go on an adventure yourself and discover your own favorites.