Blue Apron is well-known for its innovative recipe ideas that you simply cannot wait to try out. The folks behind this meal kit delivery put together all the wonderful seasonal gifts of nature, mix them in unexpected ways, and turn every meal into a perfectly balanced, palate-pleasing work of art. If you have never peeked into Blue Apron recipes before, get ready to be inspired.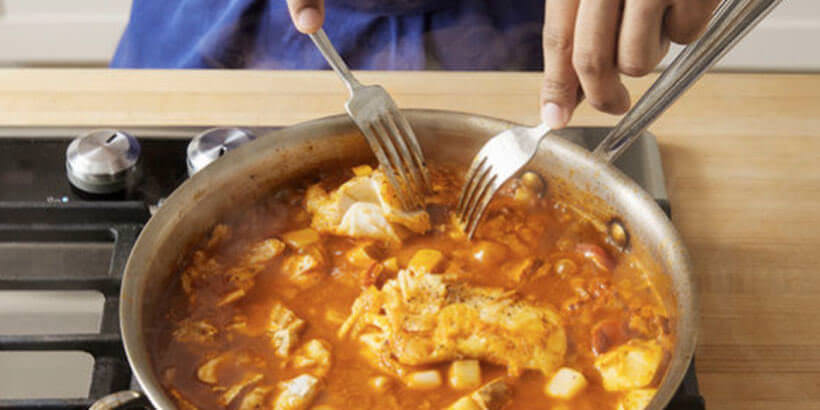 Recipe Variety
Each week, Blue Apron offers a total of 12 recipes, 8 of them featured on the 2-Person menu and 4 of them available with the 4-Person plan. At all times, there are at least a couple of meal ideas for omnivores, vegetarians, and fans of the Mediterranean diet. Furthermore, Blue Apron makes sure that all the recipes featured on its 4-Person menu are suitable for the youngest members of the family. Here are the key features of all the common types of Blue Apron recipes.
Blue Apron Recipes For Omnivores
Out of all the recipes on the Blue Apron menu, omnivore recipes are the most numerous. The 2-Person menu always features 5 meal ideas for omnivores. Usually, there are 2 recipes featuring red meat, chicken or poultry and 1 recipe featuring seafood. The proteins are accompanied by ample portions of veggies and healthy grains like quinoa.
All 4 items on the 4-Person menu are suitable for omnivores. Normally, there is 1 recipe featuring red meat (beef), 2 chicken/poultry recipes, and 1 seafood recipe, although seafood recipes are at times substituted with chicken meal ideas. Blue Apron recipes for omnivores are usually inspired by Asian, traditional American, Mexican, and Italian cuisines.
Blue Apron Recipes For Vegetarians
Although Blue Apron does not offer many options for special diets, it does make sure that its 2-Person menu features 3 vegetarian-friendly recipes every week. Unfortunately, the 4-Person menu does not include meat-free meal ideas.
Blue Apron recipes for vegetarians are best suited for cheese lovers, as they always feature all kinds of aromatic and flavorful cheeses, like parmesan, mozzarella, cheddar, feta, labneh, and others. More often than not, the recipes feature eggs as well. They are mostly inspired by Asian and Mexican cuisines.
Mediterranean-Inspired Blue Apron Recipes
Although Blue Apron chefs seek inspiration in the culinary traditions of various countries across the globe, the Mediterranean cuisine seems to be their favorite due to its great health benefits. Every week, there are 2 Mediterranean-inspired recipes on the menu. These dishes are particularly nutritious and well-balanced and include both meaty, seafood, and meat-free options. Mediterranean recipes are only available on the 2-Person menu.
Kid-Friendly Blue Apron Recipes
Cooking for the family is not always easy since kids are the pickiest eaters of all. That is why Blue Apron recipes for families of 4 are particularly designed with children in mind. Every meal on the 4-Person menu is a true classic kids love, like pizza, quesadillas, tacos, and more, just a bit healthier and richer in veggies than the original versions.
Cook Like A Pro
Blue Apron recipes are so amazing because they are created by professional chefs who are madly in love with what they do. However, that does not mean that you need to be a top chef in order to cook these scrumptious dishes. In fact, although incredibly tasty and a pleasure to look at, all the dishes in the Blue Apron cookbook are surprisingly easy to make.
Even if you are not a master in the kitchen, in just about half an hour, you can cook up a delight and impress everyone with your culinary skills. The meals rarely take more than 50 minutes to make and hands-on time is usually 15-20 minutes (a bit more if you are not particularly handy with a knife).
The recipes come with step-by-step instructions and helpful photos. Usually, there are 6 easy steps and everything is covered, from preheating the oven to the finishing touches, like topping your meal with tasty relish.
The company provides a full list of kitchen tools you need to make the meals, so you can prepare everything in advance and choose the meals in accordance with the tools and utensils you have in your kitchen. The best of all is that you can buy any of the necessary tools straight from Blue Apron.
Health On Your Plate

If you have been trying to eat healthy foods but cannot seem to find the time to plan out the meals and search for the ones that will make both your taste buds and body happy, you will be glad to know that with Blue Apron recipes, you simply cannot go wrong. Each meal contains a whole lot of valuable nutrients you need in order to stay healthy and feel energized. Blue Apron recipes call for a variety of ingredients, including fresh and sometimes exotic produce, healthy proteins in the form of humanely raised meat, fish, and seafood, and lots of dairy, eggs, and whole grains. This kind of ingredient diversity which truly lets you make the most of what nature has to offer and guarantees you will find something you like and have something new to try out every day.
The meals are always nutritionally balanced and come in rather ample portions, although individuals with a hearty appetite should not count on leftovers. The average calorie count per serving is 500-800, which is in line with the general recommendations for healthy eating.
Choose Your Proteins
One of the awesome things about Blue Apron recipes is the fact that it lets you choose your meals by protein source. You have seven options to choose from: beef, fish, lamb, pork, poultry, shellfish or plant proteins if you are a vegetarian or vegan. No matter which one you pick, you will be amazed by the number of fantastic recipes you can try out and fall in love with.
Around The World In Your Kitchen
What is also impressive is the number of different world cuisines Blue Apron recipes originate from. At the moment, Blue Apron's culinary trip around the world includes 27 locations and many of them are more than exotic. Depending on your cravings, you can stick with the familiar taste of American, Italian, and Mexican cuisines or let your adventurous spirit take over and try some of the exciting Nepalese, African, Egyptian or Swedish dishes. One way or the other, your taste buds will be grateful.
Go With The Season

The golden rule of cooking is: always use the freshest, highest-quality produce, meat, and fish, which means sticking to the seasonal ingredients.
It is also true that our bodies crave different kinds of food depending on the season, which is why Blue Apron lets you browse its recipes by all four seasons, so you know what to cook all year long.
However, if you find yourself longing for a touch of summer during those cold winter days, you can always find some refreshing summer dishes you can make at any time.
Perfect Match
If you love to sip some wine while enjoying your meal, be sure to check out the wine recommendations included in all Blue Apron recipes. There is nothing better than a tasty dish paired perfectly with a bottle of fine wine. Blue Apron has an incredible selection of wines in its store, so you don't even have to go elsewhere to find the one you need.
Conclusion
Over the years, hundreds of amazing recipes have been featured on the Blue Apron menu. From gourmet recipes for omnivorous foodies to colorful meal ideas for vegetarians and healthy dishes for kids and lovers of the Mediterranean diet, this company's offer includes everything you need to satisfy your cravings while taking care of your body. The recipes are generally quick and easy, they are always delicious, and they come with wine pairings.
If all of this got your appetite revved up and you want to learn more about Blue Apron's offer, stop by our objective Blue Apron review and discover what else these gastronomical wizards have up their sleeves.