There are many factors that can influence your decision to subscribe to a meal delivery service. Pricing is usually highly ranked on the list of important features. However, is the cost of service really crucial when you're deciding whether or not to order delicious, healthy food? Let's take a look at Blue Apron pricing so that you can find out if they're the best choice for you and your family budget.
Blue Apron offers two different meal plans, the 2-person plan and the family plan. Blue Apron prices are different for each of these plans because the amount of food is different as well. It's also good to know that a wide range of superb recipes is available for each of these two plans.
Blue Apron Pricing For The 2-Person Plan
With the 2-person plan, you get two servings per order and you can choose up to three different recipes out of six every week. Blue Apron price per serving is $9.99 and the total weekly Blue Apron cost is $54.94. Your first week with Blue Apron costs less because you get the first three meals for free. Therefore, instead of paying $54.94, you'll pay only $29.94 the first week.
When you opt for this plan, you can choose a vegetarian dietary plan as well. In case you love meat, but not all kinds of meat, you have an option to exclude pork, lamb, beef or poultry from the dishes you order. Blue Apron pricing for the vegetarian option is the same as the cost of the regular plan.
Blue Apron Pricing For The Family Plan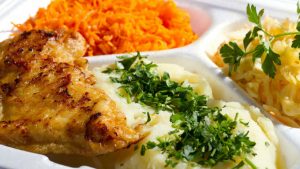 The family plan is a bit different from the 2-person plan; there are more servings and the menus aren't the same. If you choose the family plan, you can't have a completely vegetarian menu. There are always some vegetarian dishes on the menu, but you can't strictly demand vegetarian meals.
Since this is a family plan, you get family dinners. You can select two or four recipes from the weekly menu and you always get four servings. Blue Apron cost for every serving is $8.74 and there's also the first-week discount, just like with the 2-person plan. If you opt for two recipes, Blue Apron price for the first week will be $39.92 and $69.92 later on. And if you want to get four different recipes, Blue Apron cost will be $109.84 in the first week and $139.94 after the first week.
Blue Apron Pricing For Shipping & Skipping
It will make you happy to hear that shipments from Blue Apron cost nothing. Shipping is absolutely free, no matter where in the US you live. Blue Apron provides nationwide coverage and delivers to almost any address in the country.
Moreover, Blue Apron price for skipping a week is zero. Of course, if you decide to cancel the order last minute and your shipment is already prepared, you'll have to pay for it. But if you cancel your order in advance, six days to be precise, you don't pay anything. There are no penalties and you can keep ordering from your account whenever you want.
Is Blue Apron Worth It?
You get healthy, hormone- and antibiotic-free ingredients delivered to your doorstep for the Blue Apron prices mentioned above. You can choose from various excellent recipes and get clear, simple instructions to prepare a delicious meal. You can adjust the recipes so that they follow your dietary needs. You can cancel or skip a week whenever you want without penalties. That sure sounds like a bargain. You know everything about Blue Apron pricing now, so check out our Blue Apron review to find out more about this excellent meal delivery service and place your order today!