Blue Apron is a meal kit service that knows how to please. In all our years of reviewing meal delivery services, we have encountered very few companies that can compete with Blue Apron when it comes to the quality of ingredients, ingenuity of recipes, and ease of cooking. In our Blue Apron review, we talked at length about the company's impeccable sourcing practices and the superior flavor and freshness of its natural ingredients. This time, we focus on its meals and everything we love about them.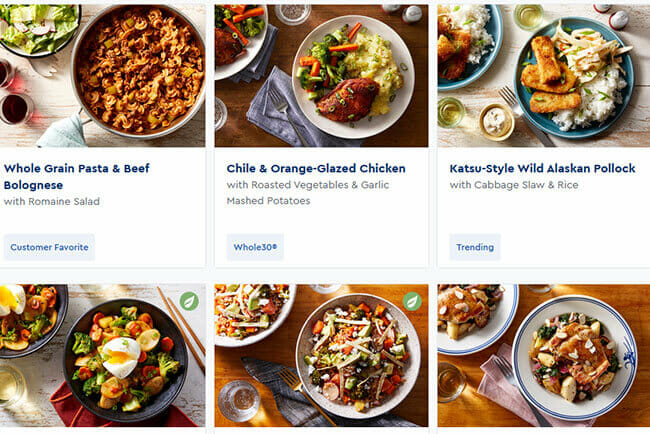 Prep & Cooking
Blue Apron meals usually take just around half an hour to make. The prep time is minimized since the ingredients are pre-measured, so you basically need to do just a bit of slicing and chopping before you throw them into a pot or pan. Every step of the process is explained in detail and accompanied by a photo, so there is virtually no chance of doing something wrong and ending up with anything short of chef-worthy perfection.
Picking & Choosing

The meals come in 2 sizes: those that serve 2 and those that serve 4 people. Every week, you can pick 2 or 3 out of 8 dishes for 2 people or 2, 3 or 4 out of 4 dishes for families of 4.
Blue Apron has a knack for turning classics into exciting and creative dishes characterized by both comforting familiarity and thrilling uniqueness. The dishes change weekly, so every time you order, you can choose from a variety of new meal ideas. You can expect all kinds of pizzas, tacos, enchiladas, and pasta, wonders of the Asian cuisine, exciting twists on traditional dishes like beef Bourguignon and Stroganoff, chicken cacciatore, various kinds of chili and burgers, and famous street food from around the world. What is certain is that you can hardly get tired of Blue Apron meals, as they are always as fascinating as they are delicious.
Plans & Pricing
Blue Apron offers two plans that differ in the number of servings per meal. If you want to cook for 2, you pay $10.99 per serving. If you are cooking for 4, you pay $9.99 per serving if you order 2 recipes and $8.99 per serving if you order 3 or 4 recipes per week. Shipping is free of charge on all orders, except for 2-recipe boxes for 2 people, which come with a $7.99 shipping fee.