BistroMD employs a unique science-based approach to weight loss. Its meal plans rely on balanced nutrition and reduced calories and focus on lean proteins, healthy fats, and complex carbs. While the service offers professional help in choosing and building your weight loss program, you get to pick your meals yourself. BistroMD meals are frozen, which allows for an incredible variety of items on the menu.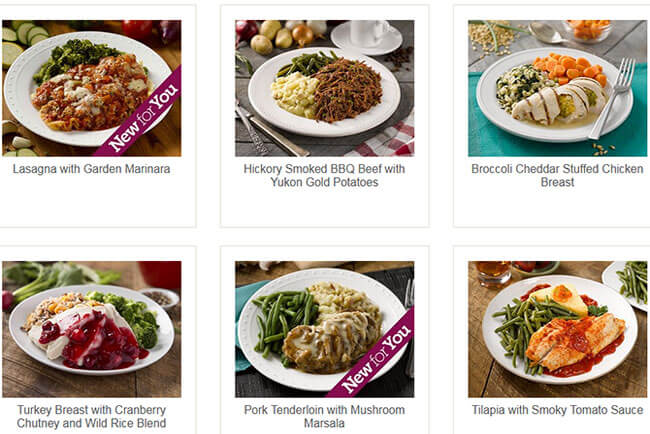 BistroMD Menu In Numbers
The service promises to offer more than 150 entrées on its seasonal menu. However, the truth is that the number of delicious meals available at all times is closer to 200. You can choose from more than 50 snacks, around 50 dinners, just as many breakfasts, and more than 40 lunches. Every week, you can choose 5 or 7 lunches and dinners and breakfasts and snacks are optional. The menu includes items suitable for 4 types of special diets, including gluten-free, diabetic, senior, and menopause.
All meals are low in calories, so if you stick to your plan, your daily intake should be between 1,100 and 1,400 calories. Out of the total number of calories per day, 40-45% comes from lean protein, 30-35% comes from complex carbohydrates, and 20-25% comes from healthy fats. You can expect to lose 1-2 pounds per week on average.
The Selection

To start your day, you can choose from a variety of healthy and satisfying breakfasts, including a range of frittatas, omelets, sandwiches, egg scrambles with colorful toppings, dark chocolate and peanut butter crepes, waffles, pancakes, and muffin sandwiches.
Lunches at your disposal include all kinds of classics, such as sloppy joes, chicken meatballs, turkey meatloaf, hearty soups, stews, chili, delicious enchiladas, tacos, jambalaya, creamy tortellini, quinoa salads, steaks, and casseroles, all with flamboyant and nutritious sides.
The dinner section is filled with mouthwatering meat and fish dishes, including BBQ pork, beef Bourguignon, beef Stroganoff, grilled salmon, creative lasagnas, cheesy ravioli, all kinds of chicken dishes, stews, clam chowder, and more.
Finally, in between dishes, you can enjoy something as delectable as chocolate gelato and chocolate espresso or strawberry cheesecake, opt for a refreshing drink, such as the Berry Blast shake, cran-grape punch or pine-orange punch, or munch on something savory and crispy, such as beef strips, chicken strips, parmesan chips, mixed nuts, and a whole lot of other treats.
As you can see, the menu is packed with tasty meals that come in large portions, as well as dozens of delicious snacks. Thus, you do not only get to enjoy immense variety, but you also get to feel full all day long instead of starving yourself in order to reach your goal weight.