Spring is finally here! And you know what that means, it's time for the best Meal Delivery coupons and deals for the month of April 2023. As we do every month, we have prepared for you only the best offers. And since they're the best, they come with an expiration date. So, we urge you to take advantage of them while they last. With these low prices, any household can afford to at least try using meal delivery services, if only for a month. Trust us, this will change your life for the better. You will discover tasty new dishes that will be also healthy. And we don't need to tell you that summer is just around the corner. So, without further ado, let's see what we have on offer this month:
Save $276 across five boxes with Factor Meal Delivery
Type of meals:  Chef-Crafted, Healthy
Type of preparation: Fully prepared meals
Price per serving: $4.40
Factor Meal Delivery has reactivated its biggest discount yet offering amazing savings over a number of boxes. And, unlike some other offers on this list, Factor offers fully-prepared meals that come like that direct to your house. Yes, you won't have to lift a finger in order to enjoy this delicious meal delivery service. You can choose between five different meal plans and several different options when it comes to how many meals per week you want. The more meals you order, the bigger the savings!
If you want to know more about this well-established company, you can read our Factor review. We go over every detail when it comes to their menu, features, delivery options, and much, much more. With that being said, it's time to reveal this special offer just for our readers. You will get a whopping $276 discount over your next five boxes if you order now. This offer, like the others on this list, is time-limited, so you should hurry up and take advantage of it.
Get 20% off with Jet Fuel Meals
Type of meals:  Healthy, Fresh
Type of preparation: Fully prepared meals
Price per serving: $4.80
If you live in Florida, New York, and New Jersey, you probably already heard all about this new meal delivery service that's making waves. Jet Fuel Meals offers fully prepared healthy meals at low prices. Since it's new on the market it's much cheaper than the others while offering much higher food quality. Remember, these are fully cooked fresh meals that are not frozen. This ensures their quality and makes them a perfect choice for anyone. If you want to know more about this company, you can read our detailed Jet Fuel Meals review.
We said it's a perfect choice for anyone but it's a no-brainer for busy families. Just choose their Traditional Maintain meal plan and you're set. Additionally, you can also choose between Keto Weight Loss, Traditional Maintain, Athletic Weight Gain, Pescatarian and Plant Based plans. There's a reason why more and more people in these areas are avoiding all the big meal delivery services and focusing on this particular one. It's their dedication to fresh, high-quality, and all-natural meals that are healthy, delicious and delivered to you! Use coupons POP22 or PERFECT22 to get 20% off your order.
Get $90 off your first three orders with Home Chef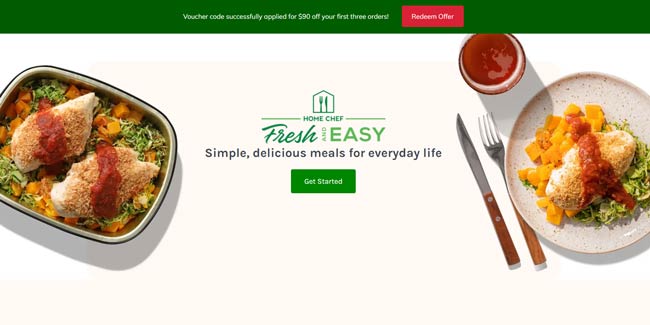 Type of meals:  Healthy, Fresh
Type of preparation: Pre-portioned ingredients
Price per serving: $5.20
We think that one of the most popular meal delivery services in the world needs no introduction but we still have to tell you all about it. Home Chef has been delivering meals to households in America for many years and it has a huge customer base. They will deliver a box full of pre-portioned ingredients directly to your door turning you into a five-star chef in no time. The recipes are easy to follow and come with detailed instructions making sure that even if you don't know how to cook you'll be able to make tasty and healthy meals.
Probably the best thing about Home Chef is its menu offering dozens and dozens of tasty dishes. They also have celebrity chefs who add that little something special to the meals you're cooking. For example, this week you'll be eating the same things Eva Longoria, a famous movie star will be eating. This is why they have a special discount just for our Top 10 Meal Delivery visitors. You will get $90 off your first three orders with Home Chef and we're sure there will be plenty more than that once you try them out. If you want to know more, read our Home Chef review.